Bulog Harus jadi `Market Leader` Cegah Liberalisasi Perdagangan Beras
Indonesian Govt Prevents Liberalization of Rice Trade
Reporter : Gusmiati Waris
Editor : Cahyani Harzi
Translator : Dhelia Gani

PUBLISHED: Rabu, 04 Oktober 2017 , 00:08:00 WIB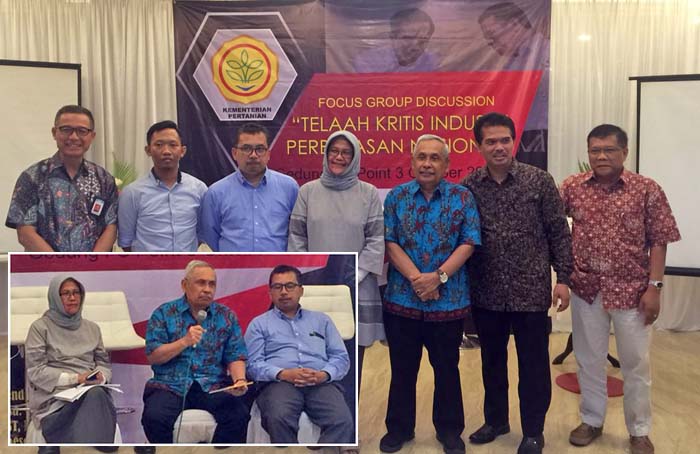 Ki-ka: Direktur Statistik Pangan Hermanto AP, Akademisi IPB Edi Santosa, Deputi KPPU Taufik A, Direktur Kemendag Ninuk R, Ketua Umum Perpadi S Alimoeso, Kepala Pusdatin Suwandi, dan Kapus Distribusi Riwantoro.
Jakarta (B2B) - Komoditas beras tidak dapat diserahkan ke pasar bebas (liberal) karena fungsinya sebagai pangan pokok bangsa Indonesia, sehingga Badan Urusan Logistik harus difungsikan dan mampu menjadi market leader. Bulog dan pemerintah daerah mengembangkan sinergi dengan pelaku usaha penggilingan padi kecil dan besar, untuk memperbanyak pusat-pusat distribusi pangan hingga ke pelosok di seluruh Indonesia.

Hal itu mengemuka dari Fokus Group Discussion (FGD) yang membahas telaah kritis industri perberasan nasional nasional di Jakarta pada Selasa (3/10) yang dihadiri Ketua Umum Persatuan Penggilingan Padi dan Pengusaha Beras Indonesia (Perpadi) Sutarto Alimoeso; Kepala Pusat Data dan Sistem Informasi Kementan (Pusdatin) Suwandi; Kepala Pusat Distribusi Pangan Kementan; Riwantoro, Direktur Barang Kebutuhan Pokok dan Barang Penting Kemendag, Ninuk Rahayuningrum; Deputi Pencegahan Komisi Pengawas Persaingan Usaha (KPPU), Taufik Ahmad; Akademisi Institut Pertanian Bogor (IPB) Edi Santosa, dan Direktur Statistik Tanaman Pangan Hortikultura dan Perkebunan, Hermanto Ashari Prawito.

Ketua Umum Perpadi, Sutarto Alimoeso mengatakan beras merupakan komoditas pangan paling penting bagi penduduk Indonesia, beras merupakan 'kehidupan' mereka. Beras juga sangat penting dari aspek sosial, budaya, politik dan keamanan sehingga petani sebagai produsen berskala kecil dan konsumen miskin harus dilindungi.

"Harga beras memberi kontribusi pada kemiskinan, stabilisasi makro ekonomi dengan indikator inflasi, ketahanan pangan dan pertumbuhan ekonomi secara keseluruhan. Saya tidak setuju pangan pokok seperti beras diliberalkan, kita harus mencegah liberalisasi komoditas beras," kata Sutarto.

Kondisi perberasan nasional saat ini, menurutnya, produksi padi dilakukan oleh petani berlahan sempit, tergantung kepada pemodal khususnya pemilik lahan, pengijon, tengkulak dan bantuan sosial (bansos) pemerintah. Teknologi produksi telah tersedia, namun dalam pelaksanaan di lapangan sebagian besar tergantung pada bansos pemerintah meskipun telah tersedia penggilingan padi di desa dengan segala keterbatasannya, begitu pula dengan industri hilir.

"Kondisi perberasan nasional semakin kompleks akibat kesenjangan kesejahteraan di antara pelaku perberasan, diperparah perbedaan harga yang tinggi di tingkat produsen dan konsumen, hal itu lebih banyak akibat belum optimalnya kerjasama sinergi berbagai pelaku perberasan," kata Sutarto.

Data Badan Pusat Statistik (|BPS) terkini menyebut sebaran produksi padi terbesar berada di Jawa yang mencapai 52,60% diikuti Sumatera 23,5%, Sulawesi 11,23%, Kalimantan 6,80%, Bali dan Nusa Tenggara 5,34%, dan terkecil Maluku dan Papua hanya 0,52%.

HET Beras
Akademisi IPB Edi Santosa menyoroti penetapan harga eceran tertinggi (HET) beras yang bertujuan menata harga beras nasional untuk menciptakan stabilisasi harga. "Dampak penetapan HET membuat petani lebih bergairah menanam padi, karena ada kepastian harga."

Direktur di Kemendag Ninuk Rahayuningrum menambahkan pemberlakuan HET beras merupakan implementasi mandat Presiden RI Joko Widodo dalam menjaga ketersediaan dan stabilisasi harga pangan pokok dengan mengutamakan penyerapan produksi dalam negeri, dengan penetapan besaran HET beras setelah mendapat masukan dari berbagai pihak terkait.

"HET melindungi konsumen juga memperhatikan kesejahteraan petani, yang lebih penting adanya HET dapat menstabilkan harga, mempersempit disparitas dan memutus praktek penyelundupan beras impor," kata Ninuk.

Suwandi menambahkan meskipun harga gabah kering giling (GKG) dinilai stabil tahun ini, langkah tersebut dilakukan oleh pihak terkait mengintensifkan langkah-langkah untuk memastikan harga pangan tetap terkendali karena sensitif dan berdampak luas terhadap masyarakat miskin.

"Harga beras juga berdampak luas terhadap indeks harga konsumen di Indonesia," katanya.
Jakarta (B2B) - Rice commodity can not be handed over to liberal market because its function as staple food of Indonesian people, so National Logistics Agency (Bulog) must function optimally become market leader. The Bulog and local governments should develop synergies with small and large rice millers, by extending food distribution centers to remote areas across the country, according to the analyst.

It emerged from the Focus Group Discussion on the critical review of the national national rice industry here on Tuesday (October 3) which was attended by Chairman of Indonesian Rice Mill and Rice Producers Association, Sutarto Alimoeso; Head of Center for Data and Information System of Indoneaian Agriculture Ministry, Suwandi; Head of Food Distribution Center of Agriculture Ministry, Riwantoro; Director of Essential Goods and Important Goods of the Trade Ministry, Ninuk Rahayuningrum; Deputy Prevention of Business Competition Supervisory Commission (KPPU), Taufik Ahmad; Academician of Bogor Agricultural University, Edi Santosa, Director of Food Statistics, Hermanto Ashari Prawito.

Sutarto Alimoeso said rice is the most important food commodity for Indonesians, rice is their 'life'. Rice is also very important regarding social, cultural, political and security aspects so that farmers as small-scale producers and poor consumers should be protected.

"The rice prices contributes to poverty, inflation, food security and economic growth. I refuse basic food as rice is liberalized, we must prevent the liberalization of rice commodities," Mr Alimoeso said.

According to him, rice production in Indonesia is done by small-scale farmers, depending on the investors, especially landowners, loan sharks, middlemen and government social assistance. Production technology is available, but in the field it is largely dependent on government assistance even though rice cultivation is available with all its limitations, as does the downstream industry.

National Statistics Agency data shows that the largest rice production distribution is Java 52.60%, Sumatra 23.5%, Sulawesi 11.23%, Kalimantan 6.80%, Bali and Nusa Tenggara 5.34%, and Maluku and Papua only 0, 52%.

Caps Rice Prices
Edi Santosa highlights the caps rice prices for stabilizing rice prices. "Impact, making farmers more passionate to grow rice, because there is certainty of price."

Ninuk Rahayuningrum said the caps rice prices is an instruction of President Joko Widodo to maintain the availability and stabilization of rice prices by prioritizing the domestic production, which is determined after receiving input from various related parties.

The caps rice prices protects consumers and farmers' welfare also stabilizes prices, narrows down disparities and prevents smuggling of imported rice," Rahayuningrum said.

Suwandi said although prices for the grain have been relatively steady this year, the step comes as authorities intensify measures to ensure food prices remain in check as they are politically-sensitive due to their impact on the poor.

"Rice prices also carry a heavy weighting in calculating the country's consumer price index," he said.