Pusluhtan BPPSDMP Kementan Diseminasi Data Simluhtan Sukabumi
Indonesia`s Agricultural Extension Information System Supports Food Self-sufficiency
Editor : M. Achsan Atjo
Translator : Dhelia Gani

PUBLISHED: Selasa, 15 Mei 2018 , 10:37:00 WIB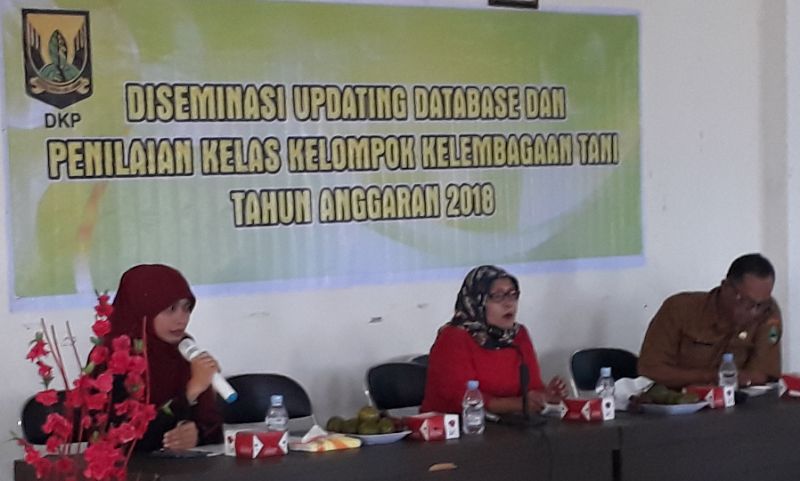 Kasubbid Materi dan Informasi Penyuluhan, Septalina P (kiri) mewakili Kabid Penyelenggaraan Penyuluhan, Zahron Helmy membuka kegiatan diseminasi didampingi fasilitator Dwihayanti (Foto: B2B/Mac)
Sukabumi, Jabar (B2B) - Kementerian Pertanian RI melalui Badan Penyuluhan dan Pengembangan SDM Pertanian (BPPSDMP) mendukung Dinas Ketahanan Pangan Kabupaten Sukabumi, Provinsi Jawa Barat dalam kegiatan diseminasi pemutakhiran data (updating) dari Sistem Informasi Penyuluhan Pertanian (Simluhtan).
Kegiatan diseminasi Simluhtan di Sukabumi dari BPPSDMP Kementan pagi ini, Selasa (15/5) dipimpin oleh Kepala Bidang Penyelenggaraan Penyuluhan, Zahron Helmy yang diwakili oleh kepala Subbidang Materi dan Informasi Penyuluhan, Septalina Pradini didukung fasilitator Dwihayanti dan Hari Sumaryanto.
Dalam berbagai kesempatan, Kepala BPPSDMP Kementan, Momon Rusmono mengingatkan tentang peran vital percepatan data dan informasi penyuluhan pertanian agar efektif dan efisien dengan memenuhi 4 Tepat yakni waktu, tempat, sasaran, dan kebutuhan; pusat penyuluhan pertanian (Pusluhtan) mengembangkan Simluhtan yang merupakan sistem data dan informasi berbasis web (online).
Sebagaimana diketahui, Simluhtan mencakup data kelembagaan penyuluhan tingkat provinsi, kabupaten/kota, dan kecamatan; ketenagaan penyuluhan meliputi penyuluh pertanian PNS, CPNS penyuluh pertanian, tenaga harian lepas - tenaga bantu penyuluh pertanian (THL-TBPP), dan penyuluh pertanian swadaya mendukung kelembagaan pelaku utama petani meliputi kelompok tani (Poktan), gabungan Poktan (Gapoktan), dan kelembagaan ekonomi petani maupun badan usaha milik petani.
Kepala Pusluhtan BPPSDMP Siti Munifah kerap mengingatkan bahwa standar operasional pengelolaan (SOP) Simluhtan sebagai acuan bagi pengelola data dan admin di pusat dan daerah, sehingga proses penyediaan data dan informasi berjalan baik dan lancar.
Sukabumi of West Java (B2B) - The Directorate General of Agricultural Human Resources in Indonesia Agriculture Ministry or BPPSDMP support the Sukabumi´s Food Security Agency of West Java province held the dissemination activity of updating data for Agricultural Information System or Simluhtan.
The Simluhtan dissemination activities in Sukabumi this morning, Tuesday (May 15) is headed by the Head of Extension Program, Zahron Helmy is represented by his deputy of material and information extension, Septalina Pradini and supported by facilitator Dwihayanti and Hari Sumaryanto as the facilitator.
On various occasions, the Director General of BPPSDMP, Momon Rusmono reminded about vital role of data acceleration and agricultural extension information to be effective and efficient in reference to time, place, objectives, and needs; agricultural extension centers or Pusluhtan developed Simluhtan as a web-based data and information system (online).
As is known, the Simluhtan covers provincial, district, municipality and subdistrict counseling data; counseling personnel include agricultural extension of civil servants, and extension agents support farmer groups, farmer associations, and farmer economic institutions and farmers´ economic institutions.
The Director of Pusluhtan Siti Munifah often reminded that the operational standards of Simluhtan management as a reference for data and admin managers in central and regional, so the process of providing data and information goes well and smoothly.