Penas KTNA 2017 Diharapkan Berperan Tingkatkan Produksi Pangan Utama
Indonesian Farmers and Fishermen Exhibition in Aceh on 6 - 11 May 2017
Editor : M. Achsan Atjo
Translator : Dhelia Gani

PUBLISHED: Jum'at, 03 Februari 2017 , 11:20:39 WIB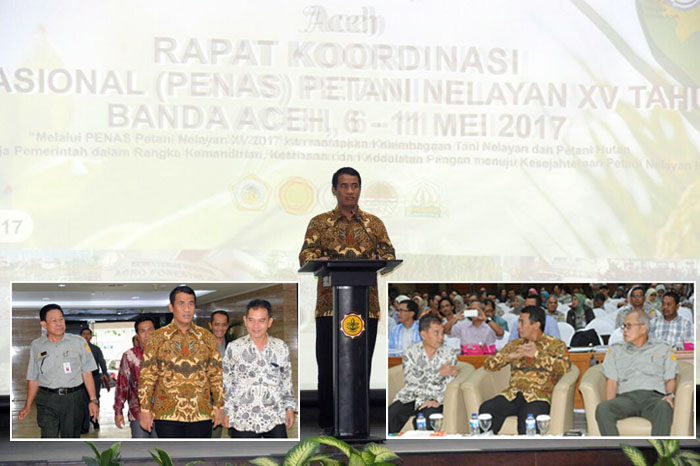 Mentan Andi Amran Sulaiman membuka Rakornis Penas KTNA 2017 dan didampingi Ketua KTNA Winarno Tohir, Plt Kepala BPPSDMP Hari Priyono dan Sekba BPPSDMP Momon Rusmono (Foto2: Humas Kementan/Heri S)
Jakarta (B2B) - Menteri Pertanian RI Andi Amran Sulaiman mengharapkan penyelenggaraan Pekan Nasional Kontak Tani Nelayan Andalan (Penas KTNA 2017) turut berperan mendorong peningkatan produksi pangan utama, beras, mengingat saat ini produksi petani dan cadangan beras di gudang Badan Urusan Logistik (Bulog) di Jabar, Jateng dan Jatim dalam kondisi penuh.

"Stok beras di gudang Bulog pada awal 2016 sempat kosong namun berkat perbaikan sistem produksi berlangsung konsisten hingga akhir 2016, gudang Bulog di tiga provinsi yang menjadi lumbung pangan nasional cukup untuk kebutuhan pangan tahun ini," kata Mentan Amran Sulaiman di Jakarta pada Kamis (2/2) saat membuka rapat koordinasi penyelenggaraan Penas KTNA XV yang akan berlangsung di Banda Aceh pada 6-11 Mei 2017.

Mentan tidak menampik fakta bahwa harga gabah di tingkat petani saat ini merosot ke Rp2.900 hingga Rp3.300 per kg di bawah Harga Pembelian Pemerintah (HPP) Rp3.700 per kg untuk gabah kering panen (GKP).

Amran Sulaiman mengharapkan Bulog segera bertindak cepat untuk menyerap gabah petani sesuai dengan HPP yang ditetapkan pemerintah.

Penas KTNA Banda Aceh
Kementan melalui Badan Penyuluhan dan Pengembangan Sumber Daya Manusia Pertanian (BPPSDMP) sebagai penanggungjawab kegiatan Penas KTNA 2017 melakukan pemantauan dan evaluasi persiapan menjelang pelaksanaan 6-11 Mei 2017 di di Stadion Harapan Bangsa, Kota Banda Aceh, Provinsi Nanggroe Aceh Darussalam (NAD).

Ketua Kontak Tani Nelayan Andalan (KTNA) Winarno Tohir mengatakan Penas KTNA merupakan metode penyuluhan akbar yang digagas oleh para tokoh petani dan nelayan sejak 1971, sebagai forum pertemuan petani nelayan dan petani hutan sebagai wadah kegiatan belajar mengajar, tukar menukar informasi, dan berbagi pengalaman.

Tujuan lainnya, kata Winarno, pengembangan kemitraan dan jejaring kerjasama antara para petani nelayan dan petani hutan, peneliti, penyuluh, pihak swasta dan pemerintah sehingga dapat membangkitkan semangat dan tanggung jawab serta kemandirian sebagai pelaku utama pembangunan pertanian, perikanan dan kehutanan.

Penas KTNA Banda Aceh akan diikuti sekitar 11.000 peserta atau tiga kali lipat dari Penas KTNA di Malang, Jawa Timur, dan peserta utama diperkirakan mencapai 70% dan selebihnya adalah peserta pendamping dan peninjau.
Jakarta (B2B) - Indonesian Agriculture Minister, Andi Amran Sulaiman expecting the 2017 National Farmers and Fishermen Exhibition (Penas KTNA 2017) could encourage boost the production of major food, rice, although increased production of farmers and rice stock in warehouse of National Logistics Agency in full condition especially in West Java, Central Java and East Java.

"Rice stock in Bulog warehouses in early 2016 was empty, but after improvement of production systems by end of 2016, Bulog warehouses in three provinces as national food barn can to meet the food needs this year," Minister Sulaiman told the press here on Thursday (2.2.17) while opened coordination meeting of 2017 Penas KTNA in Banda Aceh of Aceh province on on 6 to May 11, 2017.

Mr Sulaiman did not dismiss the fact about grain prices at the farm level dropped to 2,900 to 3,300 rupiah per kg under the Government Purchase Price (HPP) of 3,700 rupiah per kg.

He expecting the Bulog immediately purchase production of rice farmers in accordance the price set by government.
2017 Penas KTNA
Chairman the Federation Indonesian Farmers and Fisherman Association (KTNA) Winarno Tohir said 2017 Penas KTNA become grand extension method that was initiated by the leaders of farmers and fishermen since 1971, as a communication forum of farmers and fishermen, center of teaching and learning activities, exchange information and share their experiences.

Mr Tohir added another main goal is the development of partnerships, networks of farmers and fishermen, researchers, extension workers, private companies and governments so as to evoke the spirit of self-reliance and responsibility and support the development of agriculture, fisheries and forestry.

He said the 2017 Penas KTNA said number of participants in capital of Aceh Province will reach a tripling of similar activities in Malang District of East Java Province in 2014, which was attended by 11,000 participants.