Dokumen KKNI Acuan Lembaga Pelatihan Susun Kurikulum Berbasis Kompetensi
Indonesian Govt Set the Job Qualification Standards Based on Competencies
Editor : M. Achsan Atjo
Translator : Dhelia Gani

PUBLISHED: Senin, 04 Desember 2017 , 01:01:00 WIB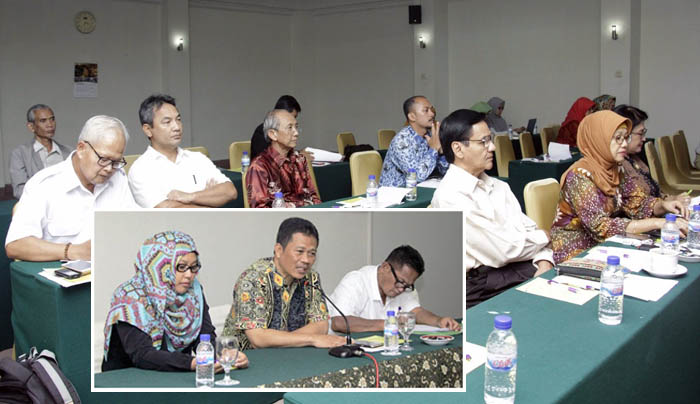 Kepala BBPKH Cinagara, Rudy Rawendra (kemeja putih insert foto) memimpin Konsensus KKNI bidang perunggasan di Yogyakarta mewakili Kepala Balai SDM Pertanian Kementan, Momon Rusmono (Foto: Humas BPPSDMP Kementan)
Yogyakarta (B2B) - Kementerian Pertanian RI telah menyiapkan rancangan pemaketan Kerangka Kualifikasi Nasional Indonesia (KKNI) bidang perunggasan, dan hasil konsensus yang disepakati oleh para akademisi, organisasi profesi, asosiasi, praktisi, dan birokrat menjadi dokumen KKNI, dan tahun depan akan dilakukan pemaketan KKNI bidang pertanian secara bertahap yang disesuaikan dengan prioritas kebutuhan dan anggaran.

Kepala Badan Penyuluhan dan Pengembangan Sumber Daya Manusia Pertanian (BPPSDMP) Kementan, Momon Rusmono mengatakan walaupun rancangan KKNI telah disusun oleh tim perumus, namun bukanlah harga mati, karena masih perlu diskusi untuk perbaikan dan penyempurnaan.

"Kami persilahkan saudara-saudara untuk menanyakan kepada nara sumber dan berdiskusi. Apabila dalam diskusi pemecahan ideal tidak dapat dicapai pada waktunya, sebaiknya peserta memanfaatkan kesepakatan yang dinilai terbaik. Hal ini akan lebih baik dari pada tidak ada keputusan sama sekali," kata Momon Rusmono Momon Rusmono di Yogyakarta dalam sambutannya pada pembukaan konsensus RKKNI yang dibacakan oleh Kepala Balai Besar Pelatihan Kesehatan Hewan (BBPKH) Cinagara, Rudy Rawendra, belum lama ini.

Rudy mengutip Momon mengatakan RKKNI ini akan segera diproses menjadi KKNI bidang perunggasan, dan untuk mendapat pengakuan diperlukan suatu konsensus dalam rangka pembakuan sebagai jaminan bahwa RKKNI tersebut diakui, diterima, dan legal secara nasional dari para pemangku kepentingan.

Momon mengharapkan pertemuan konsensus dapat mencapai kesepakatan bersama untuk menghasilkan dokumen berupa pemaketan KKNI yang bisa segera diberlakukan. Kemudian, dokumen KKNI yang telah disepakati dapat digunakan sebagai acuan oleh lembaga pendidikan dan pelatihan dalam pengembangan program dan kurikulum berbasis kompetensi.

"Dapat digunakan oleh lembaga sertifikasi profesi atau LSP untuk menyusun materi uji kompetensi dan sertifikasi oleh lembaga pemerintah, dunia usaha dan industri dalam kegiatan rekrutmen dan pengembangan karier karyawan berbasis kompetensi," kata Rudy mengutip Momon.

Kompentensi SDM Pertanian
Menyadari akan pentingnya peranan sumber daya manusia pertanian yang berkompeten dan profesional, BPPSDMP Kementan bertanggung jawab pada kegiatan penyuluhan, pendidikan, pelatihan dan pemberian pengakuan sertifikat kompetensi melalui uji kompetensi.

Sejalan dengan itu, Peraturan Presiden RI (Perpres No 8/2012 tentang KKNI mengamanatkan bahwa setiap kementerian/lembaga teknis wajib menyusun KKNI sebagai acuan dalam pengembangan SDM berbasis kompetensi.

KKNI merupakan kerangka penjenjangan kualifikasi kompetensi yang dapat menyandingkan, menyetarakan, dan mengintegrasikan antara bidang pendidikan dan bidang pelatihan kerja serta pengalaman kerja dalam rangka pemberian pengakuan kompetensi kerja sesuai dengan struktur pekerjaan di berbagai sektor.

"KKNI sebagai perwujudan mutu dan jati diri bangsa Indonesia terkait dengan sistem pendidikan dan pelatihan nasional, yang terdiri atas sembilan jenjang kualifikasi, dari satu sebagai yang terendah hingga tertinggi dengan kualifikasi sembilan," kata Momon seperti dikutip Rudy.
Yogyakarta (B2B) - Indonesian agriculture ministry of Agriculture is prepared the draft national qualification framework, or KKNI for poultry, and the agreed consensus of academics, professional organizations, associations, practitioners, and bureaucrats into documents, the ministry next year will take a similar step adjusted to the scale of priorities and budgets, according to senior official.

Director General of Agricultural Extension and Development of Agricultural Human Resources, or BPPSDMP, Momon Rusmono said although draft of KKNI has been compiled by drafting team, but not set in stone, because it still needs discussion for improvement.

"We invite all of you to ask the resource person and continue the discussion. If the ideal solution is not reached in time, we recommend the best assessed deal being used. It will be better than no decision," said Mr Rusmono in his speech was delivered by Director of Cinagara's Animal Health Training Center, Rudy Rawendra here recently.

Mr Rawenda quoted Mr Rusmono as saying the draft consensus would be made into KKNI document of KKNI for poultry, and to be recognized requires consensus before it is standardized as a recognized, accepted, and legal design of stakeholders across the country.

Mr Rusmono expects consensus meeting to reach mutual agreement to create package of documents for approval.
Furthermore, the agreed document can be used as a reference by training institutions for program development and competency-based curriculum.

"The Institute of professional certification can prepare competency testing and certification materials by government agencies, businesses and industries in recruitment activities and career development," Mr Rawenda cited his boss.

HR Competencies
Recognizing the importance of competent and professional agricultural human resources, the BPPSDMP is responsible for agricultural extension, training and certification through competency test.

It refers to Presidential Regulation No. 8/2012 which mandates that every technical ministry/institution must prepare a national qualification framework in human development based on competency.

The KKNI is a competency qualification framework that equalizes and integrates education with training and work experience and work experience for recognition of work competence in accordance the work structure.

"The KKNI as output quality and Indonesia identity related to national education and training system, consisting of nine levels of qualification from one as the lowest to the highest with qualification nine," Mr Rusmono said as quoted Mr Rawenda.