Raih Opini WTP 2019, ItJenTan Dorong Satker Tuntaskan Temuan Hasil Audit
Indonesia Agriculture Ministry Declared Obey Government Accounting Standards
Editor : M. Achsan Atjo
Translator : Dhelia Gani

PUBLISHED: Rabu, 03 April 2019 , 01:22:00 WIB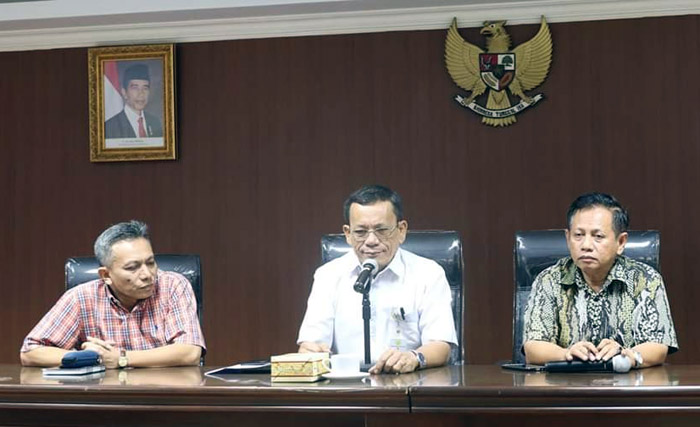 RAPAT REKONSILIASI: Inspektur Investigasi ItJenTan, Sotarduga Hutabarat [tengah] memimpin ´rapat rekonsiliasi´ dengan perwakilan dari Eselon I, para auditor investigasi, tim data dan pemantauan [Foto: Humas ItJenTan]
Jakarta [B2B] - Kementerian Pertanian RI berupaya meraih kembali Opini ´Wajar Tanpa Pengecualian´ disingkat WTP dari Badan Pemeriksa Keuangan RI [BPK] pada 2018, maka Inspektorat Jenderal [ItjenTan] berupaya mendorong Satker Eselon I menuntaskan seluruh temuan hasil audit, dengan menyelesaikan sesegera mungkin rekomendasi pengawasan ItJenTan khususnya perbaikan manajemen dan upaya pencegahan terjadinya kerugian negara.

"Kita harus menyelesaikan sesegera mungkin rekomendasi pengawasan ItJenTan, dengan berupaya mendorong Satker di Kementan untuk menyelesaikan seluruh temuan hasil audit, untuk meraih kembali opini WTP dari BPK RI," kata Inspektur Investigasi ItJenTan, Sotarduga Hutabarat pada ´rapat koordinasi dan rekonsiliasi´ dengan seluruh satuan kerja [Satker] Kementan, Selasa [2/4].

Sotarduga mengingatkan pengawasan ItJenTan diarahkan untuk meningkatkan kinerja mitra kerja di Kementan seperti tersurat di dalam rekomendasi hasil pengawasan. Rekomendasi dapat berupa perbaikan manajemen maupun upaya-upaya pencegahan terjadinya kerugian negara.

"Tujuannya, agar hasil pengawasan ItJenTan dapat memberikan manfaat bagi mitra kerja, maka tindak lanjut atas rekomendasi hasil pengawasan harus ditindaklanjuti dengan segera," kata Sotarduga pada rapat yang dihadiri oleh perwakilan dari Eselon I, para auditor investigasi ItJenTan, tim data dan pemantauan Laporan Hasil Audit ItJenTan.

Sebelumnya diberitakan, Opini WTP dari BPK RI akhirnya kembali diraih oleh Kementan pada 2018 sebagai yang pertama kali diperoleh setelah 10 tahun terakhir atau sejak 2006 mendapat Opini ´Wajar Dengan Pengecualian (WDP), yang diserahkan oleh Anggota IV BPK, Rizal Djalil kepada Menteri Pertanian RI Andi Amran Sulaiman pada 5 Juni 2018.

"Bukan begitu saja tiba-tiba muncul opini WTP, capaian WTP bagi Kementan dicapai dengan kerja keras dan berdarah-darah," kata Mentan Amran Sulaiman kepada pers di Jakarta, usai menerima plakat Opini WTP dari Rizal Djalil.

Opini WTP
Opini BPK merupakan pernyataan profesional pemeriksa mengenai kewajaran informasi keuangan yang disajikan dalam laporan keuangan yang didasarkan pada empat kriteria yakni kesesuaian dengan standar akuntansi pemerintahan, kecukupan pengungkapan (adequate disclosures), kepatuhan terhadap peraturan perundang-undangan, dan efektivitas sistem pengendalian intern, menurut Wikipedia.

Opini utama adalah WTP adalah opini audit yang akan diterbitkan jika laporan keuangan dianggap memberikan informasi yang bebas dari salah saji material. Jika laporan keuangan diberikan opini jenis ini, artinya auditor meyakini berdasarkan bukti-bukti audit yang dikumpulkan, perusahaan/pemerintah dianggap telah menyelenggarakan prinsip akuntansi yang berlaku umum dengan baik, dan kalaupun ada kesalahan, kesalahannya dianggap tidak material dan tidak berpengaruh signifikan terhadap pengambilan keputusan.

Selain opini WTP ada pula opini WTP Dengan Paragraf Penjelasan (biasa disingkat WTP-DPP). Opini WTP-DPP dikeluarkan karena dalam keadaan tertentu auditor harus menambahkan suatu paragraf penjelasan dalam laporan audit, meskipun tidak mempengaruhi pendapat wajar tanpa pengecualian atas laporannya.

Opini Wajar Dengan Pengecualian [WDP] adalah opini audit yang diterbitkan jika sebagian besar informasi dalam laporan keuangan bebas dari salah saji material, kecuali untuk rekening atau item tertentu yang menjadi pengecualian.

Opini Tidak Wajar [TW] adalah opini audit yang diterbitkan jika laporan keuangan mengandung salah saji material, dengan kata lain laporan keuangan tidak mencerminkan keadaan yang sebenarnya. Jika laporan keuangan mendapatkan opini jenis ini, berarti auditor meyakini laporan keuangan perusahaan/pemerintah diragukan kebenarannya, sehingga bisa menyesatkan pengguna laporan keuangan dalam pengambilan keputusan.

Opini Tidak Menyatakan Pendapat [TMP] oleh sebagian akuntan dianggap bukanlah sebuah opini, dengan asumsi jika auditor menolak memberikan pendapat artinya tidak ada opini yang diberikan. Opini jenis ini diberikan jika auditor itidak bisa meyakini apakah laporan keuangan wajar atau tidak. [Anggie]
Jakarta [B2B] - Indonesian Agriculture Ministry seeks to regain 'Unqualified Opinion' [WTP] in 2018, so the inspectorate general [ItjenTan] seeks to encourage the work units in the ministry to complete audit findings, by completing as soon as possible recommendations for supervision of ItJenTan in particular management improvements and efforts to prevent state losses.
"We must complete as soon as possible recommendations of the ItJenTan supervision, by trying to encourage work units in the ministry to complete the audit findings, to regain WTP opinion from the Supreme Audit Agency," ItJenTan Investigation Inspector, Sotarduga Hutabarat told the press here on Tuesday [April 2].
Hutabarat reminded ItJenTan's supervision to improve the financial performance of agriculture ministry according to recommendations to improve management quality and prevent state losses.
"The goal is the results of ItJenTan's supervision can provide benefits to work partners, then follow-up on recommendations of supervision must be followed up immediately," he said.
Previously reported, the BPK gave Unqualified Opinion (WTP) for the Indonesian Agriculture Ministry, as the first time after the last 10 years or since 2006 have got Opinion With Exception (WDP), and Minister Andi Amran Sulaiman appreciated the hard work civil servants in the ministry.
"The WTP opinion of BPK is not a gift from heaven, and I promise anyone who tries to corrupt, meaning he is ready to leave the ministry. This achievement is the result of our hard work," Minister Sulaiman told reporters here on Monday (June 5, 2018).