Ditjen Perkebunan Revitalisasi Kebun Tebu Capai Swasembada Gula 2019
Indonesian Govt Targets Self-sufficiency in Sugar by 2019
Editor : M. Achsan Atjo
Translator : Dhelia Gani

PUBLISHED: Rabu, 21 Juni 2017 , 12:26:00 WIB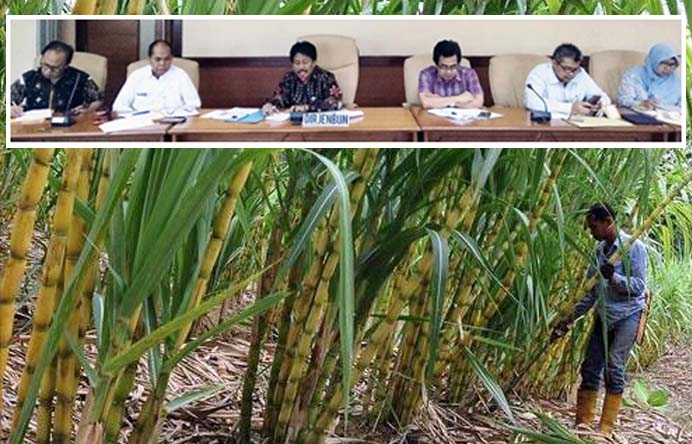 Revitalisasi kebun tebu, Dirjen Perkebunan Bambang Wahyu Dwiantoro (ke-3 kiri) dan para direktur di Ditjen Perkebunan (Foto: Humas Ditjenbun/Gagat)
Jakarta (B2B) - Kementerian Pertanian RI berupaya melakukan peremajaan tanaman tebu nasional untuk meningkatkan produktivitas, Direktorat Jenderal Perkebunan menargetkan bongkar ratoon di lahan seluas 18.000 hektar dari 450.000 hektar tanaman tebu di seluruh Indonesia, dengan memberi benih unggulan pada tanaman tebu rakyat sehingga dapat menopang kebutuhan pabrik-pabrik gula mencapai target produksi 3,3 juta ton gula kristal putih (GKP) untuk swasembada gula 2019.

Dirjen Perkebunan Bambang Wahyu Dwiantoro mengatakan peremajaan tanaman tebu nasional menjadi penentu peningkatan produktivitas dari rata-rata produksi 70 - 80 ton menjadi 100 ton per hektar, sementara realisasi capaian produksi tebu 2016 di bawah ekspektasi akibat pengaruh iklim kemarau basah sepanjang tahun, yang berdampak pada produksi gula kristal putih (GKP) atau gula konsumsi lokal hanya mencapai 2,2 juta dari target 2,3 juta ton pada 2016.

"Tingginya curah hujan mengakibatkan banyak tanaman tebu yang tidak bisa dipanen, rendemen pun menurun. Kondisi iklim yang kembali normal tahun ini, kami harapkan produksi gula konsumsi bisa mencapai target produksi 2,5 juta ton gula tahun ini," kata Bambang DW kepada pers di kantornya, Selasa (20/6).

Menurutnya, swasembada gula 2019 sebagai program yang dicanangkan pemerintah melalui Peraturan Menteri Pertanian, Permentan No 33/2016 tentang pengembangan perkebunan melalui revitalisasi perkebunan.

Dirjen Bambang menambahkan, pemerintah memproyeksikan kenaikan produksi GKP pada 2019 mencapai 3,3 juta ton sementara produksi GKP untuk 2018 dipatok 2,8 juta ton, target tersebut dinilai realistis karena pengembangan lahan tanaman tebu dan pembangunan pabrik gula baru.

"Tambahan produksi hingga 800 ribu ton pada 2019 bukan hal yang sulit dicapai, dan kami optimistis bisa dicapai. Pabrik gula baru seperti di Ogan Komering Ilir di Provinsi Sumatera Selatan sudah siap menopang produksi, didukung perluasan lahan tebu di sekitar pabrik gula," kata Bambang.

Kelembagaan Petani Perkebunan
Ditjen Perkebunan juga mendorong peningkatan produksi kakao dengan melakukan penguatan kelembagaan petani melalui lembaga ekonomi masyarakat sejahtera (LEMS) di pedesaan mengacu pada potensi wilayah dan komoditas seperti desa kakao. Pemerintah akan melibatkan perguruan tinggi, lembaga penelitian dan lembaga swadaya masyarakat (LSM) mendorong sinergi LEMS dengan pabrik sebagai industri antara untuk pengolahan coklat blok, dan perbankan yang mendukung modal dan pembiayaan.

"LEMS berperan melakukan kolektivitas dan konektivitas produk dan penetapan standar mutu dengan mendirikan koperasi di desa kakao, desa kelapa, dan empat komoditas utama lainnya yang potensial dikembangkan di sentra-sentra produksi perkebunan," kata Dirjen Bambang DW.

Menurutnya, peran LEMS melalui koperasi menjadi fokus pemerintah untuk meningkatkan kesejahteraan petani pekebun meningkatkan produksi, produktivitas dan mutu subsektor perkebunan berbasis kawasan eksisting, pengembangan kawasan baru, daerah perbatasan, daerah tertinggal yang didukung didukung oleh penguatan perbenihan dan kebun sumber benih.

Dia menambahkan, langkah tersebut diikuti kegiatan spesifik dengan integrasi dan diversifikasi komoditas perkebunan utama melalui penguatan kelembagaan berbasis desa, pengembangan desa organik, dan pengembangan desa mandiri benih.

"Kegiatan spesifik juga fokus pada pengembangan indikasi geografis, peningkatan produksi khusus, standarisasi mutu produk, pengolahan pupuk organik, dan pengembangan agrowisata perkebunan berbasis wisata alam," kata Bambang DW.
Jakarta (B2B) - Indonesian Agriculture Ministry targets unloading sugarcane ratoon in 18,000 hectares of 45,000 hectares of sugarcane crops across the archipelago, by providing superior seeds to the people´s sugar cane to support sugar mills reaching a production target of 3.3 million tons of white sugar for self-sufficiency in 2019, according to senior official.

Director General of Plantation Bambang Wahyu Dwiantoro said the strategy is to increase sugar cane production from 70 to 80 tons to 100 tons per hectare, while sugarcane production in 2016 below the target due to high rainfall so that the white sugar production reached only 2.2 million of the targeted 2.3 million tons.

"The high rainfall causes the harvest to fail, and climate conditions are expected as a good sign of achieving this year´s 2.5 million ton sugar production target," Bambang DW told reporters here on Tuesday (June 20).

According to him, sugar self-sufficiency in 2019 as a program launched by the government through the Minister of Agriculture No. 33/2016 regulation on plantation revitalization.

Mr Dwiantoro projected that sugar production in 2019 could reach 3.3 million tons while production of 2018 is targeted at 2.8 million tons which is considered realistic due to the expansion of new land and sugar mills.

"The additional production of 800 thousand tons for 2019 is not a difficult thing to achieve, and we are optimistic. The new sugar mill in Ogan Komering Ilir district of South Sumatera province is ready to support additional production," he said.

Strengthen Farmer Institutions
Indonesian Agriculture Ministry seeks to strengthen farmer institutions through the welfare community economic institutions (LEMS) in rural areas refers potential of regions and commodities such as cocoa villages. Jakarta will involve universities, research institutes and non-governmental organizations (NGOs) encouraging the LEMS factories as intermediate industries for cocoa processing, and banks support capital and finance.

"The LEMS plays a role in collectivity and product connectivity and quality standards by establishing cooperatives in cocoa villages, coconut villages and four other potential commodities in Southeast Sulawesi," Mr Dwiantoro said.

According to him, the LEMS through cooperatives became the government´s focus improve the welfare o9f farmers increase production, productivity and quality of plantation sub-sector based on existing area, new area development, border area, underdeveloped area with seedling strengthening and garden seed source.

He added that the move is followed by specific activities with integration and diversification of major plantation commodities through strengthening of village-based institutions, development of organic villages, and development of seed villages independently.

"Specific activities also focus on developing geographical indications, improving special production, product quality standards, processing of organic fertilizers, and developing agro-tourism based on natural tourism," he said.