LTT Asep, PJ Upsus Pajale Kalbar Pimpin Gerakan Tanam di Sambas
Indonesian Govt Support Districts Government Increase Rice Production
Editor : M. Achsan Atjo
Translator : Dhelia Gani

PUBLISHED: Kamis, 12 April 2018 , 12:48:00 WIB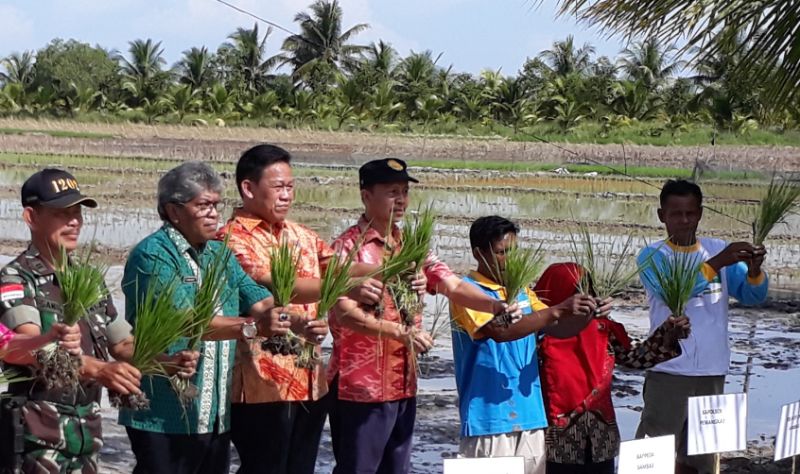 PJ Upsus Kalbar, Momon Rusmono (ke-3 kiri) memimpin kegiatan percepatan tanam di Kabupaten Sambas, Provinsi Kalimantan Barat (Foto: B2B/M. Achsan Atjo)
Sambas, Kalbar (B2B) - Penanggung Jawab Upsus Pajale Kalbar, Momon Rusmono pagi ini, Kamis (12/4) memimpin kegiatan percepatan tanam di Kabupaten Sambas, yang dikenal sebagai lumbung beras utama di Pulau Kalimantan maupun nasional, misalnya realisasi luas tambah tanam (LTT) Sambas 21 ribu atau separuh dari LTT provinsi, 41 ribu hektar (di luar lahan suboptimal dan padi gogo).
Percepatan tanam berlangsung di Dusun Sungai Palai, Desa Prapakan, Kecamatan Pemangkat, Momon Rusmono tiba di lokasi tanam pukul 08:45 didampingi PJ Upsus Sambas, Yudhistira Nugraha dan Tim Upsus Kalbar, Septalina Pradini dan disambut oleh staf ahli bupati, dan Kepala Dinas Pertanian Sambas diwakili Kabid TP, Iswanadi
"Kenapa Sambas jadi vital? Realisasi LTT Kalbar untuk Maret 2018 sekitar 41 ribu hektar, tapi hampir 22 ribu hektar dari Sambas atau 60 persen, maka saya ingatkan petani dan penyuluh pertanian didukung Babinsa dari TNI AD bahu-membahu meningkatkan produksi padi," kata Momon Rusmono, yang juga menjabat Kepala Badan Penyuluhan dan Pengembangan SDM Pertanian (BPPSDMP) Kementerian Pertanian RI.
Dia mengaku akan bekerja keras dengan Tim Upsus Kalbar dengan mengusung tekad ´the winning team´, "di dalam, saya dorong koordinasi tim kementerian dengan tim kabupaten dan provinsi, dan keluar, saya jaga betul provinsi ini."
Momon Rusmono mengapresiasi kinerja semua pihak terkait di Sambas selama satu tahun bertugas sebagai PJ Upsus Kalbar untuk mendorong peningkatan produksi padi melalui program LTT, mobilisasi Alsintan, serap gabah dan mendorong peningkatan kesejahteraan petani.
Masa tanam khususnya komoditas padi, yang terbagi menjadi dua masa tanam dalam setahun, meliputi masa tanam Oktober - Maret dan masa tanam April - September. Untuk kasus Kalbar, trend penanaman komoditas pangan khusunya padi mencapai puncaknya di September dan Maret. Untuk itu, Maret ini menjadi strategis sebagai penutup masa tanam Okmar.
Pada Rakor Upsus di Pontianak pertengahan Februari lalu (20/2) Heronimus Hero mengatakan bahwa Kalbar menargetkan produksi gabah kering giling (GKG) untuk 2018 hingga 1,6 juta ton dari luas tanam 600.000 hektar, sementara angka ramalan produksi GKG (Aram) dari Badan Pusat Statistik menargetkan 1,5 juta ton GKG.
"Target 1,6 juta ton GKG itu realistis dan optimistis tercapai dari total lahan 600 ribu hektar," kata Heronimus.
Sambas of West Borneo (B2B) - Indonesian Government through the Person in Charge of West Borneo increase rice production or Upsus Pajale Kalbar, Momon Rusmono here on Thursday morning (April 12) leads rice planting activities in Sambas district, known as rice granaries of Borneo Island and nationally, for example, realization of extensification in Sambas 21 thousand or half of the province, 41 thousand hectares.
The activity took place in Sungai Lalai village of Pemangkat subdistrict, and Mr Rusmono arrived at 08:45 am with his team from the Indonesian Agriculture Minister such as Yudhistira Nugraha and Septalina Pradini and welcomed by the Head of Sambas Agriculture Office, Iswanandi.
"Why is Sambas so vital? Realization of provincial extensification for March 2018 is about 41 thousand hectares, I remind farmers and agricultural extension workers supported by the army work together to increase rice production," Mr Rusmono said who also served as the Director General of Agricultural Extension and Human Resource Development.
He claimed to be working hard with the team of West Kalimantan Upsus with the determination of ´the winning team´, inside, I encourage coordination of ministry teams with district and provincial teams, and on the outside, I take care of the interests of the province."
Mr Rusmono appreciated the performance of all related parties in Sambas for one year in charge as PJ Upsus Kalbar to encourage increased rice production.
Head of West Borneo Aagriculture Office, Heronimus Hero recently said that the provincial government is targeting the production of dry milled grain, for 2018 it is targeted to 1.6 million tons of 600,000 hectares of planted area, while the forecast of rice production or Aram, from the Central Statistics Agency, is targeting 1.5 million tons of dry milled grain.
The target of 1.6 million tons of dry grain is realistic, and we are optimistic of the total land of 600 thousand hectares," Mr Hero said in Pontianak, the provincial capital.