10 Terbesar Kelola Keuangan Negara, Sekjen Kementan Sosialisasi Perpres No 16/2018
Indonesian Agriculture Ministry Seeks to Manage State Finance in Prudence
Reporter : Gusmiati Waris
Editor : Cahyani Harzi
Translator : Dhelia Gani

PUBLISHED: Jum'at, 20 April 2018 , 13:22:00 WIB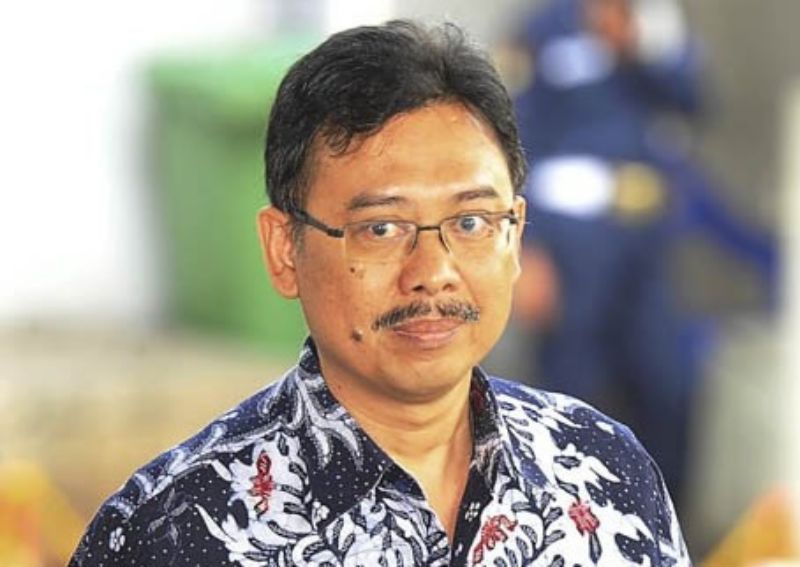 Sekjen Kementan, Syukur Iwantoro (Foto: Humas Kementan)
Jakarta (B2B) - Kementerian Pertanian RI termasuk 10 besar pengelola keuangan negara di antara kementerian dan lembaga pemerintah, Sekjen Kementan Syukur Iwantoro mengingatkan peran sentral 350 pejabat fungsional pengelola pengadaan barang dan jasa di pusat dan daerah.
"Pengadaan barang dan jasa mempunyai peranan penting dalam pelaksanaan pembangunan nasional untuk peningkatan pelayanan publik, maka dituntut pengaturan yang memberikan manfaat yang sebesar-besarnya atau value for money, dan kontribusi dalam peningkatan penggunaan produk dalam negeri," kata Syukur Iwantoro pada pembukaan ´sosialisasi Peraturan Presiden - Perpres Pengadaan Barang/Jasa Pemerintah Nomor 16/2018 di Jakarta, Rabu (18/4).
Menurutnya, pemerintah mempunyai peran vital dalam pelaksanaan pembangunan nasional dalam rangka meningkatkan pelayanan publik dan mengembangkan perekonomian, baik di pusat maupun di daerah.
"Selain kontribusi pada penggunaan produk dalam negeri, juga berperan mendukung peningkatan kemampuan usaha mikro, usaha kecil dan usaha menengah atau UMKM dan pembangunan berkelanjutan," katanya pada 350 peserta kegiatan sosialisasi dari seluruh Indonesia.
Sebelumnya diberitakan, Perpres Nomor 16/2018 merupakan revisi dari Perpres Nomor 54/2010 dan sesuai arahan Presiden dalam rangka deregulasi dan percepatan pembangunan serta untuk memaksimalkan penyerapan anggaran, salah satunya terkait dengan peraturan pengadaan barang/jasa pemerintah. kata Syukur.
Dia mengingatkan peserta sosialisasi harus memahami tujuan pengadaan barang/jasa untuk menghasilkan barang/jasa yang tepat dari setiap uang yang dibelanjakan, diukur dari aspek kualitas, jumlah, waktu, biaya, lokasi dan penyedia; meningkatkan penggunaan produk dalam negeri; meningkatkan peran usaha UMKM; meningkatkan peran perilaku nasional; mendukung pelaksanaan penelitian dan pemanfaatan barang/jasa hasil penelitian; meningkatkan keikutsertaan industri kreatif; mendorong pemerataan ekonomi; dan mendorong pengadaan berkelanjutan.
"Bekerjalah secara profesional, mandiri, dan menjaga kerahasiaan untuk mencegah adanya penyimpangan," katanya pada 350 peserta sosialisasi dari pejabat eselon dua sebagai kuasa pemegang anggaran - KPA, pejabat eselon tiga, dan pejabat fungsional pengelola pengadaan barang dan jasa lingkup Kementan di seluruh Indonesia.
Syukur Iwantoro juga menekankan agar peserta pejabat pengadaan barang dan jasa harus selalu berpegang prinsip efisien, efektif, transparan, terbuka , bersaing, adil dan akuntabel serta melaksanakan tugas secara tertib disertai tanggung jawab untuk mencapai sasaran, berkelancaran, dan berketepatan tujuan pengadaan barang dan jasa.
Jakarta (B2B) - Indonesian Agriculture Ministry is the top 10 state financial manager among ministries and agencies, and Secretary General of Agriculture Ministry, Syukur Iwantoro reminded the important role of 350 functional officials of procurement of goods and services at the central and regional levels across the country.
"Procurement of goods and services plays an important role in improving public services, are required to implement a policy of value for money, and a contribution to the increased use of domestic products," said Mr Iwantoro here on Wednesday (April 18) while opened the socialization activities of Presidential Regulation of Goods and Services Government Number 16/2018.
According to him, the government plays an important role in national development to improve public services and national economy at the central and regional levels.
"Increasing the use of domestic products, also supports improvement of SMEs business capabilities and sustainable development," he said to 350 participants from across the country.
Previously reported, Presidential Regulation Number 16/2018 is a revision of a similar rule Number 54/2010 and refers to President Joko Widodo´s instruction related to the deregulation and acceleration of development and maximize the absorption of the budget, one of them related to the government procurement of goods/services.
He reminded participants of socialization to understand the purpose of procurement to produce the right goods/services of every money spent, measured from aspects of quality, quantity, time, cost, location and provider; increase use of domestic products; increase the role of SMEs business; enhance the role of national behavior; support implementation of research and utilization of goods/services research results; enhance participation of creative industries; encourage economic equity; and encourage sustainable procurement.
"Working professionally, independently, and maintaining confidentiality to prevent irregularities," he told to 350 socialization participants.
Mr Iwantoro also reminded that participants of goods and services procurement officers must always adhere to the principles of efficient, effective, transparent, open, competing, fair and accountable and carry out their duties in an orderly manner with the responsibility to achieve the objectives, smoothness and the purpose of procurement of goods and services.