Penyuluh Pertanian, 127 Sarjana Terapan Polbangtan YoMa Ikuti Uji Kompetensi
Indonesian Agricultural Extension are Required to Take Competency Tests
Editor : M. Achsan Atjo
Translator : Dhelia Gani

PUBLISHED: Senin, 26 Agustus 2019 , 13:47:00 WIB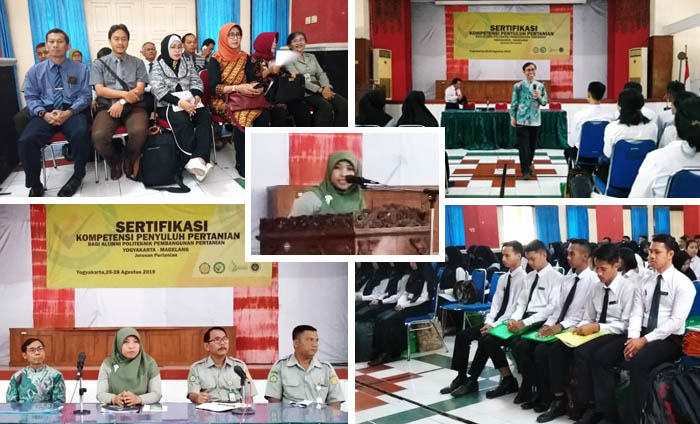 WISUDAWAN 2019: Dr Siti Astuti membuka uji kompetensi mewakili Direktur Dr Rajiman [tengah], tim asesor dan wisudawan [atas dan kanan bawah], Kabag Umum Irwan JS selaku fasilitator [ke2 kanan, kiri bawah] Foto2: Asnuri
Yogyakarta, DIY [B2B] - Sebanyak 127 sarjana terapan bidang penyuluhan pertanian dari Polbangtan YoMa mengikuti uji kompetensi, untuk mendapatkan Sertifikat Standar Kompetensi Kerja Nasional [SKKNI]. Uji kompetensi berlangsung empat hari [25 - 28 Agustus 2019] dimulai Minggu [25/8] yang dibuka oleh Dr Siti Astuti mewakili Direktur Polbangtan YoMa, Dr Rajiman di kampus jurusan pertanian Yogyakarta, Jl Kusumanegaran 2.
Mereka adalah sarjana terapan Polbangtan YoMa, yang baru saja menyelesaikan studi Diploma 4 [D4] penyuluhan pertanian, yang diwisuda oleh Menteri Pertanian RI Andi Amran Sulaiman di kantor pusat Kementerian Pertanian RI pada Selasa [20/8] dihadiri Kepala BPPSDMP Kementan, Prof [R] Dedi Nursyamsi dan Kepala Pusat Pendidikan Pertanian [Pusdiktan BPPSDMP Kementan] Idha Widi Arsanti.
"Para peserta uji kompetensi hari ini adalah wisudawan 2019 yang harus selalu mengembangkan kemampuan. Uji kompetensi bukan berarti telah cukup belajar dengan berbagai bidang keilmuan. Asah terus, tunjukkan skill yang profesional pada level supervisor dan dapat dipertanggungjawabkan," kata Dr Siti Astuti.
Ketua Panitia Uji Kompetensi Polbangtan YoMa, Sukadi mengatakan kegiatan uji kompetensi dilaksanakan untuk menjamin mutu pelayanan, dan mendapatkan tenaga calon penyuluh pertanian yang berkompeten di bidangnya, ditunjang dengan adanya sertifikat SKKNI, sebagai prasyarat bahwa sarjana terapan [S.Tr penyuluh pertanian] dari Politeknik Pembangunan Pertanian Yogyakarta - Magelang [Polbangtan YoMa] memenuhi kualifikasi SKKNI.
"Dengan ditetapkannya sertifikasi profesi bagi calon penyuluh pertanian, maka profesionalitas penyuluh pertanian mendapat legalitas formal dan diakui masyarakat," kata Sukadi melalui pernyataan tertulis, Senin [26/8].
Kabag Umum Polbangtan YoMa, Irwan Johan Sumarno mengatakan bahwa 127 sarjana terapan bergelar S.Tr akan menjalani uji kompetensi hingga Rabu [28/8] untuk menunjukkan kompetensinya di hadapan tim asesor dari Polbangtan Bogor, Malang dan Gowa; Dinas Ketahanan Pangan Bogor, Dinas Pertanian dan Ketahanan Pangan Jawa Tengah, Dinas Pertanian dan Kelautan Bantul, DIY; BBPP Batu Jawa Timur, DPW Perhiptani Jawa Tengah; DPD Perhiptani Tanah Laut Kalsel; dan LSP Pertanian Puslatan.
Sebagaimana diketahui, profesi penyuluh pertanian termasuk dalam 449 profesi dari lima subsektor pertanian, yang tercakup dalam ´Peta Okupasi dalam Kerangka Klasifikasi Indonesia Sektor Pertanian´ sebagai bagian Klasifikasi Baku Jabatan Indonesia [KBJI], yang disusun oleh Pusat Pelatihan Pertanian pada Badan Penyuluhan dan Pengembangan SDM Pertanian - Kementerian Pertanian RI [Puslatan BPPSDMP]. Area fungsi terbanyak adalah peternakan dan kesehatan hewan [PKH] sementara penyuluhan pertanian hanya ditetapkan tiga profesi: Advisor, Supervisor dan Fasilitator. [Asnuri]
Yogyakarta [B2B] - At least 127 applied agricultural extension scholars from Indonesia´s Polbangtan Yoma in Yogyakarta province took competency test to get the Indonesian Work Competency Standards Certificate [SKKNI]. The competency test lasted four days [25 to August 28, 2019] began on Sunday [August 25th] was opened by Dr. Siti Astuti representing the Director of Polbangtan YoMa, Dr. Rajiman, according to the according to senior official of Indonesian agriculture ministry.