Terampil Operasikan Alsintan, PJ OPA Yogyakarta Apresiasi Kades Wagiyono dari Kutoarjo
Central Java`s Village Head Support Utilization of Agriculture Machinery
Editor : M. Achsan Atjo
Translator : Dhelia Gani

PUBLISHED: Selasa, 03 April 2018 , 14:09:00 WIB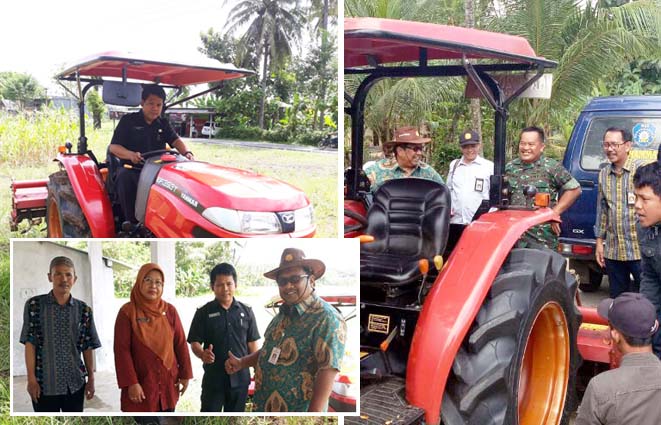 Kades Wagiyono mengoperasikan TR4 (kiri atas) PJ OPA Ali Rachman (topi koboi) dan Koordinator Tim Alsintan STPP Yogyakarta, Irwan JS (batik kuning) dengan Babinsa (kanan) di UPJA Madu Traktor (inset) Foto2: Humas STPP Yogyakarta
KEINGINAN untuk belajar mendorong Wagiyono, seorang kepala desa di Provinsi Jawa Tengah untuk mengoperasikan sekaligus menjadi ´montir dadakan´ untuk memperbaiki traktor roda empat (TR4) yang mendadak ngadat, lantaran kian faham ´penyakit´ alat mesin pertanian (Alsintan) yang diandalkan petani untuk kegiatan usaha tani.

Kesungguhan dan keterampilan Wagiyono mengusik perhatian Penanggung Jawab Penanggung Jawab Optimalisasi Pemanfaatan Alsintan - PJ OPA Yogyakarta, Ali Rachman dengan mengajak pria kelahiran 14 Agustus 1975 untuk menyambangi unit pelayanan jasa Alsintan disingkat UPJA Madu Traktor di Kecamatan Kutoarjo, Kabupaten Purworejo, belum lama ini.

"Wagiyono selaku kepala desa muda juga merupakan pembina kelompok tani di desanya, dan bertekad bahwa segala sesuatu bisa dipelajari berbekal tekad dan keinginan," kata Ali Rachman yang juga Ketua Sekolah Tinggi Penyuluhan Pertanian - STPP Yogyakarta, yang didampingi Koordinator Tim Alsintan STPP Yogyakarta, Irwan Johan Sumarno melalui pernyataan tertulis.

Ali Rachman mengapresiasi perhatian Wagiyono pada pengembangan potensi pertanian di desanya meskipun hanya lulusan sekolah menengah atas (SMA), untuk mendorong generasi muda membangun desanya dengan menggeluti bidang pertanian, membina Kelompok Tani Mukti. Terbukti, Wagiyono mampu mengoperasikan sekaligus berbagi ilmu tentang tips and trick mengatasi traktor yang ngadat.

Wagiyono pun berbagi pengetahuan tentang cara mengatasi TR4, mulai dari tidak bisa dihidupkan maka diatasi dengan menetralkan semua persneling sebelum menghidupkan mesin.

"Kalau TR4 terperosok di lubang atau sumuran lahan sawah bekas tanaman mentimun, manfaatkan double gardan-nya," kata Wagiyono, Kepala Desa Karanggetas, Kecamatan Pituruh, Kabupaten Kutoarjo.

Dia juga mengeluhkan tentang pin pengunci gardan yang kerap hilang, maka diatasinya dengan membuat pin paten. "Sekering TR4 putus, cukup diatasi dengan mengganti secara mandiri."

Mobilisasi Alsintan
Pada kegiatan refresh UPJA Madu Traktor di Desa Kemadu, Kecamatan Kutoarjo, Kabupaten Purworejo, Ali Rachman menilai pemanfaatan Alsintan bantuan pemerintah dilakukan dengan optimal untuk mendukung peningkatan produksi pangan strategis. Alsintan yang diterima antara lain satu unit combine harvester ukuran sedang (CHS) merek Crown, power trasher, satu unit TR2 merek Quick, satu unit TR4 merek Yanmar, alat tanam jagung, mesin transplanter, dan pompa air.

"Setelah melakukan refresh dan mendorong mobilisasi Alsintan di UPJA Madu Traktor tergolong mumpuni dalam mengoperasionalkan Alsintan bantuan pemerintah," kata Irwan JS yang juga menjabat Kabag Administrasi Umum STPP Yogyakarta.

Menurut Irwan, hal yang perlu diperbaiki dan ditingkatkan adalah pembinaan manajemen dan organisasi dengan aset lahan 40 hektar, yang saat ini mengembangkan usaha tani komoditas padi, jagung dan kedelai (Pajale), dengan mengaplikasikan metode pertanian modern dari para penyuluh pertanian seperti penanaman padi Jajar Legowo, SRI dan beberapa varietas unggul lainnya.

"Praktik lapangan secara tidak langsung mempengaruhi ketertarikan para petani anggota kelompok di kecamatan tersebut untuk memanfaatkan Alsintan tepat guna," kata Irwan JS yang didampingi para instruktur Alsintan di antaranya Rajendra Rohiyat, Kodrad Winarno dan Budi Wijayanto; dan Koordinator Balai Penyuluhan Pertanian - BPP Kutoarjo, Ekowati SP.

Sebagaimana diketahui, PJ OPA Yogyakarta merujuk pada wilayah kerja komando resort militer - Korem 072/Pamungkas di bawah kendali Kodam IV/Diponegoro yang meliputi 10 komando distrik militer (Kodim) dan satu batalion infanteri - Yonif 403/Wirasada Pratista yakni Magelang, Wonosobo, Temanggung, Purworejo, Kebumen, Bantul, Gunung Kidul, Kulon Progo, Sleman, dan Yogyakarta.
THE WILLINGNESS of learning encouraged Wagiyono, a village chief in Central Java province to operate and a mechanic to fix the four-wheel tractor, who suddenly broke down, because he understood the agriculture machinery or Alsintan that farmers relied on for farming.

Wagiyono´s sincerity and skill draw attention of the Person in Charge of Alsintan for Yogyakarta province or the PJ OPA Ali Rachman invites the man who was born August 14, 1975 to visit the Alsintan service unit or UPJA Madu Traktor in Kutoarjo subdistrictof Purworejo district, recently.

"Wagiyono also coaches farmer groups in his village, and he was determined to learn at once the practice of agricultural mechanization," said Mr Rachman who also served as the Rector of Yogyakarta´s Agriculture Extension College or STPP Yogyakarta who was accompanied by Alsintan´s Team Coordinator of the STPP Yogyakarta, Irwan Johan Sumarno.

Mr Rachman appreciated Wagiyono´s interest in developing agricultural potentials in his village even though only high school graduates or SMA to encourage the younger generation to build their village by cultivating agriculture, foster Mukti Farmer Group. Wagiyono is able to operate a four-wheel tractor as well as share his knowledge of tips and tricks to overcome the strike machine.

Wagiyono also shared his knowledge about the tractor machine can not be turned on, the solution by neutralizing all the gears before starting the engine.

"If the four-wheeled tractor is mired in paddy field use double axle," said Wagiyono who was Karanggetas village head of Pituruh subdistrict in Kutoarjo subdistrict.

He also reveals the axle lock pin that is often missing, then over it by making a patent pin. "Fuse the machine to break it off, replace it by yourself."

Agricultural Machinery
Mr Rachman said that the utilization of Alsintan for government assistance is done optimally to support the increase of strategic food production. Alsintan is owned by UPJA Madu Traktor such as one unit combine harvester medium size, power trasher, one unit TR2 brand, one unit TR4, planting corn, transplanter machine, and water pump.

Mr Rachman recalled Minister Sulaiman´s instructions on the work capacity of Alsintan per day such as 2-wheeled tractor machine is 0.3 hectare, 2 hectare for 4 wheel tractor, 0.6 hectares for small combine harvester, 1.2 hectares for medium, and 2 hectares for big combine harvester.

Irwan Johan Sumarno as coordinator of STPP Yogyakarta team called UPJA Madu Traktor to take care of government assistance, maximum utilization, periodic maintenance of the machine, affordable rental rates, group work so that the expanse of the wider nurses, utilizing combine harvester will make the rice harvest cleaner and minimize the losses of dry grain harvest.

"The activity was continued with field meetings for the practice of tractor maintenance and mobilization in Kemadu village," Mr Sumarno said in a written statement.

PJ OPA Yogyakarta refers to the working area of the military resort command or Korem 072/Pamungkas ie Magelang, Wonosobo, Temanggung, Purworejo, Kebumen, Bantul, Gunung Kidul, Kulon Progo, Sleman, and Yogyakarta.