PBNU Dukung Kementan Tingkatkan Produksi Pangan dan Sejahterakan Petani
Indonesia`s Biggest Islamic Group Support Agriculture Ministry for Rice Self-sufficiency
Reporter : Gusmiati Waris
Editor : Cahyani Harzi
Translator : Dhelia Gani

PUBLISHED: Rabu, 26 Juli 2017 , 01:41:00 WIB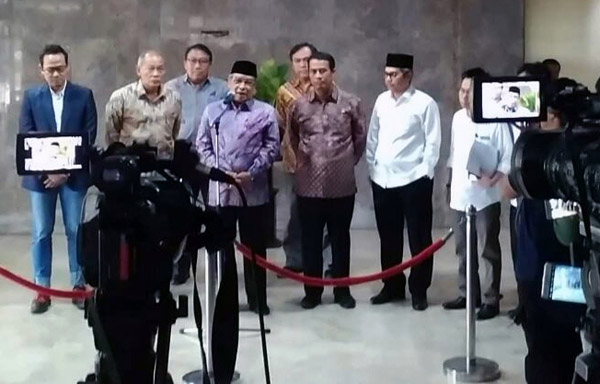 Ketua Umum PBNU KH Said Aqil Siradj (ke-3 kiri) menjawab pers didampingi Mentan Andi Amran Sulaiman (ke-3 kanan) dan Sekjen Kementan Hari Priono (ke-2 kiri) Foto: B2B/Gusmiati Waris
Jakarta (B2B) - Pengurus Besar Nahdlatul Ulama (PBNU) menyatakan mendukung langkah Pemerintah RI khususnya Kementerian Pertanian RI, untuk meningkatkan produksi pangan strategis dan meningkatkan kesejahteraan petani, karena hal itu sejalan dengan Keputusan Muktamar NU ke-33 di Jombang, Jawa Timur pada 2015.

Hal itu dikemukakan Ketua Umum PBNU KH Said Aqil Siradj saat menjadi 'tamu istimewa' terkait langkah Menteri Pertanian RI Andi Amran Sulaiman memimpin jajarannya memerangi praktik kartel dan monopoli pangan yang merugikan petani dan membebani konsumen.

Kendati tidak menyebut secara khusus hasil temuan Satgas Pangan atas 1.161 ton beras di gudang PT Indo Beras Unggul (IBU) di kawasan Bekasi, Jabar, Aqil Siradj menyatakan dukungan NU pada kebijakan Mentan Amran Sulaiman demi kepentingan bangsa dan negara terkait kebutuhan pangan.

"Saya di belakang Mentan. Asalkan pro rakyat. Beliau siap di depan demi rakyat untuk melawan monopoli dan kartel pangan. Harus ada pemerataan. Bukan hanya pertumbuhan ekonomi yang penting," kata Aqil Siradj kepada pers di kantor Kementan pada Selasa (25/7).

Mentan Amran Sulaiman mengapresiasi kunjungan pimpinan pusat PBNU dan dukungan organisasi Islam terbesar di Indonesia tersebut, dalam melaksanakan agenda Pemerintahan Joko Widodo - Jusuf Kalla mencapai swasembada pangan demi ketahanan pangan nasional, yang selama puluhan tahun terbelenggu pangan impor, dan setelah 32 tahun swasembada beras tercapai pada 2016, mengulang sukses 1984 pada era Orde Baru.

Dari pertemuan keduanya, tercapai kesepakatan kerjasama pengembangan lahan tidur seluas 10.000 hektar di Bengkulu dan Lampung untuk ditanami jagung.

Keterlibatan PBNU pada pembangunan pertanian bukan kali ini saja, dalam setiap kunjungan kerja di daerah, Mentan Amran Sulaiman kerap bersinggungan dengan santri dari pesantren yang dikelola PBNU. Misalnya, saat panen padi pertama 2017 di Desa Karangbanyu, Kecamatan Widodaren, Kabupaten Ngawi, Jawa Timur (8 Maret 2017) yang ternyata lokasi panen padi berada di belakang Pondok Pesantren Gontor Putri 3 di Ngawi.

Mentan pun langsung memberikan bantuan alat mesin pertanian (Alsintan), benih dan pupuk kepada pengurus lahan pertanian milik pesantren NU di Ngawi tersebut.

"Saya titip bantuan ini untuk Gontor Putri agar dapat memenuhi kebutuhan beras secara mandiri," kata Amran Sulaiman yang singgah di Ngawi dalam kegiatan safari sepekan penyerapan gabah petani (Sergap) di 10 kabupaten dari Jawa Timur, Jawa Tengah hingga Jawa Barat.
Jakarta (B2B) - Indonesia's biggest Islamic group, the moderate Nahdlatul Ulama (PBNU) declared supports Indonesian government, especially the agriculture ministry to increase the strategic food production and improve the welfare of farmers because it is in line with the 33rd PBNU congress decision in Jombang of East Java province in 2015.

It was stated by the by the Chairman of PBNU KH Said Aqil Siradj as a 'special guest' of Agriculture Minister Andi Amran Sulaiman led the ministry to combat the practice of food cartel and monopoly.

It is related success of the Food Task Force called the Satgas Pangan after the alleged cartel of rice, and the House will call agriculture ministr, trade ministry, Indonesian police (Polri), and the Business Competition Supervision Commission (KPPU) to clarify the findings of 1,161 tons of rice in Indo Beras Unggul warehouse in Bekasi of West Java province.

"I support the minister of agriculture, as long as it is for the people, he is not afraid to fight monopoly and the food cartel because for benefit of Indonesian people," Mr Siradj told the press here on Tuesday (July 25).

Sulaiman appreciated Mr. Siradj's visit as the central leader of PBNU, and the support of the largest Islamic, the ministry implementing Joko Widodo-Jusuf Kalla's administration agenda which for decades shackled by imported food, and after 32 years rice self-sufficiency was achieved in 2016.

From the meeting, an agreement was reached to develop 10,000 hectares of maize in Bengkulu and Lampung.

PBNU's involvement in agricultural development is not for this time, at every working visit in the region, Minister Sulaiman often visit boarding school of PBNU. For example, in the first rice harvest of 2017 in Karangbanyu village of Widodaren subdistrict, Ngawi district in East Java on March 8, 2017, and it turns out the location of rice harvest behind the Ngawi's Gontor Women boarding school of PBNU.

Minister Sulaiman provided free assistance of agricultural machinery, seeds and fertilizer to the official of Ngawi's Gontor Women boarding school.

"This free aid I give the students can meet the needs of rice," he said.