Bimtek Pusluhtan di Subang, Petani Antusias Ikuti Pelatihan Alsintan
Training of Agricultural Machinery is Interested of Indonesia`s Subang Farmers
Editor : M. Achsan Atjo
Translator : Dhelia Gani

PUBLISHED: Rabu, 25 April 2018 , 14:32:00 WIB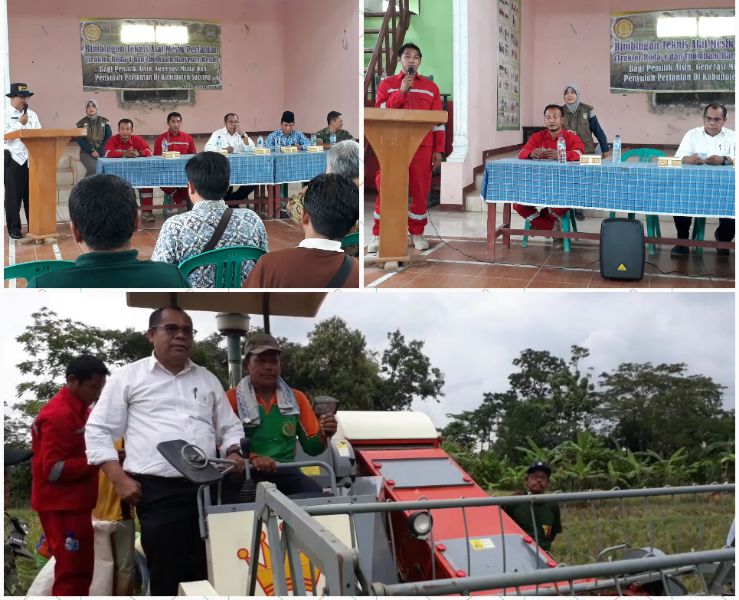 Hasan Latuconsina, Kasubbid Program Pusluhtan - Kementan selaku PJ OPA Subang memimpin kegiatan Bimtek di Kabupaten Subang (Foto2: B2B/Mac & Humas BPPSDMP Kemebtan/Daimatus Pito)
Subang, Jabar (B2B) - Balai Desa Bojong Jaya mendadak ramai sejak pukul 07:00 pada Rabu pagi (25/4), para petani dari seantero Kecamatan Pusaka Jaya antusias untuk mengikuti bimbingan teknis (Bimtek) penggunaan, pemeliharaan, dan perbaikan alat mesin pertanian (Alsintan) yang diadakan oleh Pusat Penyuluhan Pertanian (Pusluhtan) Kementerian Pertanian RI.
Tercatat hadir antara lain Ade Wahyudin, Oo Sugandi, dan Heri Rinanto adalah tiga dari 20 ketua kelompok tani (Poktan) dari 17 kecamatan di Subang. Sementara tiga penyuluh pertanian setempat tampak sibuk berkoordinasi dengan para petani dan ketua Poktan yang hadir di bawah koordinasi Kabid Penyuluhan Dinas Pertanian Kabupaten Subang, H Anang SP.
"Kami mengapresiasi kehadiran para petani dipimpin para ketua Poktan dan para penyuluh pertanian yang menandakan tingginya antusiasme petani Subang untuk menerapkan pertanian modern dengan mengoptimalkan bantuan Alsintan dari pemerintah," kata Hasan Latuconsina, Kasubbid Program Pusluhtan - Kementan selaku PJ OPA Subang dalam arahannya mewakili Wayan Ediana, PJ OPA pantai utara Jawa Barat (Pantura) meliputi Bekasi, Karawang dan Subang.
Bimtek yang digelar oleh Pusluhtan di Badan Penyuluhan dan Pengembangan SDM Pertanian (BPPSDMP) Kementerian Pertanian merupakan rangkaian dari kegiatan Bimtek di seluruh Indonesia di bawah koordinasi Ketua Penanggung Jawab Optimalisasi Pemanfaatan Alsintan - PJ OPA Nasional, Momon Rusmono.
Kehadiran instruktur Alsintan menjadi penentu keberhasilan kegiatan Bimtek, dan PJ OPA Jawa Barat, Siti Munifah menghadirkan dua instruktur Sekolah Tinggi Penyuluhan Pertanian di Malang - STPP Malang yang menjadi narasumber teori dan praktik Bimtek Alsintan di tiga kabupaten selama enam hari.
"Kegiatan Bimtek kami awali dengan peninjauan lapangan, observasi lahan, memeriksa kondisi Alsintan yang wajib kami lakukan sehari sebelum Bimtek," kata Darmanto didampingi Diantoro, instruktur Alsintan STPP Malang yang roadshow tiga kabupaten sejak Rabu pekan lalu.
Para petani kian antusias mengikuti Bimtek ketika memasuki sesi praktik setelah istirahat, shalat dan makan siang (Ishoma), dengan bergabungnya para petani yang sedang panen perdana April 2018.
Subang of West Java (B2B) - Nearly 100 farmers in Bojong Jaya village, Pusaka Jaya sub-district, Subang district, West Java province flocked to Bojongtengah village hall, here on Wednesday morning (25/4l to attend technical guidance of the use and maintenance of agricultural machinery or Alsintan was initiated by Indonesian Agriculture Ministry.
Technical guidance this morning is supported by Darmanto and Diantoro, instructor from Malang's Agricultural Extension College - STPP Malang in East Java province.
The Alsintan instructor was assigned by Siti Munifah as Person in Charge of Optimizing Alsintan or PJ OPA for West Java province to provide training day about theory and practice of use, maintenance, and services and Alsintan to the operator and farmers who are considered capable to operate agriculture machinery.
Improvement he knowledge and skills to operating Alsintan and maintenance up to repairs with manual book was provide Alsintan producers," said Hasan Latuconsina, senior official of the ministry represent Wayan Ediana, PJ OPA for three districts Bekasi, Karawang and Subang.
Mr Latuconsina said that the instructors arrived in Jakarta since Wednesday last week to provide training day started in Sukalaksana sub-district, Bekasi district on Saturday continued to Rawamerta sub-district in Karawang district and today in Pusakajaya sub-district, Subang district.
Instructors from Malang have been in Jakarta for a week to support roadshows in three districts," said Mr Latuconsina at the opening of Bimtek in Subang.