BPPSDMP Kementan Sosialisasi Pemanfaatan READSI 2018 dari Program IFAD
Indonesian Agriculture Ministry Socialized of IFAD`s READSI Project for 2018
Editor : M. Achsan Atjo
Translator : Dhelia Gani

PUBLISHED: Jum'at, 29 September 2017 , 14:54:00 WIB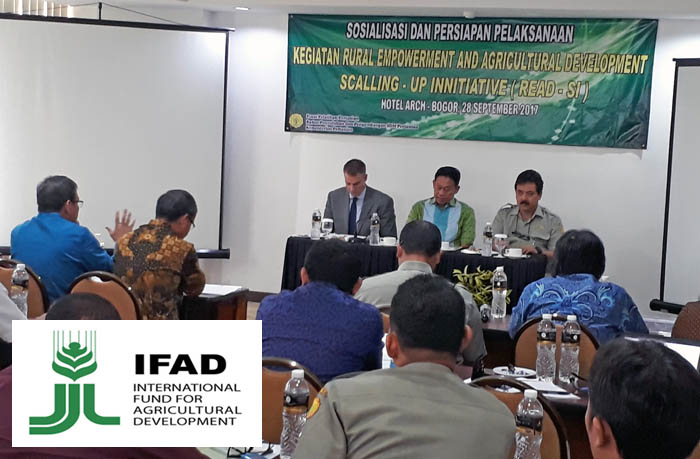 Depan kiri ke kanan: Country Director IFAD, Ron Hartman; Kepala BPPSDMP Kementan, Momon Rusmono; dan Kepala Pusat Pelatihan Pertanian BPPSDMP Kementan, Widi Hardjono (Foto: B2B/Mac)
Bogor, Jawa Barat (B2B) - Kementerian Pertanian RI melakukan sosialisasi dan persiapan pelaksanaan untuk pemanfaatan bantuan dana dari Perserikatan Bangsa-Bangsa (PBB) melalui International Fund for Agricultural Development (IFAD) sebesar US$40 juta dalam bentuk pinjaman lunak dan hibah (grant) untuk pemberdayaan pedesaan dan pengembangan pertanian di provinsi/kabupaten/kota di bawah supervisi Badan Penyuluhan dan Pengembangan Sumber Daya Manusia Pertanian (BPPSDMP) Kementan.

Kepala BPPSDMP Kementan, Momon Rusmono mengatakan sasaran dari program READSI adalah menyediakan pendanaan dan menggerakkan sumber-sumber utama untuk program-program yang khusus dirancang untuk pengembangan ekonomi melalui peningkatan produktivitas pertanian melalui kegiatan Rural Empowerment and Agricultural Development Scalling - Up Innitiative (READSI) pada 2018.

"Proyek READSI bertujuan memberdayakan rumah tangga pedesaan dengan keterampilan, kepercayaan dan sumber daya untuk meningkatkan pendapatan dan penghidupan secara berkelanjutan melalui pendekatan program yang terukur," kata Momon Rusmono pada pembukaan program READSI 2018 di Hotel Arch, Kota Bogor pada Kamis (28/9).

Tampak hadir Kepala Pusat Pelatihan Pertanian BPPSDMP Kementan, Widi Hardjono; Country Director IFAD Sub-Regional Office for South East Asia and the Pacific, Ron Hartman; Kepala Bidang Program dan Kerjasama Pelatihan, Dewi Darmayanti; perwakilan dari Badan Perencanaan Pembangunan Nasional (Bappenas); Kementerian Keuangan (Kemenkeu); Kementerian Dalam Negeri (Kemendagri); Bappeda provinsi; dan para kepala dinas pertanian provinsi/kabupaten/kota dari seluruh Indonesia.

Momon menambahkan kegiatan READSI akan dikelompokkan menjadi tiga komponen yang saling terkait yakni pembangunan pertanian dan mata pencaharian desa, pelayanan, masukan dan keterkaitan pasar, dan dukungan pengembangan kebijakan dan strategi.

Widi Hardjono mengatakan program READSI 2018 akan mengikuti keseluruhan pengaturan implementasi READSI dengan beberapa modifikasi yang mencerminkan evolusi ke dalam kerangka manajemen program. Kementan akan menjadi badan pelaksana dengan BPPSDMP Kementan yang mendapat mandat menjadi penyelenggara unit manajemen proyek nasional, melanjutkan dan membangun kapasitas READSI.

"Mulai tahun ini kegiatan proyek READSI dilaksanakan oleh Puslatan, kalau tahun lalu menjadi tanggung jawab Sekretariat BPPSDMP Kementan, tidak berbeda dan maksudnya agar lebih fokus dan sinkron dengan program dari Puslatan," kata Widi Hardjono kepada B2B.
Bogor, West Java (B2B) - Indonesian Agriculture Ministry conducted a socialization of implementation of funds from the United Nations through the International Fund for Agricultural Development (IFAD) of US$ 40 million in soft loans and grants for rural empowerment and agricultural development in provinces/districts/municipalities under supervision of Agency for Agricultural Extension and Human Resource Development (BPPSDMP) in the ministry.

Director General of BPPSDMP Momon Rusmono said the target of READSI program to provide soft loans and grants to move the main source with a special program designed in economic development, and increasing agricultural productivity by the activities of Rural Empowerment and Agricultural Development Scaling - Up Initiative (READSI) in 2018.

"The READSI will aim to empower rural households with the skills, confidence and resources to sustainably improve incomes and livelihoods through a scalable programmatic approach," said Momon Rusmono while opening the READSI Project here on Thursday (September 29).

It was attended by the Director of Agricultural Training Center BPPSDMP Widi Hardjono; Country Director IFAD Sub-Regional Office for South East Asia and the Pacific, Ron Hartman; the Head of Program and Training Cooperation, Dewi Darmayanti; representatives of the National Development Planning Agency (Bappenas); Finance Ministry; Home Affairs Ministry; Development Planning Agency at Sub-National Level and and the heads of provinces/districts/municipalities agricultural offices from all over Indonesia.

Mr Rusmono said project activities will be clustered in three, interlinked components: village agriculture and livelihoods development; services, inputs and market linkages; and policy and strategy development support.

Mr Hardjono said READSI will follow the overall implementation arrangements of READ with some modifications reflecting the evolution into a programme management framework. The agriculture ministry will be the executing agency with the BPPSDMP being assigned to host the National Project Management Unit (NPMU), continuing and building on existing READ capacities.

"Starting this year the READSI project becomes responsibility of ministry's agricultural training center, while last year was the responsibility of the Secretariat of BPPSDMP, and it means to be more focused and synchronized with the program of my office," Mr Hardjono said.