Stok Beras 1,1 Juta Ton, BKP Kementan Pastikan Pasokan Aman hingga Tahun Baru
Indonesian Govt Anticipates Staple Food Needs ahead of Christmas and New Year
Editor : M. Achsan Atjo
Translator : Dhelia Gani

PUBLISHED: Jum'at, 08 Desember 2017 , 01:45:00 WIB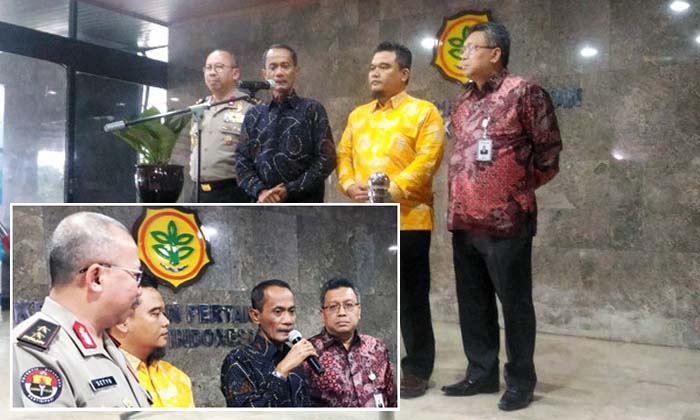 Kepala BKP Kementan Agung Hendriadi (batik hitam) menjawab pers bersama Kepala Satgas Pangan Irjen Setyo Wasisto (kiri), pimpinan KPPU, dan Direktur Bulog Febriyanto (kanan)
Jakarta (B2B) - Pemerintah RI memastikan cadangan beras Badan Urusan Logistik (Bulog) mencapai 1,1 juta ton untuk memenuhi kebutuhan nasional hingga lima bulan ke depan, terutama jelang Natal dan Tahun Baru, dan Polri memastikan komitmen mendukung pengamanan distribusi dari produsen kepada konsumen, seraya mengingatkan jangan ada pihak-pihak yang mencoba menimbun dan mempermainkan harga pangan.

Hal itu dikemukakan oleh Kepala Badan Ketahanan Pangan (BKP) Kementerian Pertanian, Agung Hendriadi; Kepala Satgas Pangan, Irjen Pol Setyo Wasisto dan Direktur SDM dan Umum Prum Bulog, Febriyanto, Kamis siang (7/12) usai rapat koordinasi 'pengamanan stabilitas pasokan dan harga pangan pokok dan strategis jelang hari besar' di Kementan, dan rakor semula akan dipimpin oleh Mentan Andi Amran Sulaiman namun mendadak berhalangan hadir.

Agung Hendriadi mengatakan berdasarkan data Bulog bahwa stok delapan komoditas yang dikelola dipastikan aman, stok beras 1,1 juta ton sehingga masyarakat tidak perlu khawatir. Begitu pula dengan gula pasir mencapai 413.900 ton, jagung 29.600 ton, daging sapi 18 ton, daging kerbau 18.600 ton, bawang merah 42 ton, bawang putih 300,50 ton, dan minyak goreng 1,04 juta ton.

"Stok beras juga terpantau melimpah di Pasar Induk Beras Cipinang atau PIBC Jakarta Timur mencapai 40.536 ton atau lebih tinggi dari 2016 yang hanya 39.528," kata Agung mewakili Mentan Amran Sulaiman.

Sementara harga acuan pemerintah tingkat konsumen sesuai Peraturan Menteri Perdagangan (Permendag) No 27/2017 dalam satuan kg adalah gula pasir Rp12.500, bawang merah Rp32.000, daging sapi beku Rp80.000, daging ayam Rp32.000, telur ayam Rp22.000 sementara dalam satuan liter adalah minyak goreng kemasan Rp11.000 dan minyak goreng curah Rp10.500.

Setyo Wasisto menegaskan komitmen Polri untuk menjamin keamanan dan kelancaran distribusi pangan sehingga pasokan memadai dan harga terkendali.

"Kita ingin mengulang sukses seperti Idul Fitri lalu, dan jangan ada yang coba-coba menimbun dan mempermainkan harga. Kami awasi ketat mulai dari tingkat Polda hingga Polsek, karena pangan pokok sangat vital jadi jangan dipermainkan untuk keuntungan tanpa peduli pada kebutuhan rakyat," katanya.

Febriyanto menegaskan bahwa Bulog berencana melakukan operasi pasar apabila terjadi lonjakan harga sebagai langkah antisipatif terutama untuk beras medium, namun dia tidak menampik adanya kendala distribusi pangan akibat cuaca ekstrim. "Ada beberapa jadwal pengapalan komoditas pangan yang terhambat oleh cuaca."
Jakarta (B2B) - The Indonesian government has confirmed that the Logistics Agency's rice reserves will reach 1.1 million tons to meet the national demand for the next five months, especially until Christmas and New Year, and Indonesian police (Polri) will support the security of distribution from producers to consumers, warning no one is trying to hoard and take unfair profit.

It was stated by Director General of Food Security Agency, Agung Hendriadi; Head of Polri's Food Task Unit or Satgas Pangan, Inspector General of Police Setyo Wasisto; Director of Bulog, Febriyanto here on Thursday (December 7).

Mr Hendriadi said based on Bulog data that the stock of eight food commodities is safe, especially 1.1 million tons of rice. Meanwhile sugar stock reached 413,900 tons, 29,600 tons of maize, 18 tons of beef, 18,600 tons of buffalo meat, 42 tons of shallot, 300.50 tons of garlic, and 1.04 million tons of cooking oil

"Rice stocks are also abundant in Jakarta's Cipinang Rice Market reached 40,536 tons or higher than 2016 only 39,528 tons," said Mr Hendriadi represent Agriculture Minister Andi Amran Sulaiman.

While food prices at the consumer level according to Trade Ministerial Regulation No. 27/2017 in kg is sugar 12,500 rupiah, shallot 32.000 rupiah, frozen beef 80.000 rupiah, chicken meat 32.000 rupiah, chicken eggs 22.000 rupiah while in liters is cooking oil 11.000 rupiah and bulk cooking oil 10,500 rupiah.

Mr. Wasisto confirmed the Polri's commitment to ensure the safety and smoothness of food distribution so that the supply is adequate and the price is under control.

"No one is trying to hoard, the police will keep a close watch from provincial level to the subdistrict, because the staple food is very vital for people's needs," he said.

Febriyanto confirmed that the logistics agency plans to conduct a food bazaar if prices soar, as an anticipatory step, especially for medium rice, but he did not dismiss food distribution constraints of extreme weather. "Some shipment schedules are stunted by the weather."