BEM dan BPM Dilantik, Direktur Polbangtan YoMa Ingatkan Tupoksi Kemahasiswaan
Indonesian Students Know the Organization through the Student Senate
Editor : M. Achsan Atjo
Translator : Dhelia Gani

PUBLISHED: Minggu, 12 Mei 2019 , 01:50:00 WIB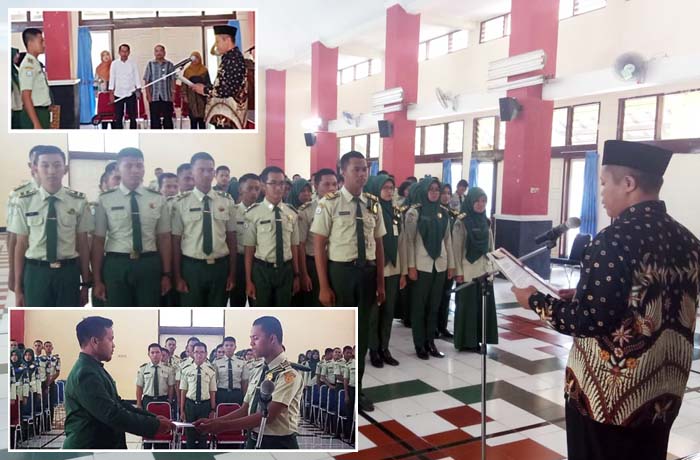 JURUSAN PERTANIAN: Direktur Polbangtan Yoma Dr Rajiman [berpeci] melantik BEM dan BPM didampingi Wadir I Dr Ananti Yekti SP MP dan Wadir III Teguh Susilo disaksikan Kabag Umum Irwan JS [Foto2: Humas Polbangtan YoMa]
Yogyakarta, DIY [B2B] - Direktur Polbangtan YoMa Dr Rajiman melantik Muhammad Zimam sebagai Presiden Badan Eksekutif Mahasiswa [BEM] dan Faiez Fajar Prasetyo sebagai Ketua Badan Perwakilan Mahasiswa [BPM] periode 2019 - 2020 serta mengukuhkan Provost Mahasiswa jurusan pertanian Yogyakarta, periode 2019 - 2021, seraya mengingatkan mereka tentang pentingnya memahami, memaknai dan melaksanakan Anggaran Dasar dan Anggaran Rumah Tangga [AD/ART] kemahasiswaan.
Dr Rajiman mengatakan bahwa segenap civitas academica Politeknik Pembangunan Pertanian Yogyakarta - Magelang disingkat Polbangtan YoMa mengharapkan BEM melaksanakan tugas pokok dan fungsi [Tupoksi] dengan sukarela dan jujur. Sukarela itu ikhlas, yang tidak hanya diucapkan tapi dilaksanakan dengan baik dan benar, dengan memahami AD/ART kemahasiswaan.
"Mekanisme pemilihan pengurus oleh rekan-rekan saudara sendiri. Saudara adalah orang-orang menjadi kepercayaan kawan-kawan saudara sendiri, menjadi orang yang diteladani dan dicontoh oleh kawan-kawan melalui aktivitas kita sehari-hari," kata Dr Rajiman saat pelantikan di kampus Polbangtan YoMa, Sabtu [11/5] didampingi Wakil Direktur I, Dr Ananti Yekti SP MP dan Wadir III Teguh Susilo.
Dia mengingatkan bahwa Polbangtan YoMa adalah ´rumah´ bagi seluruh mahasiswa, maka gunakanlah fasilitas dan aset kampus sesuai fungsinya seperti ruang kuliah untuk belajar dan kantin untuk makan, maka BEM dan satuan provost mahasiswa menjadi ujung tombak melaksanakan kegiatan dan melakukan pengawasan.
"Silakan para mahasiswa mengadakan ekstrakurikuler di kampus, untuk mengembangkan prestasi dan kemampuan atau mengikuti kompetisi dan eksibisi yang diselenggarakan oleh kampus atau lembaga lain," kata Dr Rajiman.
Tampak hadir sejumlah pejabat Polbangtan YoMa antara lain Kabag Umum Irwan Johan Sumarno; Kasubbag Kemahasiswaan dan Alumni Dra Sukinah dan Dosen Agus Wartopo.
Dalam kegiatan tersebut, juga dilaksanakan penyematan tanda jabatan, penandatanganan naskah ikrar, dan berita acara pelantikan yang diakhiri pemberian ucapan selamat oleh pembina upacara. [IJS]
Yogyakarta [B2B] - Senate student of Indonesia´s Yogyakarta - Magelang Agricultural Development Polytechnic or the Polbangtan YoMa inaugurated by the Chancellor Dr Rajiman which reminds students to understand, interpret and implement who was while reminding students to understand, interpret and implement student statutes and bylaws.
Dr. Rajiman said that the academic community of Polbangtan YoMa hoped that the student senate would carry out their main tasks and functions sincerely and honestly which is carried out properly and correctly.
"The student Senate is chosen by students to carry out the mandate and trust of the civitas academica," Dr Rajiman said here on Saturday [May 11].
He reminded that YoMa Polbangtan is a ´home´ for students, so take advantage of campus facilities and assets according to their functions.
"Please students hold extracurricular activities in campus, to develop their achievements and abilities," he said.