Percepat Proses Izin Usaha, Mentan Luncurkan Layanan Padu Satu Kementan
Indonesian Agriculture Minister Launched One Stop Services for Entrepreneurs
Reporter : Gusmiati Waris
Editor : Cahyani Harzi
Translator : Dhelia Gani

PUBLISHED: Selasa, 15 Mei 2018 , 15:32:00 WIB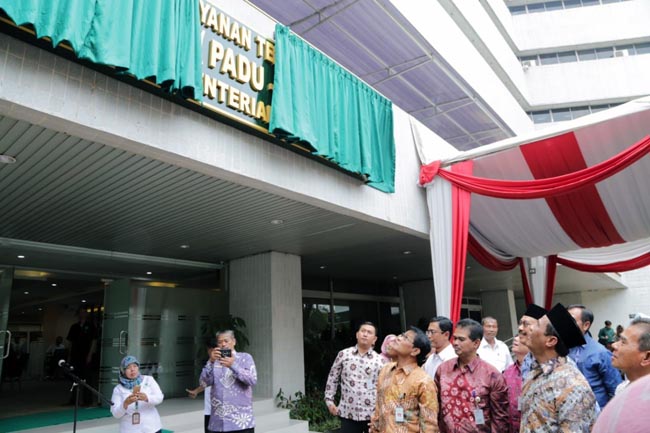 Mentan Andi Amran Sulaiman menyaksikan pembukaan selubung layanan PTSP di kantor pusat Kementan (Foto: Humas Kementan)
Jakarta (B2B) - Kementerian Pertanian RI meluncurkan Pelayanan Terpadu Satu Pintu (PTSP) atau Padu Satu Kementan yang berada di lantai dasar Gedung B kantor pusat Kementan di kawasan Ragunan, Jakarta Selatan oleh Menteri Pertanian Andi Amran Sulaiman pada Selasa (15/5).
Padu Satu memberikan pelayanan perizinan online sesuai pelaksanaan pelayanan perizinan berusaha melalui Online Single Submission (OSS) secara nasional. Dengan demikian, layanan Padu Satu yang mengedepankan prinsip trust kepada pelaku usaha. Sehingga, pelaku usaha tidak dituntut beragam persyaratan yang memberatkan untuk memulai usaha.
"Perizinan diberikan dengan komitmen pelaku usaha memenuhi berbagai persyaratan yang ada, dan pemenuhan komitmen ini menjadi tanggung jawab pemerintah untuk memonitornya," kata Mentan Amran Sulaiman saat meluncurkan PTSP.
Dengan pola pendekatan ini, maka fungsi pengawasan akan lebih diintensifkan. Padu Satu juga memberikan kepastian penyelesaian perizinan kepada pelaku usaha dalam satuan waktu yang lebih pasti.
Pelaku usaha pun diberikan berbagai kemudahan dalam proses perizinan. Dengan hanya melakukan satu kali aplikasi, pelaku usaha bisa melakukan beragam proses yang melibatkan lintas kementerian/lembaga dan pemerintah daerah.
"Padu Satu juga tidak menuntut banyak dokumen dalam proses aplikasinya. Beberapa dokumen dasar, seperti KTP dan NPWP, akan langsung diakses dari data base nasional. Sehingga, tidak perlu disediakan pelaku usaha," kata Mentan.
Jakarta (B2B) - Indonesian Ministry of Agriculture launched One Stop Service or PTSP at ministry office in Ragunan area, South Jakarta by Agriculture Minister Andi Amran Sulaiman here on Tuesday (May 15).
PTSP provides online licensing services through Online Single Submission or OSS. PSTP services prioritize the principle of trust to entrepreneurs, making it easier for agricultural commodity entrepreneurs to expand their business.
"Licensing is granted with entrepreneurs´ commitment to complete all requirements, and the government will monitor it," said Minister Sulaiman at the launch of PTSP.
It will encourage monitoring to run efficiently and effectively to provide certainty of the completion of licensing to entrepreneurs.
Entrepreneurs get a variety of ease in the licensing process, with only one application, can carry out all participants from ministries and government agencies at central and regional levels.
"The PTSP service also does not require a lot of documents in its application process such as the resident´s card and the taxpayer´s principal number will be accessed from the national data base," Mr Sulaiman said.