Dukung #Serasi, Pusluhtan 3 Hari Jelajahi Banyuasin `Update Data`Kelompok Tani
Agriculture Extensionist Determinant of Success Indonesia`s Swampland Development
Editor : M. Achsan Atjo
Translator : Dhelia Gani

PUBLISHED: Sabtu, 15 Desember 2018 , 15:56:00 WIB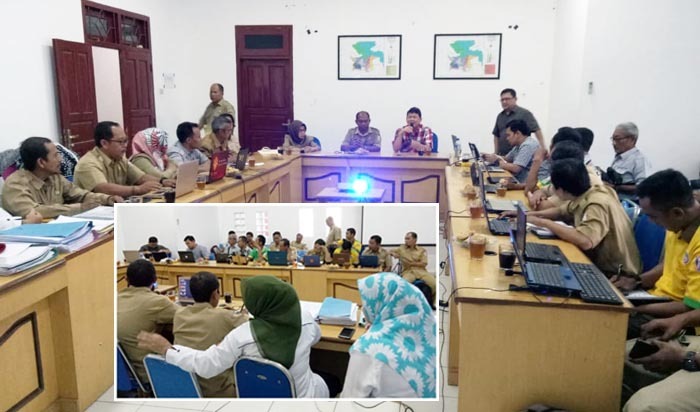 PEMUTAKHIRAN DATA: Kabid Penyelenggaraan Penyuluhan - Pusluhtan, Zahron Helmy memimpin pemutakhiran data Poktan dan Gapoktan mendukung program #Serasi di Banyuasin, Sumsel (Foto2: Humas Pusluhtan/Nur F)
Banyuasin, Sumsel (B2B) - Kementerian Pertanian RI melalui Program ´Selamatkan Rawa Sejahterakan Petani´ disingkat #Serasi berupaya memanfaatkan rawa sebagai lahan produktif seluas 400 ribu hektar dari target 34,1 juta hektar di sembilan provinsi terhadang sikap dan pola pikir sebagian besar petani yang masih tradisional. Tantangan utamanya adalah kelembagaan petani dan kelembagaan ekonomi untuk menunjang kesejahteraan petani lahan rawa berbasis koperasi yang dikorporasikan melalui #Serasi.
Setelah #Serasi diluncurkan Menteri Pertanian RI Andi Amran Sulaiman di Jakarta pada 21 November lalu, Pusat Penyuluhan Pertanian (Pusluhtan) pada Badan Penyuluhan dan Pengembangan SDM Pertanian (BPPSDMP) ditugasi Kementerian Pertanian RI, untuk mendukung pengembangan kelompok tani di lahan rawa menjadi peluang masa depan pertanian Indonesia.
Pusluhtan BPPSDMP Kementan mengawali langkah mendukung #Serasi dengan pemutakhiran data kelompok tani (Poktan) dan gabungan kelompok tani (Gapoktan), data kelembagaan dan ketenagaan penyuluhan pertanian pada Sistem Informasi Penyuluh Pertanian (Simluhtan) berbasis by name by adress yang bisa diakses pihak-pihak terkait secara online.
Kepala Bidang Penyelenggaraan Penyuluhan, Zahron Helmy memimpin timnya selama tiga hari, 10 - 12 Desember 2018 di Provinsi Sumatera Selatan, melaksanakan tugas pokok dan fungsi (Tupoksi) mendukung #Serasi di Kabupaten Banyuasin, khususnya Kecamatan Muara Telang untuk mengetahui kondisi riil di lapangan. Tujuan utamanya, identifikasi data Poktan dan Gapoktan yang sudah mempunyai skala ekonomi di wilayah kerja masing-masing penyuluh pertanian.
Zahron Helmy didampingi Kasubbid Kelembagaan Petani, Yoyon Haryanto dan empat petugas melakukan pemutakhiran data, Selasa (11/12) yang dihadiri oleh 10 orang perwakilan Admin tingkat kecamatan di Banyuasin, dan Kepala Dinas Tanaman Pangan dan Hortikultura Pemprov Sumsel, Erwin Noorwibowo.
"Pemutakhiran data harus dilakukan agar pemerintah pusat mengetahui kondisi riil di Banyuasin," kata Zahron H melalui pernyataan tertulis.
Menurutnya, penyuluh pertanian berperan vital mendukung #Serasi untuk ´mengawal´ Poktan dan Gapoktan agar kelembagaan yang dibentuk menjadi lebih kuat. Sementara balai penyuluhan pertanian (BPP) di tiap kecamatan dituntut menggerakkan penyuluh pertanian dan melaksanakan kelima fungsi BPP sebagai: pusat data dan informasi, koordinasi program, konsultasi agribisnis, pusat pembelajaran, dan kaji terap.
Erwin N mengakui masih terjadi overlapping pekerjaan antara pemerintah pusat dan daerah terkait #Serasi, khususnya perbedaan data di pusat untuk cakupan skala ekonomi.
Dia berharap pemerintah pusat dan daerah ´satu suara´ dan menetapkan skala ekonomi yang harus dioptimalkan secara permanen, karena #Serasi merupakan proyek raksasa yang harus segera disosialisasikan dan dilaksanakan di Sumsel. (NurF)
Banyuasin of South Sumatera (B2B) - Indonesian Agriculture Ministry launched ´the swampland use program for agriculture´ or the #Serasi, seek to utilize swamp into productive area of 400 thousand hectares of the target 34.1 million hectares in nine provinces constrained by the attitude and mindset of most farmers who are still traditional. The main challenges are farmer institutions and economic institutions to support farmers´ welfare based cooperatives that are exported through #Serasi.
After #Serasi was launched by Agriculture Minister Andi Amran Sulaiman in Jakarta on November 21, so the Agricultural Extension Center or Pusluhtan of Directorate General of Extention and Agricultural Human Resource Development or BPPSDMP assigned by the ministry to support development of farmer groups in swamp land into future potential of Indonesian agriculture.
The Pusluhtan of BPPSDMP begins the step of support #Serasi by updating farmer group and farmers´ groups combineddata or Poktan and Gapoktan, institutional data and agricultural extensionist of the Agricultural Extension Information System or Simluhtan based on names and addresses that can be accessed online.
Head of Organization for Agricultural Extension, Zahron Helmy lead his team for three days, 10 to 12 December 2018 in South Sumatra province carry out basic tasks and functions support #Serasi in Banyuasin district, especially the Muara Telang sub-district to find out real conditions in target location. The ultimate goal, Poktan and Gapoktan data identification who already have economies of scale in the agricultural extension work area.
Mr Helmy was accompanied by Head of Sub-Section for Farmer Institution, Yoyon Haryanto and his staff updated the data on Tuesday (December 11) was attended by 10 sub-district Admin representatives in Banyuasin, and the Head of South Sumatra Provincial Government´s Food and Horticulture, Erwin Noorwibowo.
"Updating data must be done so that the central government knows the real conditions in Banyuasin," he said through the written statement.
According to him, agricultural extensionist have a vital role for #Serasi through the Poktan and Gapoktan to support farmer institutions. While agricultural extensionist in each sub-district or the BPP are required to mobilize agricultural extensionist and implement their five functions as as: data and information center, program coordination, agribusiness consultation, learning center, and review the application.
Mr Noorwibowo admitted there was still overlapping of the central and regional governments related to #Serasi, especially the difference in economic scale coverage data in the central government.
He hopes the central and regional governments are ´one commitment´ and set an economical scale that must be optimal and permanent, because #Serasi is a giant project that must be socialized and implemented in South Sumatra.