Mentan: Bonus dan Promosi Jabatan bagi PNS Pengungkap Pungli
Indonesian Agriculture Ministry Formed Anti-corruption Task Force
Reporter : Gusmiati Waris
Editor : Cahyani Harzi
Translator : Dhelia Gani

PUBLISHED: Rabu, 21 Desember 2016 , 16:48:11 WIB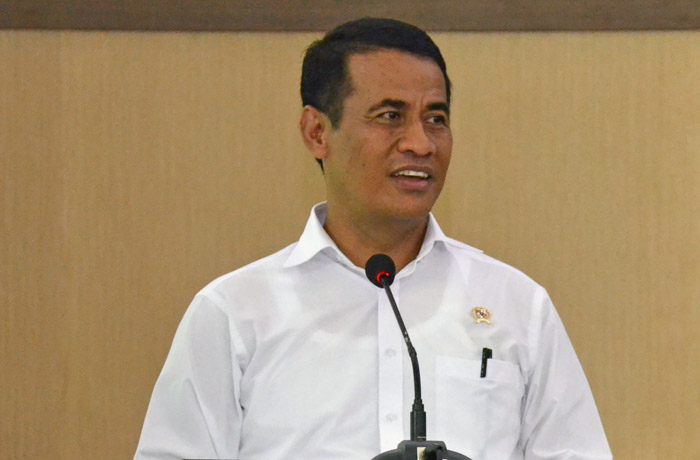 Menteri Pertanian RI Andi Amran Sulaiman (Foto: B2B/Atjo)
Jakarta (B2B) - Kementerian Pertanian RI menyediakan bonus dan promosi jabatan bagi setiap PNS yang melaporkan praktik pungutan liar (pungli) setelah didukung sejumlah bukti, Menteri Pertanian Andi Amran Sulaiman membentuk dua tim yang disebut terbuka karena dibekali surat keputusan (SK) dan tanpa SK untuk tim tertutup sebagai bagian dari satuan tugas sapu bersih pungutan liar (Saber Pungli) di Kementan.

"Tim Saber Pungli ada yang terbuka dan tertutup, dan tim tanpa SK yang seharusnya ditakuti pejabat karena bisa jadi tidak dikenal tapi siap menangkap pemberi dan penerima pungli. Kalau tim tertutup menemukan bukti akan mendapat bonus dan promosi jabatan," kata Mentan Amran Sulaiman di kantornya di Jakarta pada Selasa (20/12).

Menurutnya, tim Saber Pungli di Kementan didukung tim khusus dari Komisi Pemberantasan Korupsi (KPK) untuk mendukung dan menjamin pengawasan kegiatan kerja di kementerian bersih dari praktik pungli.

Dia mencontohkan Badan Karantina Pertanian (Barantan) yang sudah melakukan 470 mutasi dan demosi dalam dua tahun terakhir terkait pelanggaran yang dilakukan oleh PNS di Barantan.

"Delapan orang di antaranya langsung dipecat setelah didukung bukti dan keterangan saksi, saya minta tidak ada PNS di kementerian menerima imbalan dalam bentuk apa pun dalam melaksanakan tugasnya," kata Mentan saat melantik pejabat eselon dua dan tiga di Kementan.
Jakarta (B2B) - Indonesian Agriculture Ministry provide bonuses and promotions for civil servants to report any evidence of bribery, after Agriculture Minister Andi Amran Sulaiman formed open team who are appointed by decree as part of special teams for the task force eradication of corruption in the ministry.

"The task force will be in charge of anti-corruption are open and closed, and to be feared by officials are working without a decree, but always alert and ready to catch the perpetrators, and will get bonuses and promotions after uncovering bribery," said Minister Sulaiman here on Tuesday (12.20.16).

According to him, special team of Indonesian Anti-graft Commission (KPK) will support eradication of bribery team in the ministry to support and ensure supervision performance of civil servants without bribery.

He referred to the Indonesian Agriculture Quarantine Agency (IAQA) have done 470 mutations and demotion in past two years related bribery by civil servants in IAQA.

"Eight civil servants fired with evidence and witness testimony, I ask no civil servants in the ministries are taking bribes," Minister Sulaiman said.