Senator DPD Tegaskan Komitmen Kementan Dukung Kepentingan Petani
Indonesian Senator Supports the Government`s Commitment to Farmers
Reporter : Gusmiati Waris
Editor : Cahyani Harzi
Translator : Dhelia Gani

PUBLISHED: Kamis, 08 Februari 2018 , 17:03:00 WIB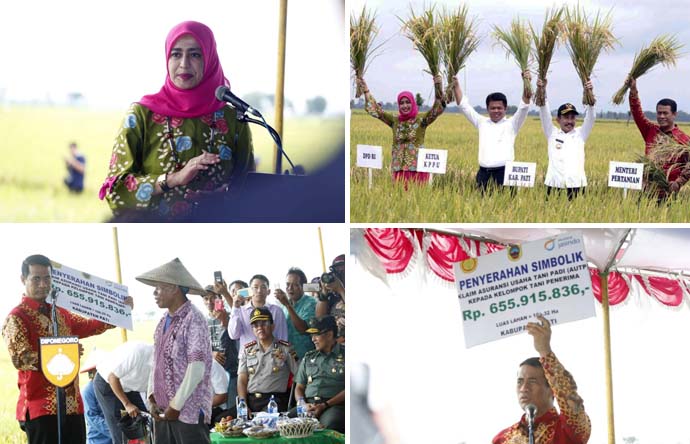 Arah jarum jam: Anggota Komisi II DPD RI Denti Eka WP, Mentan Amran Sulaiman panen padi didampingi Bupati Pati Haryanto dan Ketua KPPU Syarkawi Rauf, klaim asuransi Rp650 juta dan menyerahkan pada petani (Foto2: Humas Kementan/Makmur)
Jakarta (B2B) - Masyarakat pertanian Indonesia diminta mendukung program pemerintah untuk mewujudkan Indonesia menjadi lumbung pangan dunia 2045, dan Dewan Perwakilan Daerah (DPD) dapat melihat bukti dari komitmen Kementerian Pertanian RI setelah mampu swasembada beras dan jagung sehingga tidak tergantung pada produk impor sejak 2015.

Hal itu dikemukakan oleh Anggota Komisi II DPD RI, Denti Eka Widi Pratiwi; dan Bupati Pati, Haryanto saat mendampingi Menteri Pertanian Andi Amran Sulaiman melakukan panen padi di Desa Wotan, Kecamatan Sukolilo, Kabupaten Pati, Provinsi Jawa Tengah kemarin (7/02).

"DPD RI mendukung tanpa reserve untuk semua program pemerintah meningkatkan kesejahteraan petani. Kami sudah mendampingi Mentan Amran Sulaiman ke banyak daerah dan terbukti tidak kenal lelah memperjuangkan kepentingan petani," kata Denti kepada pers di Pati.

Hal senada dikemukakan Bupati Haryanto terhadap komitmen Kementan mendukung petani Pati sejak 2015 dengan ratusan alat mesin pertanian (Alsintan) sehingga Pati terpilih menjadi terbaik ketiga untuk ketahanan pangan tingkat nasional pada 2017.

"Saat ini potensi lahan sawah di Pati lebih dari 58 ribu hektar dengan produktivitas rata-rata 9,2 ton per hektar. Surplus beras sejak 2016 hingga 2017, dan 2018 diperkirakan mencapai 350 ribu ton gabah kering giling setara 150 ribu ton beras," kata Bupati Haryanto.

Setelah panen padi, Mentan Amran Sulaiman menyerahkan dana asuransi pertanian senilai Rp650 juta untuk petani Pati, dan meminta agar klaim asuransi tersebut disampaikan kepada petani yang berhak mendapatkannya.

"Perhatian Presiden Jokowi sungguh luar biasa. Petani tidak perlu khawatir lagi dalam berusaha tani, dan klaim asuransi ini sebagai jaminan usaha tani," kata Mentan.
Jakarta (B2B) - The Indonesian agricultural community asked to support the government program to realize Indonesia into 2045 world food barn, and the Regional Representative Council or the DPD attests to commitment of agriculture ministry after Indonesia is self-sufficient in rice and corn so that it does not depend on imports since 2015, according to Indonesian senator.

It was stated by Indonesian senator, Denti Eka Widi Pratiwi; dan Pati Regent, Haryanto on Wednesday (February 7) while when accompanying Agriculture Minister Andi Amran Sulaiman doing rice harvest in Wotan village of Sukolilo subdistrict in Pati district of Central Java province.

"The DPD supports without the reserve of government programs to improve the welfare of farmers. We have accompanied Minister Sulaiman to many areas and proved not tired to fight for the fate of farmers," Denti told the press in Pati.

Similar opinion is said by Regent Haryanto to the ministry´s commitment to support Pati farmers since 2015 with hundreds of agricultural machine so that Pati district was voted the third best for national food security in 2017.

"Currently the potential of paddy fields in Pati is more than 58 thousand hectares with an average productivity of 9.2 tons per hectare. The rice surplus is from 2016 to 2017, and 2018 is estimated to reach 350 thousand tons of dry grain or 150 thousand tons of rice," he said.

After the rice harvest, Minister Sulaiman handed over 650 million rupiah agricultural insurance claims to local farmers.

"President Joko Widodo is very concerned about farmers, and no need to worry about farming, and insurance claims as a guarantee," Mr Sulaiman said.