BPPSDMP Kementan Siapkan 10 Polibangtan Songsong Masa Depan Pangan Nasional
Indonesian Govt Develop Agricultural Polytechnics in Several Provinces
Editor : M. Achsan Atjo
Translator : Dhelia Gani

PUBLISHED: Sabtu, 17 Februari 2018 , 17:10:00 WIB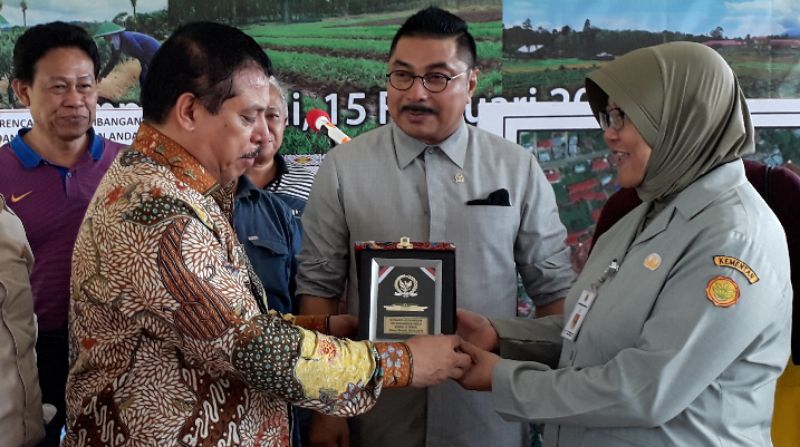 PLAKAT DPR: Wakil Ketua Komisi IV DPR, Michael Wattimena (tengah) menyaksikan penyerahan plakat DPR RI kepada Ketua STPP Manokwari, Maya Purwanti (kanan) disaksikan Kepala BPPSDMP Kementan, Momon Rusmono (belakang kiri) Foto: B2B/M. Achsan Atjo)
Manokwari, Papua Barat (B2B) - Kementerian Pertanian RI tengah menyiapkan pengembangan 10 sekolah politeknik pembangunan pertanian disingkat Polibangtan di seluruh Indonesia, bertumpu pada ilmu pertanian terapan yang mengadopsi konsep ´teaching factory´ berorientasi produksi dan bisnis, sehingga menghasilkan lulusan vokasi terampil, dan bukan lagi penyuluh pertanian yang bercita-cita jadi pegawai negeri sipil (PNS).
Kepala Badan Penyuluhan dan Pengembangan Sumber Daya Manusia Pertanian (BPPSDMP) Kementan Momon Rusmono menegaskan pihaknya tengah menyiapkan pengembangan Polibangtan, dan ditargetkan pada tahun ajaran baru 2018/2019 sudah dapat menerima mahasiswa baru dari seluruh Indonesia.
"Tahun ini masih dalam proses persiapan, kami harapkan pada tahun ajaran 2018/2019 sudah dapat menerima mahasiswa baru Polibangtan," kata Momon Rusmono di Manokwari, Provinsi Papua Barat pada Jumat (15/2).
Ke-10 sekolah dimaksud adalah Sekolah Tinggi Penyuluhan Pertanian dan Perkebunan - STPP Medan (Sumut); Sekolah Tinggi Penyuluhan Pertanian dan Peternakan (STPP) di Bogor (Jabar), Magelang (Jateng), Malang (Jatim), Gowa (Sulsel), Manokwari (Papua); Sekolah Tinggi Penyuluhan Pertanian - STPP Yogyakarta; Sekolah Menengah Kejuruan - Pertanian Pembangunan - SMK-PP Negeri Banjarbaru (Kalsel), Sekolah Menengah Kejuruan Pertanian Pembangunan - SMKPPN Sembawa (Sumsel), dan SMK Pertanian Pembangunan Negeri - SMKPPN Kupang (NTT).
Untuk tahap awal pengembangan Polibangtan, menurut Momon Rusmono, BPPSDMP Kementan menargetkan enam STPP dapat menerima mahasiswa baru Polibangtan untuk STPP di Medan, Bogor, Magelang, Malang, Gowa, dan Manokwari. Pengembangan berikutnya adalah Banjarbaru, Sembawa, dan Kupang.
Momon Rusmono berada di Manokwari pada Kamis dan Jumat mendampingi Wakil Ketua Komisi IV DPR, Michael Wattimena yang memimpin lebih 10 anggota komisi pertanian, kehutanan, perikanan pada kunjungan reses masa persidangan ketiga DPR tahun 2017/2018. Kunjungan reses dilakukan DPR di lahan cetak sawah baru dan balai benih ikan air tawar di Kecamatan Masni, demplot pengembangan sagudi koyani, STPP Manokwari, gudang beras Bulog dan gudang pupuk untuk Papua Barat.
Dukungan DPR
Kunjungan Komisi IV DPR di STPP Manokwari membulatkan tekad DPR RI untuk mendukung penuh BPPSDMP Kementan dalam pengembangan 10 Polibangtan di seluruh Indonesia.
"Pimpinan dan Komisi IV DPR sangat mendukung STPP jadi politeknik. Kalau jadi politeknik berarti grade-nya meningkat, lulusan dan akreditasinya naik sehingga lebih diperhitungkan dan diperlukan. Kurikulum dan kegiatan praktik di politeknik pasti berbeda dengan sekolah tinggi seperti sekarang," kata Michael Wattimena, politisi Partai Demokrat dari daerah pemilihan (Dapil) Papua Barat.
Michael mengharapkan lulusan Politani kelak menghasilkan beragam inovasi di bidang pertanian yang dapat diterapkan di lapangan, sehingga mampu memberikan terobosan untuk mendukung kedaulatan pangan, dengan melakukan penyesuaian seperti penyiapan program studi baru, prasarana dan sarana hingga penambahan tenaga pengajar.
Dalam kesempatan tersebut, pimpinan dan anggota Komisi IV DPR menyerahkan plakat DPR RI kepada Ketua STPP Yogyakarta, Maya Purwanti didampingi Momon Rusmono. Dari 16 anggota DPR di antaranya adalah politisi PDIP Mindo Sianipar dan Agustina W Pramestuti, politisi Golkar H Agung Widyantoro, politisi Gerindra H Oo Sutisna, politisi PAN Jamaluddin Jafar, politisi PKS Hermanto SE, dan Fadly Nurzal dari PPP.
Manokwari of West Papua (B2B) - Indonesian agriculture ministry prepares the development of 10 agricultural polytechnics across the country based on applied agricultural sciences with a ´teaching factory´ approach with production and business orientation, so that polytechnics can produce skilled vocational workers and not just agricultural extension workers, according to senior official.
Director-General of Agency for Agricultural Extension and Human Resources Development (BPPSDMP) Momon Rusmono confirmed that his side is preparing the development of agricultural polytechnic, and ready accept new students in academic year of 2018/2019.
"This year is still being prepared, we hope to receive new students in the academic year of 2018/2019," Mr Rusmono said here on Friday (February 15).
The 10 schools are the College for Agriculture and Plantation - STPP Medan (North Sumatera); College of Agricultural Extension and Livestock - STPP in Bogor (West Java), Magelang (Central Java), Malang (East Java), Gowa (South Sulawesi), Manokwari (Papua); College of Agricultural Extension - STPP Yogyakarta; Vocational High School - Agricultural Development - SMK-PP Banjarbaru (South Borneo), Sembawa (South Sumatera) and Kupang (East Nusa Tenggara).
For the initial phase of development, said Mr Rusmono, the ministry targets six campuses have been able to accept new students for the STPP in Medan, Bogor, Magelang, Malang, Gowa, and Manokwari. The next development is Banjarbaru, Sembawa, and Kupang.
Mr. Rusmono was in Manokwari on Thursday and Friday accompanying House´s agriculture commision´s vice chairman Michael Wattimena, who led working visit during recess of the third session of Indonesian parliament 2017-2018 in Manokwari. Recess visits to new paddy fields and freshwater fish seeds in Masni District, demonstration plot of sagudi koyani development, Manokwari STPP, Bulog rice warehouse and fertilizer warehouse of West Papua province.
The House´s Commitment
The Indonesian Parliament encourages status improvement of agricultural extension schools across the country, by support the agriculture ministry to develop 10 polytechnic of agricultural development or politani this year, according to member of parliament (MP).
"Parliament is very support, meaning that grade and accreditation are higher, The curriculum and practical activities in polytechnics must be different," said Mr Wattimena who was a Democrat Party politician from the West Papuan election.
Mr. Wattimena expects that the Polibangtan graduates will be able to produce innovative innovations in the field of agriculture that can provide breakthroughs to support food sovereignty by adjusting such as preparation of new courses, infrastructure and facilities to the addition of teaching staff.
On the occasion, Indonesian MPs handed over submit parliamentary placards to Maya Purwanti.