Ketua Upsus Pajale Kalbar Akui Belum Puas, Meski Capaian Provinsi 1,8 Juta Ton GKG
Indonesian Senior Official Upset to West Borneo Provincial Govt about Rice Planting
Reporter : Gusmiati Waris
Editor : Cahyani Harzi
Translator : Dhelia Gani

PUBLISHED: Rabu, 02 Agustus 2017 , 17:15:00 WIB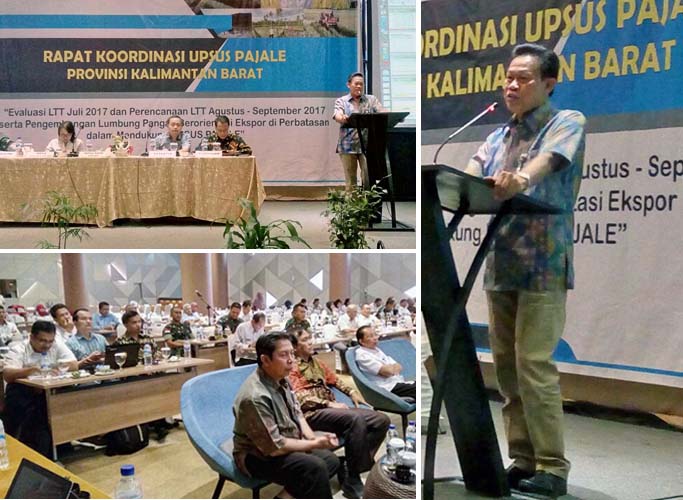 Kepala Upsus Pajale Kalbar, Momon Rusmono (kanan) dalam arahannya pada Rakor di Pontianak yang dihadiri kepala dinas pertanian provinsi/kabupaten/kota dan TNI AD (Foto2: Humas BPPSDMP Kementan)
Pontianak, Kalbar (B2B) - Meskipun Provinsi Kalimantan Barat saat ini menghasilkan 1,8 juta ton gabah kering giling (GKG), namun capaian tersebut dinilai belum maksimal oleh Ketua Upsus Pajale Kalbar Momon Rusmono, lantaran ada tujuh kabupaten/kota yang belum mencapai target luas tambah tanam (LTT) yang ditargetkan 29.680 hektar oleh Kementerian Pertanian RI, yang tenggat waktunya hingga September 2017.

Hal itu dikemukakan Momon Rusmono setelah mendapat laporan dari Kepala Dinas Pertanian Tanaman Pangan dan Holtikultura, Heronimus Hero pada rapat koordinasi Upsus Pajale Kalbar di Pontianak pada Rabu (2/8).

"Luas tanam harus lebih tinggi jika dibandingkan dari luas tanam tahun sebelumnya, agar rapot masing-masing kabupaten kota tidak lagi merah," kata Momon yang juga menjabat Kepala Badan Penyuluhan dan Pengembangan SDM Pertanian (BPPSDMP) Kementan.

"Setiap kabupaten dan kota perlu punya stretegi khusus untuk mencapai target sasaran luas tambah tanam."

Sebelumnya diberitakan, Kementan menargetkan luas tambah tanam di Kalbar mencapai 29.680 hektar, untuk mendukung pencapaian target upaya khusus tanaman padi, jagung dan kedelai (Upsus Pajale).

"Kalbar harus mampu memenuhi kebutuhan pangan secara mandiri untuk seluruh provinsi," kata Momon dalam rapat koordinasi di markas Kodam XII Tanjung Pura yang dihadiri Pangdam Mayjen TNI Andika Perkasa pada penghujung Juli lalu (21/7).

Belum Optimal
Heronimus Hero dalam laporannya mengatakan bahwa Kalbar saat ini menghasilkan 1,8 juta ton GKG, namun hal itu masih terganjal oleh pencapaian LTT yang belum sesuai target.

"Jika dikaitkan dengan upaya Luas Tambah Tanam (LTT) angka tersebut masih belum optimal," kata Heronimus yang baru dilantik sebagai kepala dinas provinsi lima hari lalu.

Menurutnya, luasan tanaman padi di Kalbar hingga awal Juli 2017 mencapai 13.000 hektar, dan program LTT diharapkan dapat meningkat menjadi 21.000 hektar dan ditargetkan dapat mencapai 29.000 hektar hingga September mendatang.

Dia mengaku optimis dengan tenggat waktu September 2017 maka Kalbar masih memiliki waktu dua bulan untuk meningkatkan LTT. "Setiap kabupaten dan kota di Kalbar harus bertanggung jawab dan bekerja sama mendukung program Kementan mencapai swasembada pangan."
Pontianak, West Borneo (B2B) - Indonesian senior official, Director of Program Food Self-sufficiency, Momon Rusmono disappointed to the West Borneo provincial government that has not reached target of 29,680 hectares for an increase of rice cultivation area despite the province currently produces 1.8 million tons of milled rice (GKG), which is the deadline September 2017.

It was said by Momon Rusmono after got the report of West Borneo's Head of Food Crops and Horticulture, Heronimus Hero at the coordination meeting here on Wednesday (August 2).

"The planting area should be higher than the previous year's planting area," said Mr Rusmono who also serves as the Director General of Agency for Agricultural Extension and Human Resources Development (BPPSDMP).

"Each district and city needs to have a specific strategy to achieve the targets set by the agriculture ministry."

Previously reported, Indonesian Agriculture Ministry targets an increase of rice cultivation area in West Borneo province to reach 29,680 hectares by September 2017 support the achievement of food self-sufficiency target at provincial level proclaimed by Indonesian government.

"West Borneo must be able to meet food needs for across the province," Mr Rusmono said here on Friday (July 21) and was attended by Commander of Tanjung Pura Military Command, Major General Andika Perkasa.

Not Optimal
Heronimus Hero in his report said that West Borneo currently produces 1.8 million tons of GKG, but that is still hampered of an increase of rice cultivation area.

"Related to the target, the production achievement is not yet optimal," Mr Hero said.

According to him, area of rice plant in West Borneo until early July 2017 reached 13,000 hectares, and is expected increase to 21,000 hectares and then 29,000 hectares by September.

He admitted optimistic on September 2017 deadline, because the province still has two months. "Each district and city must be responsible, and work together to support the ministry's program achieve food self-sufficiency."