Mentan Bertemu Bill Clinton di Kolombia, Sampaikan Minat Kunjungi Indonesiaa
Indonesian Agriculture Minister Met with Former President Bill Clinton in Colombia
Editor : M. Achsan Atjo
Translator : Dhelia Gani

PUBLISHED: Kamis, 13 Juli 2017 , 17:24:00 WIB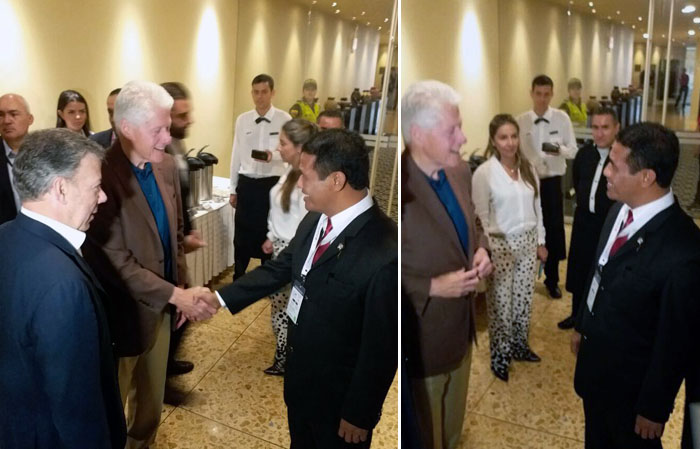 Mentan Andi Amran Sulaiman bertemu mantan Presiden AS Bill Clinton di sela Konferensi Produsen Kopi Dunia (WCPF) tampak hadir Presiden Kolombia, Juan Manuel Santos (kiri) Foto2: Humas Kementan
Jakarta (B2B) - Menteri Pertanian RI Andi Amran Sulaiman bertemu dengan mantan Presiden AS Bill Clinton di kota Medellin, Kolombia pada Selasa (11/7) di sela Konferensi Produsen Kopi Dunia (WCPF), dan Clinton menyatakan keinginannya berkunjung ke Indonesia, setelah Mentan menyampaikan salam hangat dari Presiden RI Joko Widodo.

Pada pertemuan tersebut, turut hadir Presiden Kolombia, Juan Manuel Santos dan Wakil Menteri Pertanian Vietnam, Le Quoc Doanh sementara Mentan didampingi oleh Dubes RI untuk Kolombia, Priyo Iswanto.

Saat berbincang dengan Bill Clinton, Mentan Amran Sulaiman menyampaikan salam dari Presiden Jokowi, yang disambut hangat oleh mantan Presiden AS ke-42 dari Partai Demokrat yang menjabat dua kali masa jabatan, 20 Januari 1993 hingga 20 Januari 2001, dan Bill Clinton menyatakan keinginannya kembali berkunjung ke Indonesia, yang pernah dikunjunginya pada November 1994 saat berlangsung konferensi APEC dan bertemu dengan Presiden Soeharto.

Menurut Mentan, Bill Clinton memberikan perhatian khusus pada pengembangan sektor kopi Indonesia, karena peluang industri kopi nasional sangat baik setelah makin dikenal di Eropa dan Amerika terutama kopi khusus (speciality coffee) yang menjadi tren dunia saat ini.
Jakarta (B2B) - Indonesian Agriculture Minister Andi Amran Sulaiman met former US President Bill Clinton in Medellin city of Colombia on Tuesday (July 11) during a meeting of the World Coffee Producers Conference (WCPF), and Minister Sulaiman and conveyed the warm greetings of President Joko Widodo to Clinton.

At the unscheduled meeting, President Colombia, Juan Manuel Santos and Vietnam´s Deputy Minister of Agriculture Le Quoc Doanh were present while Minister Sulaiman was accompanied by Indonesian Ambassador to Colombia Priyo Iswanto.

Mr Clinton is an American politician who served as the 42nd President of the United States from 1993 to 2001, Clinton expressed her interest to visit Indonesia, which he visited in November 1994 and the APEC conference during a meeting with President Soeharto.

According to Minister Sulaiman, Bill Clinton paid special attention to the development of Indonesian coffee commodities, as favored by European and American consumers.