Mentan Dorong para Petinggi Kementan Dukung Kemensos Entaskan Kemiskinan
Indonesian Civil Servants are Required to Support Poverty Alleviation: Agriculture Minister
Reporter : Gusmiati Waris
Editor : Cahyani Harzi
Translator : Dhelia Gani

PUBLISHED: Rabu, 13 Desember 2017 , 17:50:00 WIB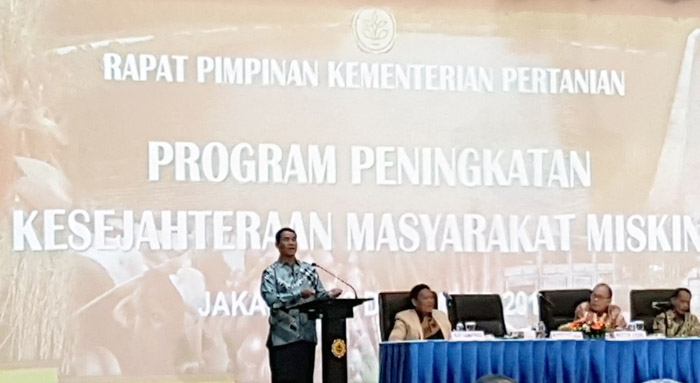 Mentan Andi Amran Sulaiman memberi arahan dalam pembukaan Rapim Kementan (Foto: Humas Kementan)
Jakarta (B2B) - Menteri Pertanian RI Andi Amran Sulaiman menginstruksikan pejabat eselon satu untuk koordinasi dengan para petinggi di Kementerian Sosial untuk mendukung program pengentasan kemiskinan di seluruh Indonesia, karena Indonesia saat ini sudah swasembada pangan maka selayaknya seluruh rakyat dapat pangan cukup yang dihasilkan bangsa sendiri tanpa tergantung impor.

"Tolong para dirjen komunikasi dengan petinggi ementerian sosial untuk mendukung pengentasan kemiskinan ini. Kita sasar dimana Kementan dapat mendukung program Kemensos. Mari kita tunjukkan kepada dunia bahwa Indonesia mampu memberi makan kepada bangsa Indonesia tanpa impor beras," kata Mentan Amran Sulaiman saat membuka di Jakarta, Rabu (13/12) saat membuka rapat pimpinan (Rapim) dalam ´program peningkatan kesejahteraan rakyat miskin´.

Amran mengingatkan dan mengajak para pejabat eselon satu hingga empat untuk bekerja keras mengentaskan kemiskinan di Indonesia, dan mewujudkan mimpi bersama menjadi ´lumbung pangan dunia 2045, dan swasembada beras selama tiga tahun terakhir menjadi milestone (tonggak sejarah) untuk mendukung pengentasan kemiskinan seperti janji Presiden Joko Widodo untuk stop impor pangan strategis dari mancanegara.

"Hari ini, Indonesia tidak lagi impor beras, jagung, bawang merah, dan cabai kerja keras petani yang sinergi dengan seluruh jajaran di Kementan," kata Mentan pada Rapim yang dihadiri oleh 11 pejabat eselon satu dan ratusan pejabat eselon dua, tiga, dan empat.

Perubahan Iklim
Seluruh pegawai Kementan diingatkan Mentan untuk bekerja dengan ´semangat kekinian´: "jangan sekadar ke kantor mengisi absen, ke kantin makan siang, lalu duduk menunggu perintah atasan", pangan telah menjadi isu global dan Indonesia harus memanfaatkan potensi iklim di kawasan tropis untuk mencapai target Lumbung Pangan Dunia 2045.

Amran mengingatkan dua isu krusial yakni peranan pangan dan perubahan iklim, terlihat dari peningkatan migrasi penduduk dari negara krisis pangan ke negara lain dengan pangan melimpah, namun negara-negara di kawasan subtropis dengan empat musim mulai khawatir pada dampak perubahan iklim mempengaruhi produksi pangan lantaran keterbatasan sinar matahari.

"Indonesia yang berada di kawasan tropis dengan dua musim, mendapat manfaat dari melimpahnya sinar matahari sepanjang tahun sebagai modal pengembangan pertanian modern. Kekuatan utama Indonesia pada posisinya di khatulistiwa, dan jajaran Kementan harus menjadi penggerak utama untuk mewujudkan target Indonesia menjadi lumbung pangan dunia," katanya.

Kementan telah meluncurkan berbagai kebijakan/regulasi dan program terobosan diantaranya penyediaan alsintan, perbaikan infrastruktur irigasi, pembuatan embung/dam parit, pengendalian impor padi, jagung, kedelai, cabai, bawang, dan daging, serta percepatan pembangunan pertanian di perbatasan.

"Hasil dari kebijakan dan program terobosan ini menunjukkan secara signifikan bahwa berbagai produksi pangan strategis meningkat tinggi, tata niaga pangan semakin efisien, impor pangan menurun dan meningkatnya kepuasan dan kesejahteraan petani," kata Amran Sulaiman.
Jakarta (B2B) - Indonesian Agriculture Minister instructed the first echelon officials to coordinate with officials in Social Affairs Ministry to support poverty alleviation programs across the country, because Indonesia is able to self-sufficiency in food then all the people deserve sufficient food from agricultural production without depending on imports.

"I instructed the directorates general for communication with the social ministry officials to support their main program. Let us show the world that Indonesia is able to feed the Indonesian people without import rice," said Minister Sulaiman here on Wednesday (December 13).

He reminded and invited senior ministry officials to work hard to alleviate poverty in the country, and realizing ´the 2045 world food barn´ supports the target of President Joko Widodo´s administration.

"Today, Indonesia does not import rice, corn, shallots, and chili because of hard work of farmers who synergize with all levels in the ministry," Minister Sulaiman said.

Climate Change
Minister Sulaiman reminds civil servants in his ministry to work with ´the spirit of the future´ and "do not just come to the office to fill in attendance list, lunch in the canteen, then sit waiting orders from the boss" because food has become a global issue and Indonesia should exploit the potential climate in the tropics to reach the target of ´2045 World Food Barns´.

He was reminded two crucial issues, food and climate change, seen in the growing migration of the population from the country´s food crisis to developed country, but developed countries in the subtropical region with four seasons are starting to worry about the impacts of climate change affecting food production due to the limited sunlight.

Indonesia in the tropics with two seasons gets sunshine all year round as a potential for the development of modern agriculture. Indonesia´s main strength in the equator position, and the agriculture ministry should be the main drivers for realizing Indonesia´s target become the world´s food barn," Mr Sulaiman said.

Indonesian agriculture ministry has launched various policies/regulations and programs such as agricultural machinery, irrigation improvements, retention basin development, strategic food import control, and acceleration of agricultural development in border areas.

"This breakthrough policy and program show that increase of strategic food production, efficiency of the food trade, food imports are declining, and welfare of farmers," he said.