Safari Sergap Kalbar, Agung H: "Sambas Siap Penuhi Cadangan Beras Nasional"
Indonesian`s Sambas Farmers in West Borneo Sell Rice to the Bulog
Editor : M. Achsan Atjo
Translator : Dhelia Gani

PUBLISHED: Jum'at, 16 Maret 2018 , 17:51:00 WIB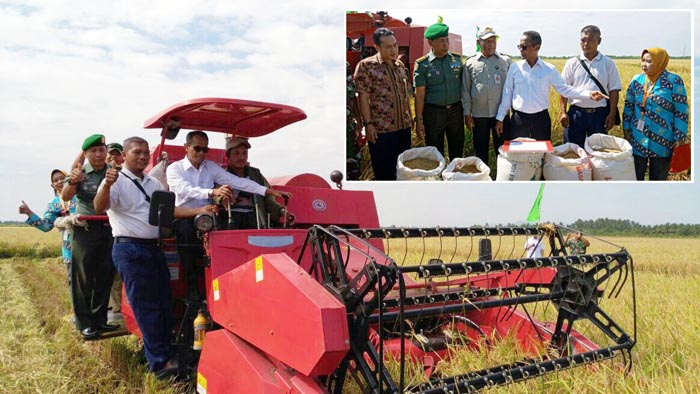 SERGAP SAMBAS: Kepala BKP Kementan, Agung Hendriadi mencoba mesin panen di Kabupaten Sambas didampingi Penyuluh Pertanian Utama Kementan, Siti Nurjanah dan Asterad TNI AD, Kolonel Kav Safrudin I (Foto2: Humas BKP & S Pradini)
Sambas, Kalbar (B2B) - Kisah sukses petani di Provinsi Kalimantan Barat khususnya Kabupaten Sambas mendorong Agung Hendriadi selaku Ketua I Pelaksana Tim Serap Gabah Petani (Sergap) di Kementerian Pertanian RI untuk memantau langsung panen padi 400 hektar, provitas 4 - 7 ton per hektar menghasilkan 2.000 ton GKP. Kegiatan dilanjutkan penjualan gabah kering panen (GKP) seharga Rp4.200 per kg dari petani kepada Bulog Subdivre Singkawang, Jumat (16/3).

Agung Hendriadi mengatakan target serap gabah semester pertama, Januari hingga Juni 2018 untuk Kalbar mencapai 76.023 ton dari target nasional 2,2 juta ton, sementara target serapan harian gabah untuk Kalbar mencapai 619 ton.

"Saya optimistis target Sergap di Kalbar dapat dicapai pada panen raya ini, dan kegiatan serap gabah ini sangat penting untuk mengisi cadangan beras kita," kata Agung Hendriadi di Desa Semparuk, Kecamatan Semparuk didampingi Penyuluh Pertanian Utama Kementan, Siti Nurjanah mewakili Kepala Badan Penyuluhan dan Pengembangan SDM Pertanian (BPPSDMP) Momon Rusmono selaku Penanggung Jawab Sergap Provinsi Kalbar.

Agung Hendriadi yang juga menjabat Kepala Badan Ketahanan Pangan (BKP) Kementan meminta Kepala Bulog Subdivre Singkawang, Suadi SE untuk mengoptimalkan serapan gabah di wilayah kerjanya yang meliputi tiga kabupaten: Singkawang, Sambas dan Bengkayang untuk mendukung cadangan beras Bulog.

"Kami siap mendukung petani di wilayah kerja Bulog Subdivre Singkawang menghadapi panen raya untuk memenuhi gudang Bulog," kata Suadi SE.

Ketua Poktan Dari Nandung I di Desa Semparuk, Sukiman menyatakan komitmen anggota kelompok tani (Poktan) untuk menjual GKP kepada Bulog, dan harga yang disepakati dalam pembelian gabah dinilai cukup menguntungkan petani yang memanfaatkan benih padi varietas Cilosari.

Tampak hadir Sterad Kolonel Kav Safrudin Iskandar, Kepala Balai Pengkajian dan Penerapan Teknologi - BPTP Kalbar, Akhmad Musyafak, perwakilan dari Pemprov Kalbar dan Pemkab Sambas, pejabat dinas pertanian Sambas, dan tim Upsus BPPSDMP Kementan, Septalina P.

Sergap Kalbar
Sebelumnya diberitakan, Sekretaris Badan SDM Pertanian Kementan (BPPSDMP) Surachman Suwardi mengingatkan komitmen Bulog menyerap gabah petani untuk panen raya Februari - Maret 2018, dan mengapresiasi Bulog Subdivre Singkawang menyerap 1,9 ton beras hasil panen perdana Gapoktan Mekar Bersatu di Desa Tebas Sungai, Kecamatan Tebas, Kabupaten Sambas, Selasa (13/2) dari potensi panen 1.500 hektar.

Surachman mendorong peningkatan produksi di Sambas dengan potensi lahan sawah 68.644 hektar, luas tanam 112.126 hektar dan indeks pertanaman 163,31, yang diharapkan dapat mendukung swasembada kabupaten dan surplus beras dapat mendukung kebutuhan bahan pokok di Kalbar.

Harapan tersebut diamini oleh Wakil Bupati Sambas, Hj Hairiah yang mengacu pafa Angka Ramalan (Aram II) 2017 yakni 101.155 hektar, produktivitas 27,92 kuintal per hektar, dan produksi 282.443 ton gabah kering giling (GKG).

"Produksi padi Sambas tersebut sangat berharga dan menjadi perhitungan untuk ketersediaan pangan kabupaten pada khususnya, dan Sambas sampai saat ini tetap menjadi lumbung beras utama Kalbar," kata Hj Hairiah.

Hal itu sesuai instruksi Mentan Andi Amran Sulaiman kepada jajaran pimpinan di Kementan untuk selalu mengingatkan Bulog di daerah yang dikunjungi, agar BUMN penyanggah kebutuhan pangan tersebut melaksanakan instruksi Presiden RI Joko Widodo.

"Kementan harapkan dukungan penuh Bulog untuk menyerap gabah petani sebanyak-banyaknya hingga memenuhi gudang Bulog untuk cadangan beras hingga beberapa bulan ke depan ," kata Surachman Suwardi.
Sambas of West Borneo (B2B) - The success story of Indonesian farmers in West Borneo province, especially Sambas district encourages the Director General of Food Security Agency, Agung Hendriadi to monitor the rice yield of 400 hectares, and average productivity of seven tons per hectare with the yield of 2,000 tons of dry grain yield. Activity dry grain yield continued to sell for 4,200 rupiah per kg from farmers to the Logistics Agency of Singkawang office on Friday (March 16).

Mr Hendriadi said the target of purchasing rice yield for the first semester, January to June 2018 in West Borneo province reached 76,023 tons of national target 2.2 million tons, while the target of daily purchases reach 619 tons.

"I am optimistic the government´s target in West Borneo province can be achieved in this rice yield, and activities of purchasing grain farmers are very important to meet the government´s rice reserves," said Mr Hendriadi in Semparuk village of Semparuk subdistrict accompanied by the national senior agricultural extension, Siti Nurjanah represent Director General of Agricultural Human Resource Development or BPPSDMP, Momon Rusmono as the person in charge of West Borneo increased agricultural production.

Mr. Hendriadi asked the Head of Bulog Singkawang, Suwardi to optimize grain purchases of farmers in Singkawang, Sambas and Bengkayang districts support Bulog´s rice reserves.

"We are ready to support farmers in Sambas and surrounding areas facing the peak of rice yield," said Suwardi who goes by one name, like many Indonesians.

Chairman of Dari Nandung I farmer group in Semparuk village, Sukiman affirmed the commitment of farmer group members sell the rice yield harvest to Bulog, and the agreed price is enough to benefit the farmers.

It was attended by Army´s territorial assistant of West Borneo, Colonel Cav Safrudin Iskandar, Director of the West Borneo´s Assessment Institute for Agricultural Technology or BPTP Kalbar, Akhmad Musyafak; official representatives of the provincial and district government, and Upsus Pajale team of BPPSDMP, Septalina Pradini.

Bulog´s Rice Reserves
Previously reported, Indonesian government through the Director General of HR Agriculture of agriculture ministry reminded Logistics Agency (Bulog) buy grain of farmers ahead of the peak of rice yield, January to March 2018, and appreciate Bulog Singkawang buys 1.9 tons of rice from Mekar Bersatu group farmers´ in Tebas Sungai village of Tebas subdistrict in Sambas, West Borneo.

Mr Suwardi encourages increased rice production in Sambas from by potential of 68,644 hectares of rice fields, 112,126 hectares of planting area and 163.31 cropping index, which is expected to support district self-sufficiency and rice surplus can support staple needs in West Borneo.

This is justified by the Vice Regent of Sambas, Hj Hairiah which refers to the number of forecast two of 2017 ie 101,155 hectares, productivity 27.92 quintal per hectare, and production of 282,443 tons of dried unhulled grain.

"Sambas rice production is very valuable and a calculation for the availability of food district, and Sambas until now remain a rice granary province," said Hj Hairiah.

The instruction from the Minister of Agriculture Andi Amran Sulaiman to subordinate to always remind Bulog in the area to implement the program of President Joko Widodo.

"The ministry expects Bulog to buy grain of farmers as much as possible to meet rice warehouses as rice reserves up to several months ahead," said Mr Suwardi who was visit to Sambas representing his boss, Momon Rusmono.