AEC 2015 Larang Pemerintah Terapkan Tata Niaga dan Proteksi
AEC 2015 Prohibit the Government Implement Trading System and Protection
Reporter : Gusmiati Waris
Editor : Cahyani Harzi
Translator : Dhelia Gani

PUBLISHED: Jum'at, 19 April 2013 , 17:56:00 WIB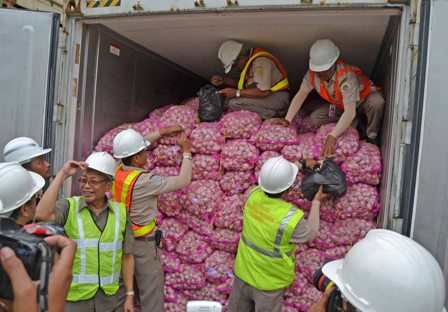 Wakil Menteri Pertanian, Rusman Heriawan memeriksa bawang putih impor di Pelabuhan Tanjung Perak, Surabaya (Foto: istimewa)
Bandung (B2B) - Pemerintah tidak bisa lagi memberlakukan tata niaga melalui proteksi terhadap komoditas impor, karena keluar masuk produk di kawasan ASEAN merupakan tindakan legal, dengan diberlakukannya ASEAN Economic Community (AEC) pada 2015.

"Selama ini, Indonesia seringkali berorientasi ke dalam dan jarang ke luar sehingga perilaku tersebut menumbuhkan perilaku cengeng. Minta proteksi dan melarang impor terhadap produk impor," kata Wakil Menteri Pertanian, Rusman Heriawan saat menutup Workshop Nasional: Kesiapan Sektor Pertanian Hadapi AEC 2015 di Bandung, Kamis (18/4).

Seharusnya, kata Wamentan, pemerintah pusat melalui otonomi daerah memberi izin kepada pemerintah daerah di seluruh Indonesia, untuk mencari peluang bisnis di mancanegara sehingga dapat meningkatkan kegiatan ekspor.

"Pemerintah daerah diperintahkan melakukan hubungan dagang atau melakukan kunjungan ke luar negeri," ungkap Rusman.

Menurut Rusman, melalui Masyarakat Ekonomi ASEAN, Indonesia dapat memetik manfaat untuk memperluas jaringan bisnis dan dan membuka peluang usaha.
Bandung (B2B) - The government can no longer impose trading system through protection against imported commodities, because the entry and exit of products in the ASEAN region is a legal action, with the enforcement of the ASEAN Economic Community (AEC) by 2015.

"So far, Indonesia has often oriented inward and outward so rare these behaviors foster whiny behavior. Asked protection and prohibit the import of imported products," said Deputy Minister of Agriculture, Rusman Heriawan when close the National Workshop: Agricultural Sector Readiness Facing AEC 2015 in Bandung, Thursday (18/4).

Supposed, said Vice Minister of Agriculture, the central government through regional autonomy gives permission to local governments throughout Indonesia, to seek business opportunities in foreign countries so as to increase exports.

"The local government were ordered conduct of trade relations or conduct overseas visits," said Rusman.

According to Rusman, through the ASEAN Economic Community, Indonesia can reap the benefits for businesses and expanding business opportunities.