BKP Kementan Dorong Diversifikasi Pangan Lokal Hulu ke Hilir di 13 Provinsi
Indonesian Govt Encourages Local Food Diversification in 13 Provinces
Reporter : Gusmiati Waris
Editor : Cahyani Harzi
Translator : Dhelia Gani

PUBLISHED: Kamis, 22 Maret 2018 , 18:06:00 WIB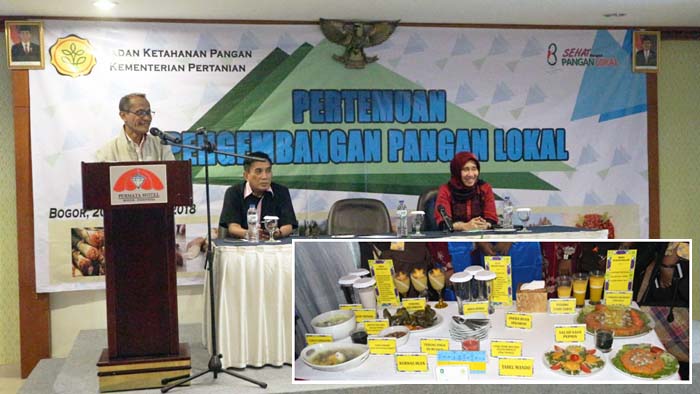 LOKAKARYA P3L: Kepala BKP Kementan, Agung Hendriadi memberi arahan didampingi Sekretaris BKP Kementan, Mulyawan Hendiadi dan Kapus Penganekaragaman Konsumsi dan Keamanan Pangan, Tri Agustin Satriani (Foto: Humas BKP)
Bogor, Jabar (B2B) - Kementerian Pertanian RI kian fokus mengembangkan diversifikasi pangan dari hulu ke hilir berbasis industri rumah tangga di 13 provinsi yang menjadi pelaksana pengembangan pangan pokok lokal (P3L). Kegiatan P3L fokus pada konsumsi pangan beragam dan bergizi seimbang meliputi sumber protein, vitamin dan mineral yang dilakukan secara regional, vertikal dan horisontal.

Kepala Badan Ketahanan Pangan (BKP) Agung Hendriadi mengatakan diversifikasi pangan merupakan tema penting dalam pembangunan ketahanan pangan di Indonesia. Diversifikasi pangan bertujuan meningkatkan ketersediaan dan konsumsi pangan beragam, bergizi seimbang, dan aman dalam mewujudkan SDM sehat, aktif, dan produktif.

"Karenanya, perwakilan dinas di 13 provinsi yang menjadi lokasi pelaksanaan P3L berkumpul di Bogor untuk sharing knowledge agar kegiatan P3L dapat berjalan dengan baik," kata Agung Hendriadi saat membuka lokakarya ´Pengembangan Pangan Lokal 2018´ pada Selasa malam (20/3).

Realisasinya, kata Agung, dapat dilakukan secara horisontal, vertikal dan regional. Maksudnya, kegiatan P3L secara horisontal memanfaatkan aneka bahan makanan; vertikal dengan variasi cara pengolahan; dan regional dengan memanfaatkan produk pangan unggulan yang sesuai kondisi agroklimat dan daya dukung daerah.

Kegiatan lokakarya diikuti 13 perwakilan dinas ketahanan pangan provinsi sasaran P3L di antaranya Banten, Bali, Nusa Tenggara Barat (NTB), Nusa Tenggara Timur (NTT), Sulawesi Tenggara, Sulawesi Tengah, Maluku, Riau, Sumatera Selatan, Papua, Gorontalo, Kalimantan Utara, dan Sulawesi Barat. Turut hadir Sekretaris BKP Kementan,
Mulyawan Hendiadi dan Kepala Pusat Penganekaragaman Konsumsi dan Keamanan Pangan BKP Kementan, Tri Agustin Satriani.

BKP Kementan juga fokus pada P3L hulu dan hilir melalui pengembangan pangan lokal berbasis industri rumah tangga melalui fasilitasi UMKM, menggali resep menu khas nusantara berbasis pangan lokal, serta kampanye dan promosi untuk mengubah mindset masyarakat.

"Di sisi hulu, BKP Kementan terus mengembangkan kegiatan optimalisasi pemanfaatan lahan pekarangan sebagai sumber pangan keluarga melalui kawasan rumah pangan lestari atau KRPL," kata Agung Hendriadi.
Bogor, West Java (B2B) - Indonesian Agriculture Ministry will focus on developing food diversification upstream to downstream based on home industry in 13 provinces as implementing development of local staple food or P3L. P3L activities focus on diverse and balanced nutritious food consumption including sources of protein, vitamins and minerals.

The Director General of Food Security Agency Agung Hendriadi said food diversification is an important theme in the development of food security in Indonesia. The goal of food diversification is to increase the availability and consumption of diverse, nutritious, and safe food to support the development of healthy, active, and productive human resources.

"Therefore, representatives from food security agencies of 13 provinces implementing P3L gathered in Bogor for sharing knowledge to support the achievement of P3L targets," said Mr Hendriadi while opened workshop of ´Local Food Development 2018´ on Tuesday night (March 20).

The realization, he said, is done horizontally, vertically and regionally. That is, P3L activities horizontally utilize various foodstuffs; vertically through the variation of processing;
and regional by utilizing superior food product refers to agroclimate condition and regional carrying capacity.

Workshop activities were attended by 13 representatives of food security offices of P3L target provinces including Banten, Bali, West Nusa Tenggara), East Nusa Tenggara, Southeast Sulawesi, Central Sulawesi, Maluku, Riau, South Sumatera, Papua, Gorontalo, North Kalimantan, and West Sulawesi. It was attended by Secretary of BKP Mulyawan Hendiadi and Head of the Center for Food Consumption and Safety Diversification, Tri Agustin Satriani.

The BKP also focuses on upstream and downstream P3L through local household-based food development through SME facilitation, digging up local food-based menu recipes, campaigns and promotions to change the people´s mindset.

"Upstream, BKP continues to optimize urban farming in households," Mr Hendriadi said.