Konsolidasi Bengkayang, Tim Upsus Kementan di Kalbar Didukung Mahasiswa Untan
Indonesia`s Pontianak University Students Support Farmer Assistance in West Borneo
Editor : M. Achsan Atjo
Translator : Dhelia Gani

PUBLISHED: Minggu, 15 April 2018 , 18:20:00 WIB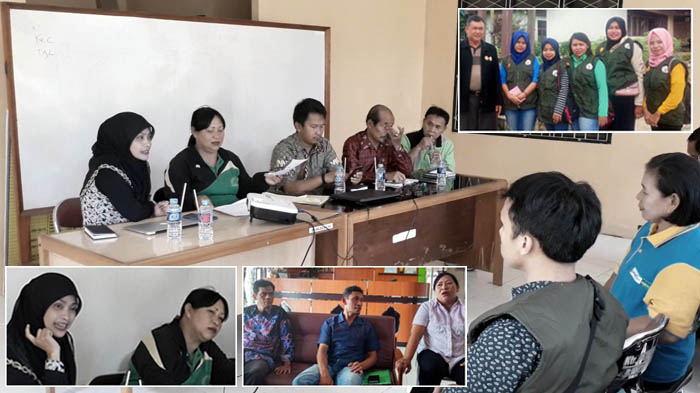 KONSOLIDASI UPSUS KALBAR: PJ Upsus Sambas - Bengkayang, Yudhistira N (batik) dan Tim Upsus BPPSDMP Kementan, Septalina P (hijab) rapat konsolidasi dihadiri mahasiswa pendamping Untan di Bengkayang (Foto2: B2B/M. Achsan Atjo)
PROGRAM upaya khusus padi, jagung, dan kedelai (Upsus Pajale) dan Optimalisasi Alsintan oleh Tim Upsus Kementan di Kalbar yang dipimpin Momon Rusmono sebagai Penanggung Jawab - PJ Upsus Kalbar dan Optimalisasi Alsintan Nasional (PJ OPA) mendapat dukungan 22 mahasiswa pendamping dari Universitas Tanjungpura Pontianak (Untan) untuk empat kabupaten di Provinsi Kalimantan Barat.

Kegiatan pendampingan mahasiswa tersebut merupakan inisiasi Sekolah Tinggi Penyuluhan Pertanian - STPP Yogyakarta, unit pelayanan teknis (UPT) Badan Penyuluhan dan Pengembangan SDM Pertanian (BPPSDMP) Kementan untuk mendukung program Mentan Andi Amran Sulaiman yang mendorong pelibatan mahasiswa pada program Upsus Pajale dan OPA di seluruh Indonesia.

Enam mahasiswa Untan Pontianak untuk Bengkayang tiba di kota kabupaten pada Jumat pagi (13/4) di bawah bimbingan dua dosen fakultas pertanian Untan, Sholahudin dan Nurjani. Mereka langsung mengikuti rapat koordinasi dan konsolidasi Tim Upsus Kalbar dari Kementerian Pertanian RI dengan para penyuluh pertanian dari 17 kecamatan setempat di kantor Dinas Pertanian Bengkayang. Kehadiran mereka di Bengkayang difasilitasi oleh Kasie Tanaman Pangan dan Hortikultura Dinas Pertanian Bengkayang, I Gede Megantara.

PJ Upsus Sambas - Bengkayang, Yudhistira Nugraha; dan Tim Upsus, Septalina Pradini dari BPPSDMP Kementan yang hadir mewakili Momon Rusmono mengapresiasi dukungan mahasiswa mendampingi petani di Kabupaten Bengkayang, Sambas, Landak, dan Sanggau selama tiga bulan, April hingga Juni untuk mendukung program ´´Upsus Pajale dan Mobilisasi Alsintan´.

"Kementan menyambut baik kegiatan pendampingan mahasiswa untuk mendukung pencapaian target luas tambah tanam atau LTT dan optimalisasi Alsintan di Bengkayang maupun di kabupaten lain di Kalbar. Mahasiswa harus berperan dalam pembangunan pertanian, dan kami sangat mengapresiasi partisipasi tersebut," kata Septalina.

Dia mengingatkan arahan dari Kepala BPPSDMP Kementan Momon Rusmono sebagai Penanggung Jawab - PJ Upsus Kalbar tentang peran vital mahasiswa dalam kerangka regenerasi petani untuk mendukung mengembangkan pertanian modern yang mengedepankan ´efisiensi dan efektivitas usaha tani dengan provitas tinggi´ didukung pemanfaatan Alsintan.

Dosen pendamping Sholahudin mengatakan kegiatan utama keenam mahasiswa di Bengkayang seperti halnya di tiga kabupaten lain adalah invetarisasi jumlah dan status Alsintan di unit pelayanan jasa Alsintan (UPJA), gabungan kelompok tani (Gapoktan), dan Brigade Alsintan. Membantu penyuluh pertanian dalam meningkatkan SDM operator Alsintan meliputi operasional, perawatan, dan manajerial.

"Membantu pengelola Alsintan menghitung analisis usaha, membantu UPJA membuat usulan dalam memperbaiki pelayanan seperti usulan penambahan Alsintan, perubahan Alsintan dari pemerintah sebagai penyesuaian kondisi lapangan, dan bagi Gapoktan yang belum mendapatkan akses Alsintan akan dibantu membuat usulan bantuan Alsintan," kata Sholahudin, alumni S1 dan S2 dari IPB Bogor dan meraih gelar doktor bidang teknologi pangan (S3) dari Universitas Tsukuba Jepang.

Inisiasi STPP Yogyakarta
Sebelumnya diberitakan, STPP Yogyakarta melibatkan 22 mahasiswa fakultas pertanian Untan Pontianak untuk mendampingi petani pada empat kabupaten di Kalbar dalam kegiatan Upsus Pajale dan Optimalisasi Pemanfaatan Alsintan yang digelar oleh Kementan mencapai swasembada pangan strategis.

"Mahasiswa harus menjadi bagian dari pembangunan pertanian. Caranya? Dengan mendampingi petani melakukan usaha tani modern yang didukung mekanisasi pertanian," kata Kabag Administrasi Umum STPP Yogyakarta, Irwan Johan Sumarno di Pontianak, Selasa (10/4) mengutip arahan dari Ketua STPP Yogyakarta, Ali Rachman saat melepas 22 mahasiswa pendamping menuju empat kabupaten di Kalbar.

Irwan JS mengutip arahan Ali Rachman menambahkan bahwa kegiatan pendampingan meliputi bimbingan teknis (Bimtek), demo efektifitas dan efisiensi pemanfaatan Alsintan, mobilisasi pemanfaatan Alsintan, dan realokasi Alsintan yang belum dimanfaatkan secara maksimal sehingga tetap dapat mendukung peningkatan LTT di Kalbar, khususnya empat kabupaten yang menjadi target kegiatan pendampingan mahasiswa.

Dekan Fakultas Pertanian Untan, Dr Ir Radian mengingatkan mahasiswa pendamping tentang tanggung jawab mereka melaksanakan amanah pemerintah dalam pengawalan Optimalisasi Alsintan, khususnya mengoptimalkan peranan unit pelayanan jasa Alsintan disingkat UPJA khususnya kegiatan manajemen dan administrasi organisasi.

"Berikan kemampuan terbaik kalian terutama dalam hal pemanfaatan teknologi mesin pertanian," kata Dekan Radian.
THE EXTENSIFICATION program of rice, maize, soybean and utilization of agricultural machinery by the Indonesian government in West Borneo province or Upsus Pajale by a special team of Indonesian agriculture ministry under the control of Momon Rusmono as the Person in Charge or PiC in the province supported by 22 companion students of Pontianak´s Tanjungpura University or Untan Pontianak for mentoring program.

Mentoring students were the initiation of Yogyakarta Agriculture Extension College or STPP Yogyakarta as the technical service unit of Directorate General of Agency for Agricultural Extension and Human Resources Development or BPPSDMP at the agriculture ministry to support program of Agriculture Minister Andi Amran Sulaiman is encouraging mentoring students for farmers across the country.

Six students of Untan Pontianak arrived in the district town on Friday morning (April 13) under the guidance of two lecturers the faculty of agriculture, Sholahudin and Nurjani, They participate in coordination meetings and consolidation of a team from Jakarta with agricultural extension workers from 17 districts in regional agriculture office. Their presence in Bengkayang was facilitated by senior agricultural officials at the district office, I Gede Megantara.

The PiC of Sambas and Bengkayang districts, Yudhistira Nugraha; and the Special Team of the ministry, Septalina Pradini of BPPSDMP who attended on behalf of Mr Rusmono, appreciated the mentoring activities of students in Bengkayang, Sambas, Landak and Sanggau districts for three months, April to June.

"The ministry appreciated the mentoring activities of students to support achievement of agricultural extensification targets in Bengkayang and three other districts in West Borneo province. Students must play a role in agricultural development, and we appreciate the participation of students here," Mrs Pradini said.

He reminded the instructions of her boss, Mr Rusmono as PiC of Upsus Kalbar on the student´s vital role in supporting farmers to develop modern agriculture that promotes ´efficiency and effectiveness of farming with high productivity ´supported by agricultural machinery.

Lecturer Sholahudin said the six main activities of students in Bengkayang as well as in the other three districts are the invetarization of the number and status of Alsintan in the service unit or UPJA, farmer group, and Alsintan brigade. Support the agricultural extension workers to improve operators´ ability to operate farm machinery, service and managerial.

"To help calculate business analysis, to help make proposals to improve agricultural machinery services to farmers, and to open the access of farmer groups to get agricultural machinery assistance from central and local government," said Sholahudin, one and two stratum graduates of the Bogor Agricultural Institute or IPB Bogor and doctoral degree of food technology of Japan´s Tsukuba University.

Initiative of STPP Yogyakarta
Previously reported, Indonesia´s Yogyakarta Agriculture Extension College or STPP Yogyakarta released 22 students of the faculty of agriculture Pontianak´s Tanjungpura University or the Untan to assist farmers in four districts of West Borneo province for increase of rice, corn and soybean production.

"Students must be part of agricultural development. How? By guiding farmers to modern farming activities supported by agricultural mechanization," said the Head of General Affairs of STPP Yogyakarta, Irwan Johan Sumarno.

Mr Sumarno cited the speech of Mr Rachman added that the mentoring activities include technical guidance, demo utilization of agricultural machinery, identification, mobilization, and reallocation of agricultural machinery that has not been optimally utilized, especially the four districts targeted by the student assistance activities.

Dean of Faculty of Agriculture Untan, Dr Ir Radian reminded his students of their responsibilities to carry out government mandate, to optimize the role of agricultural machinery service unit abbreviated as UPJA, especially organizational management and administration activities.

"Give your best ability, especially in the use of agricultural machinery technology," Dean Radian said.