54 Hari, Tenggat Waktu Bulog Semarang Harus Capai Target Serap Gabah
Indonesian Govt Citicized the Bulog Slowly Purchase Rice Grain of Farmers
Editor : M. Achsan Atjo
Translator : Dhelia Gani

PUBLISHED: Rabu, 18 Oktober 2017 , 18:34:00 WIB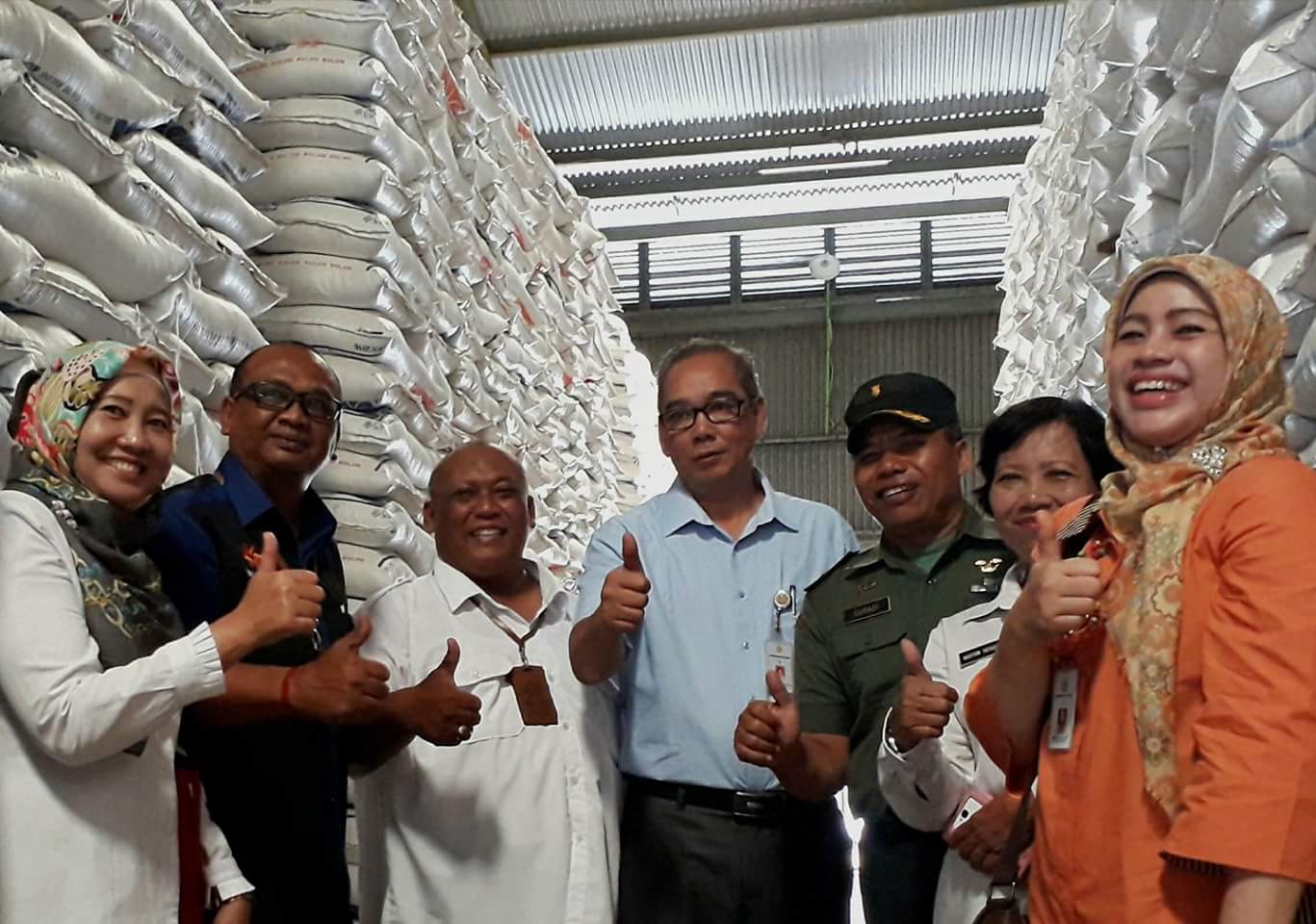 TIM SERGAP BADAN SDM KEMENTAN: Pejabat Distan Semarang, Sutiah; Kasubdivre Semarang Gatot Endro Waluyo; Ketua Tim Pengawal PJ Subdivre Semarang - Surakarta, Teddy Rachmat Mulyadi (ke-4 kiri); Pasiter Kodim 0711 Semarang, Mayor Inf Suradi. (Foto: B2B/Mac)
Semarang, Jateng (B2B) - Kementerian Pertanian RI memberi waktu 54 hari kerja hingga 31 Desember 2017 kepada Bulog Subdivre Semarang untuk memenuhi target serap gabah (Sergab) sebanyak 98.000 ton dan hingga hari ini, Rabu (18/10) baru tercapai 77,8% atau hanya 76.272 ton, dengan serapan minimal 402,5 ton per hari masuk ke enam gudang Bulog.
Seruan itu dikemukakan Ketua Tim Pengawal Penanggung Jawab dari Pusdiktan untuk Subdivre Semarang dan Surakarta, Teddy Rachmat Mulyadi kepada Kepala Subdivre Semarang, Gatot Endro Waluyo di Semarang, Rabu (18/10). Teddy RM berada di Semarang mewakili Ketua Tim Sergab wilayah Jawa Tengah, Momon Rusmono yang berhalangan hadir.
Kedua pihak membahas realisasi serap gabah di eks Karesidenan Semarang yang ditargetkan 98.000 ton untuk 2017, menurut Endro, realisasinya baru mencapai 76.272 ton atau 77,8% dari target yang ditetapkan pemerintah.
"Kami terus mendorong serapan gabah Bulog dari petani agar mencapai target yang ditentukan, dengan mendorong supaya Bulog Semarang mampu mencapai target hingga 31 Desember 2017. Waktunya tinggal 54 hari buat kita untuk capai target itu" kata Teddy.
Endro mengakui melambatnya serapan gabah di wilayah kerjanya lantaran dari 43 mitra pemasok gabah, yang masih loyal mendukung Sergab Bulog tinggal 12 mitra, sehingga hal itu menyulitkan Bulog mengejar target Kementan.
"Harus diakui kami mulai kesulitan mencari gabah di wilayah kerja Semarang dan sekitarnya karena ada pihak lain yang juga menyerap gabah di sini, namun kami akan bekerja keras menjemput bola agar target Kementa tercapai," kata Endro.
Tetap Optimistis
Pejabat dari Dinas Pertanian dan Tanaman Pangan Kota Semarang, Sutiah menyatakan optimistis target Bulog dapat terealisir, dia mengacu pada peluang luasan panen padi Oktober - Maret sekitar 1.023 hektar dengan produktivitas lima ton per hektar atau setara 5.674 ton gabah.
"Kendala utama saat ini adalah kesulitan pemilik lahan mencari buruh tani untuk penebas saat panen, semoga mereka dapat mencari solusinya" kata Sutiah.
Sementara mitra Bulog dari Purwodadi, Kusdiono yang mengharapkan mwnyoroti perhatian pemerintah pada off farm khususnya subsektor usaha penggilingan, dan perhatian pemerintah lebih banyak pada on farm seperti benih, pupuk, dan Alsintan.
Perwira Seksi Teritorial (Pasiter) Kodim 0711 Kota Semarang, Mayor Inf Suradi tentang komitmen TNI AD mwndukung program Sergab dengan melakukan ´pendekatan khusus´ pada mitra Bulog agar tetap loyal pada kepentingan NKRI untuk mencapai swasembada pangan.
Pertemuan dilanjutkan tim Kementan dengan mengunjungi gudang Bulog Pelebon di kota Semarang, yang ternyata kapasitasnya masih mampu menampung pasokan beras dari penggilingan mitra maupun yang disewa oleh Bulog.
"Kementan berharap Bulog sungguh-sungguh mendorong mitra untuk terus memasok gabah ke Bulog," kata Teddy yang menjabat Kabid Kelembagaan di Pusdiktan Badan SDM Kementan.
Semarang of Central Java (B2B) - Indonesian Agriculture Ministry gives 54 working days to December 31, 2017 to the Semarang Logistics Agency (Bulog) to meet the target of purchase 98,000 tons of rice grain from farmers, and today, Wednesday (October 18) only reached 77.8% or just 76,272 tons, with a minimum purchase of 402.5 tons per day into six Bulog warehouses.
The warning was said by the head of ministry´s supervisory team, Teddy Rachmat Mulyadi to the Head of Bulog Semarang Office, Gatot Endro Waluyo in here on Wednesday. Mr Mulyadi was in Semarang representing his boss, Momon Rusmono who was unable to attend.
Both discussed realization of the purchase of rice grain in the city of Semarang city surrounding areas targeted 98,000 tons for 2017, according to Mr Waluyo, Bulog´s current purchase realization only 76,272 tons or 77.8% of target set by government.
"We continue to encourage the purchase of rice grain target from farmers is achieved, by encouraging Bulog Semarang to reach the target until December 31, 2017. It´s 54 days for us to achieve the target," Mr Mulyadi said.
Mr Waluyo acknowledged the slowing of purchasing rice grain in his working area because of 43 supply partners, who still loyally support to the Bulog only 12 farmer groups, making it difficult for Bulog to pursue the government target.
Keep Optimistic
Officials of Semarang´s Agriculture Office, Sutiah expressed optimism that the target of Bulog can be realized, she was referred to October - March rice harvest opportunity of 1,023 hectares with productivity of five tons per hectare or equivalent to 5,674 tons of rice grain.
The main obstacle at this time is difficulty of landowners looking for farm workers to rice harvest, hopefully they can find a solution, " Sutiah said.
Meanwhile, Bulog´s partner from Purwodadi, Kusdiono, highlighted the government´s attention to off farm particularly the milling subsector, and more government on farms such as seeds, fertilizers and agricultural machinery.
The meeting was continued by the ministry team by visiting Bulog Pelebon warehouse in Semarang city, which in fact its capacity is still able to accommodate the supply of rice from partner mills or leased by the Bulog.
The government expects the Bulog to seriously encourage partners continue supplying rice grain to the Bulog," said Mr Mulyadi, who was serves as Head of Institution at the Directorate General of Agency for Agricultural Extension and Human Resource Development (BPPSDMP).