Sejengkal ke Malaysia, Kalbar Target Ekspor Beras dari Sanggau via Entikong
Indonesian`s Sanggau Farmers in Borneo Want to Export Rice to Malaysia
Editor : M. Achsan Atjo
Translator : Dhelia Gani

PUBLISHED: Kamis, 01 Maret 2018 , 18:48:00 WIB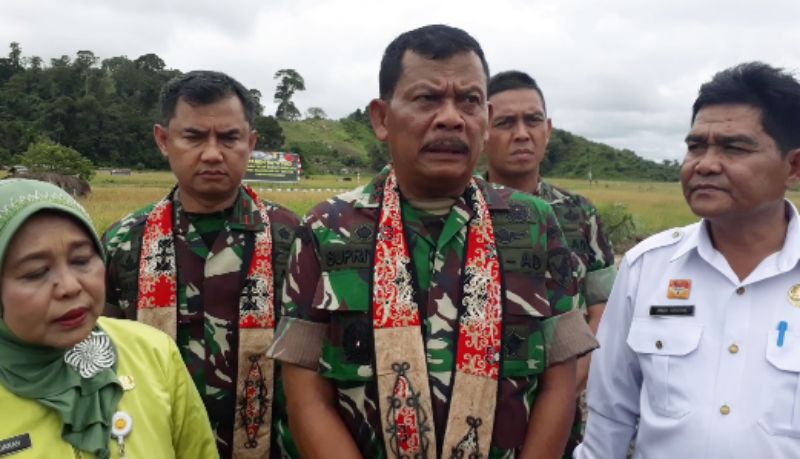 Kiri ke kanan: Penyuluh Pertanian Utama Kementan, Siti Nurjanah, Danrem 121/ABW Brigjen Bambang Ismawan, Pangdam XII/TP Mayjen Achmad Supriyadi, Dandim Sanggau 1204 Letkol Inf Herry dan Kadistan Sanggau John Henri (Foto: B2B/Mac)
Sanggau, Kalbar (B2B) - Pemerintah kabupaten Sanggau mendorong petani di Dusun Tapang Sebeluh, Desa Malenggang mengekspor surplus beras dari hasil panen di lahan cetak sawah. Sawah 45,2 hektar menjadi penting lantaran lokasinya di tengah perkebunan sawit Sekayam, sebagian besar petani adalah warga Dayak yang berhasil tiga kali panen dengan produktivitas empat ton dari lahan hasil program cetak sawah Kementerian Pertanian RI dan TNI AD pada 2016 sebagai bagian dari surplus beras Sanggau tahun lalu yang mencapai 96.000 ton.
Potensi produksi beras dari kabupaten paling utara di Provinsi Kalimantan Barat akan menguntungkan petani lantaran Entikong, yang dikenal sebagai pos lintas batas negara (PLBN) jaraknya hanya ´sejengkal ke Malaysia´ merupakan salah satu kecamatan di Sanggau sehingga biaya ekspor beras ke Malaysia akan lebih murah.
Target ekspor tersebut dikemukakan Pjs Bupati Sanggau, Moses Taba dan Kepala Dinas Pertanian Kabupaten Sanggau, John Henri dan Penyuluh Pertanian Utama Kementan, Siti Nurjanah serta didukung oleh Panglima Kodam XII/Tanjung Pura, Mayjen TNI Achmad Supriyadi usai panen perdana ketiga dari lahan cetak sawah seluas 45,2 hektar di Dusun Tapang Sebeluh, Desa Malenggang, Kecamatan Sekayam, Rabu siang (28/2).
Sanggau yang berbatasan dengan Malaysia termasuk salah satu dari lima wilayah perbatasan potensial untuk peluang ekspor ke negara tetangga. Keempat wilayah perbatasan lainnya adalah Kabupaten Lingga di Provinsi Kepulauan Riau membidik pasar Singapura, Provinsi Nusa Tenggara Timur (NTT) sasar Timor Leste, dan Merauke di Papua membidik Papua Nugini dan negara-negara di kawasan Pasifik.
"Program pemerintah pusat adalah mandiri pangan strategis khususnya padi dihasilkan sendiri oleh Sanggau maupun swadaya petani untuk mengekspor beras ke Malaysia," kata Moses Taba.
Dia memperkirakan apabila 6.850 hektar dari program cetak sawah sejak 2015 dapat ditanami padi dua kali dalam setahun, dengan produktivitas rata-rata tiga ton per hektar, maka akan menghasilkan 41.000 ton yang tidak akan habis dimakan oleh warga Sanggau, dan surplus produksi dapat dimanfaatkan oleh petani untuk ekspor ke Malaysia.
Mayjen TNI Achmad Supriyadi berpendapat senada tentang peluang petani Sanggau meningkatkan taraf hidupnya dari ekspor beras ke Malaysia, setelah tercapai surplus produksi dan posisi tawar petani meningkat lantaran kebutuhan pangan pokoknya telah terpenuhi dari hasil usaha taninya.
"TNI AD selalu mendukung petani meningkatkan produksi pangan seperti diinstruksikan Presiden Joko Widodo," katanya.
Sanggau of West Borneo (B2B) - Sanggau district government encourages farmers in Tapang Sebeluh hamlet of Malenggang village to export rice surplus from rice harvest of new paddy field. Rice fields 45.2 hectares become important because in the middle of Sekayam palm plantations, most of the farmers are Dayaks who succeed three rice harvest with a productivity of four tons per hectare.
The potential of rice production from the northernmost district in West Kalimantan province will benefit farmers because Entikong, known as a cross border post, is one of subdistricts in Sanggau district, so the cost of export to Malaysia will be cheaper.
The opportunity to export Sanggau rice was said by Acting Sanggau Regent, Taba Moses; the head of Sanggau agriculture office, John Henri; and national senior agricultural extension worker, Siti Nurjanah represent the Directorate General of Agricultural Human Resources, Momon Rusmono; and supported by the West Borneo´s Tanjung Pura Military Commander Maj. Gen. Achmad Supriyadi after the rice harvest on Wednesday (February 28).
Entikong in Sanggau is one of five border areas for export opportunities to neighboring countries. The other four border areas are Lingga district in Riau Islands province for Singapore, East Nusa Tenggara province to East Timor, and Merauke in Papua to Papua New Guinea and other countries in the Pacific region.
"The central government program is a strategic food self-sufficiency, especially Sanggau for food self-sufficiency, and self-help farmers to export rice to Malaysia," Moses Taba said.
He estimates that if 6,850 hectares of paddy field programs since 2015 are planted rice twice a year, the average productivity is three tons per hectare, it will produce 41,000 tons or exceed the needs of Sanggau people and rice surplus can be exported to Malaysia.
Maj. Gen. Achmad Supriyadi had a similar opinion about the opportunity of Sanggau farmers to improve their living standards from rice exports to Malaysia, after production surplus was reached and the bargaining position of farmers increased due to the need of basic food has been fulfilled of their farm.
The army always supports farmers to increase food production as instructed by President Joko Widodo," he said.