13 Hari jadi 3 Jam, Mentan Antisipasi Keluhan Perijinan Ekspor Hortikultura
Indonesia Govt Shortens Horticultural Export Permits to 3 Hours from 13 Days
Reporter : Gusmiati Waris
Editor : Cahyani Harzi
Translator : Dhelia Gani

PUBLISHED: Senin, 29 Oktober 2018 , 19:26:00 WIB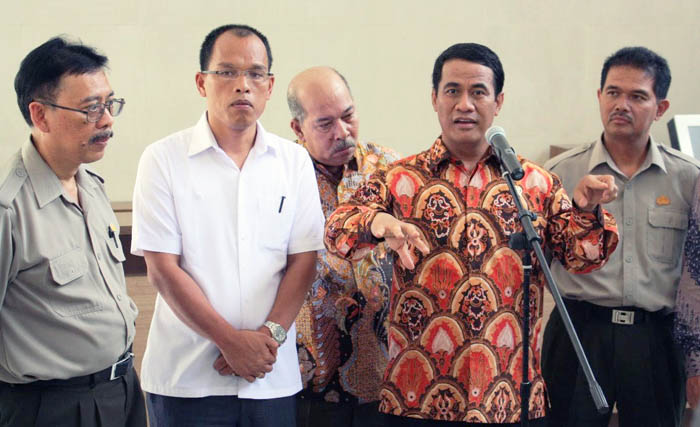 REVISI PERMENTAN: Mentan Andi Amran Sulaiman (batik) menjawab pers bersama eksportir hortikultura didampingi Sekjen Kementan Syukur Iwantoro dan Dirjen Hortikultura Suwandi (Foto: B2B/Mya)
Jakarta (B2B) - Menteri Pertanian RI Andi Amran Sulaiman bergerak cepat mengantisipasi keluhan para eksportir hortikultura, dengan mempersingkat proses perijinan dari 312 jam (13 hari) menjadi tiga jam, setelah menginstruksikan Dirjen Hortikultura Suwandi untuk melakukan revisi Permentan No 70/2014 tentang Perizinan Hortikultura, agar deregulasi tersebut dapat diikuti instansi-instansi terkait.
Instruksi tersebut dikemukakan Mentan Amran Sulaiman pada ´Rakor Investasi dan Akselerasi Ekspor Produk Hortikultura´ di kantor Ditjen Hortikultura, Senin (29/10) dihadiri lebih dari 10 eksportir hortikultura, pejabat terkait dari Kementerian Luar Negeri RI serta Sekjen Kementan Syukur Iwantoro dan Dirjen Hortikultura Suwandi.
"Hari ini kita keluarkan kebijakan baru dengan merevisi Permentan. Izin dulu maksimal 13 hari, ekspor naik 24 persen, tapi hari ini kita pangkas menjadi tiga jam. Kami menyiapkan karpet merah untuk eksportir. Ini instruksi bapak presiden. Kita bikin ekspor meningkat drastis," kata Mentan kepada pers usai Rakor.
Menurutnya, langkah tersebut ditempuh sebagai stimulan kepada kementerian dan instansi terkait untuk mempermudah proses perijinan ekspor hortikultura, dan Kementan memberi contoh percepatan pengurusan izin ekspor di sektor hulu.
"Kami yakin kebijakan strategis ini dapat mengangkat ekspor lebih tinggi. Kami akan terus melakukan pendampingan dan pengawalan," kata Mentan Amran Sulaiman.
Potensi sektor pertanian Indonesia khususnya komoditas hortikultura sangat menjanjikan untuk mendukung neraca perdagangan, seperti dilansir Badan Pusat Statistik (BPS) bahwa ekspor pertanian Indonesia pada 2017 mencapai Rp442 triliun, naik 24% dari 2016.
Mentan menekankan bahwa kunci peningkatan produksi dan ekspor komoditas pertanian tidak terlepas dari kerjasama antara pemerintah dengan pelaku usaha.
"Pengusaha di bidang pertanian merupakan mitra utama keberhasilan sektor pertanian dalam menunjang peningkatan pendapatan negara," kata Mentan Amran Sulaiman.
Jakarta (B2B) - Indonesian Agriculture Minister Andi Amran Sulaiman anticipates complaints of horticultural exporters, by shortening the licensing process of 13 days to three hours, by instructing Director General of Horticulture, Suwandi to make a revision of Agriculture Ministerial Regulation Number 70/2014 on Horticulture Licensing.
The instruction was stated by Minister Sulaiman at a coordination meeting on the accelerated export of horticultural products here on Monday (October 29). It was attended more than 10 horticultural exporters, related officials of Indonesian Foreign Affairs Ministry, Secretary General of Agriculture Ministry Syukur Iwantoro and Director General of Horticulture, Suwandi.
"Today we issue a new policy by revising ministerial regulations. The permit process is a maximum of 13 days, exports are up 24 percent, but today we cut it to three hours. We prepare facilities for exporters. This is the president´s instruction," Minister Sulaiman told the press here.
According to him, the policy was taken as a stimulant for relevant ministries and agencies, to facilitate the horticulture export licensing process, and the agriculture ministry gave an example of acceleration of export permits in the upstream sector.
"We believe that the strategic policy can lift exports higher. We will continue to monitor its progress," said Minister Sulaiman.
The potential of Indonesia´s agricultural sector, especially horticultural commodities, is very promising to support the trade balance, as reported by the Central Statistics Agency or the BPS that Indonesia´s agricultural exports in 2017 reached IDR 442 trillion, up 24% from 2016.
Minister Sulaiman stressed that the key to successful export of agricultural commodities is the collaboration between the government and businessmen.
"Entrepreneurs in the agricultural sector are the main partners of success in supporting foreign exchange," said Minister Sulaiman.