Kementan Gandeng Perteta Capai Swasembada Pangan Berkelanjutan
Indonesian Relies on Agricultural Mechanization for Food Self-sufficiency
Reporter : Gusmiati Waris
Editor : Cahyani Harzi
Translator : Dhelia Gani

PUBLISHED: Selasa, 31 Oktober 2017 , 19:39:00 WIB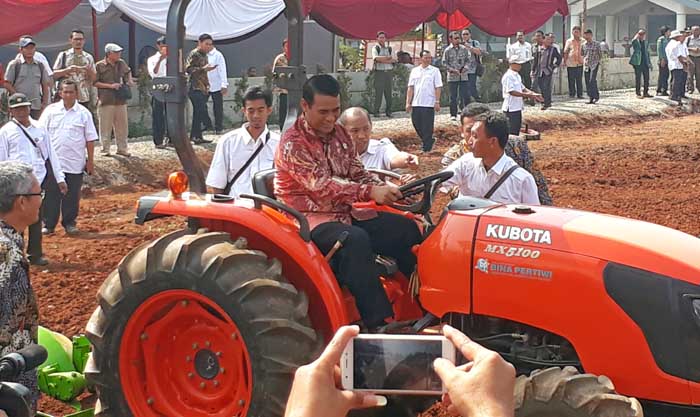 Mentan Andi Amran Sulaiman menguji coba mesin traktor pengolah lahan hortikultura di Tangerang (Foto: B2B/Mac)
Jakarta (B2B) - Pemerintah RI hingga 2017 memberikan alat mesin pertanian (Alsintan) 284.436 unit, naik 2.175% dari 2014 yang hanya 12.501 unit. Alsintan gratis untuk petani berkontribusi positif meningkatkan produksi pangan strategis pada 2017 misalnya produksi padi mencapai 81,5 juta ton atau naik 15,1% dari 2014, jagung 26 juta ton (naik 36,9%), aneka cabai 1,90 juta ton (naik 1,5%), dan bawang merah 1,42 juta ton (naik 15,3%).

Hal itu mendorong Kementerian Pertanian RI bersinergi dengan Perhimpunan Teknik Pertanian (Perteta) untuk mengembangkan teknologi mekanisasi pertanian dari hulu ke hilir, pendampingan untuk meningkatkan produksi pangan swasembada pangan berkelanjutan, dan mendorong peningkatan kesejahteraan petani.

Menteri Pertanian Andi Amran Sulaiman mendorong pengembangan korporasi di kalangan petani, dan mekanisasi menjadi faktor pendukung dengan mengedepankan aspek permodalan, tataniaga, dan manajemen modern.

"Saya harapkan sinergi Kementan dan Perteta dapat menyusun rumusan kebijakan yang dapat diaktualisasikan di lapangan," kata Mentan melalui sambungan telepon pada focus group discussion (FGD) di Bogor, belum lama ini.

Ketua Perteta, Prof Desrial berupaya mendukung program Kementan melalui cabang-cabang di seluruh Indonesia, dengan membuat pemetaan sebaran bantuan Alsintan, penentuan lokasi distribusi, dan membangun bengkel.
Jakarta (B2B) - The Indonesian government in 2017 provides 284,436 units of agricultural machinery (Alsintan) up 2,175% from 2014 were only 12,501 units. The Alsintan free for farmers to increase strategic food production in 2017 for example rice production reached 81.5 million tons, up 15.1% from 2014, 26 million tons of maize (up 36.9%), various chilli 1.90 million tons (up 1,5%), and shallot 1.42 million tons (up 15.3%), according to senior official.

It encourages the agriculture ministry to synergize with agricultural engineering associations called the Perteta
to develop agricultural mechanization technology from upstream to downstream, assisting farmers for sustainable food self-sufficiency, and encouraging the improvement of farmers´ welfare.

Agriculture Minister Andi Amran Sulaiman encouraged the development of agricultural corporations by farmers, and mechanization became the key to success to achieve the target.

"I expect the ministry synergy with Perteta to develop appropriate policies for the benefit of farmers," Minister Sulaiman by phone on focus group discussion in Bogor, recently.

Chairman of Perteta, Prof Desrial strives to support ministry programs through branch offices across the country, by mapping agricultural machinery needs, determining distribution locations, and developing workshops.