Uji Teknologi Alsintan, Mahasiswa STPP Yogyakarta Dampingi UPJA di Klaten
Indonesian Students Support Farmer Assistance in Central Java Province
Editor : Ismail Gani
Translator : Novita Cahyadi

PUBLISHED: Kamis, 26 April 2018 , 20:30:00 WIB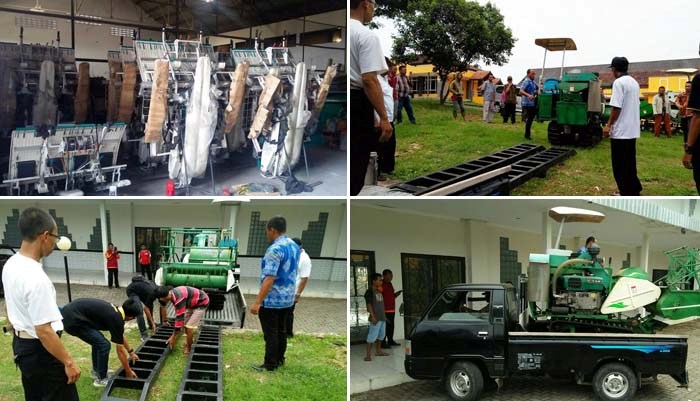 Kegiatan pendampingan diawali dengan menurunkan tiga unit mini combine harvester di lokasi uji teknologi (Foto2: Humas STPP Yogyakarta)
MEKANISASI PERTANIAN dengan memanfaatkan alat dan mesin pertanian (Alsintan) berperan penting dalam usaha pertanian seperti mengerjakan tugas khusus atau sulit dikerjakan oleh manusia, menyediakan tenaga untuk daerah yang kekurangan tenaga kerja, antisipasi minat kerja di sektor pertanian yang terus menurun, meningkatkan kapasitas kerja sehingga luas tanam dan intensitas tanam dapat meningkat.

Peran penting lain Alsintan adalah meningkatkan kualitas sehingga ketepatan dan keseragaman proses dan hasil dapat diandalkan serta mutu terjamin, meningkatkan kenyamanan dan keamanan sehingga menambah produktivitas kerja, dan memberikan peran dan ruang dalam pertumbuhan di sektor nonpertanian.

Hal itu pula yang mendasari kegiatan pendampingan mahasiswa Sekolah Tinggi Penyuluhan Pertanian jurusan penyuluhan pertanian di Yogyakarta - STPP Yogyakarta di Kabupaten Klaten, Provinsi Jawa Tengah untuk uji teknologi Alsintan khususnya mini combine harvester (MCH).

Kegiatan uji teknologi merupakan salah satu kegiatan optimalisasi pemanfaatan Alsintan sesuai judul pendampingan yang ditugaskan oleh STPP Magelang jurusan penyuluhan peternakan (Jurluhnak) untuk mendukung program Kementerian Pertanian RI yang dilaksanakan di Desa Jimbung, Kecamatan Kalikotes.

"Panen padi menggunakan MCH lebih efektif dibandingkan dengan pola manual, karena hemat tenaga dan biaya dengan hasil memuaskan," kata mahasiswa pendampingan, Amirudiansyah.

Kegiatan pendampingan untuk uji teknologi dengan MBC dilakukan dengan unit pelayanan jasa Alsintan (UPJA) Agawe Santoso di Desa Jimbung, Kecamatan Kalikotes. Diawali dengan menurunkan tiga unit MBC di lokasi pemilik lahan uji coba, Azis, dan kediaman dari koordinator UPJA Agawe Santoso, Wawan.
AGRICULTURE Mechanization by using agricultural machinery or Alsintan plays an important role in agriculture such as doing difficult work that can not be done by humans, replacing human labor due to lack of manpower,
increase work capacity to increase planting area and cropping intensity.

Another important role is to improve the quality of agricultural production, improve safety and comfort so as to increase work productivity, and promote economic growth in the non-agricultural sector.

It also underlies the advisory activities of Yogyakarta´s Agricultural Extension College or STPP Yogyakarta in Klaten district of Central Java province to test mini combine harvester technology.

"Rice yield with mini combine harvester is more effective than manual, because it saves energy and cost with maximum results," said student mentoring, Amirudiansyah.

Student mentoring activities STPP Yogyakarta conducted in the workshop service agricultural machinery Agawe Santoso in the village of Jimbung, Kalikotes district.