33,6 Ribu Hektar Luas Panen Padi Kebumen, Ali Rachman Ungkap Kiat Sukses Petani
Indonesia`s Kebumen Peak Rice Harvest is Expected in February to March
Reporter : Gusmiati Waris
Editor : Cahyani Harzi
Translator : Dhelia Gani

PUBLISHED: Sabtu, 03 Februari 2018 , 20:34:00 WIB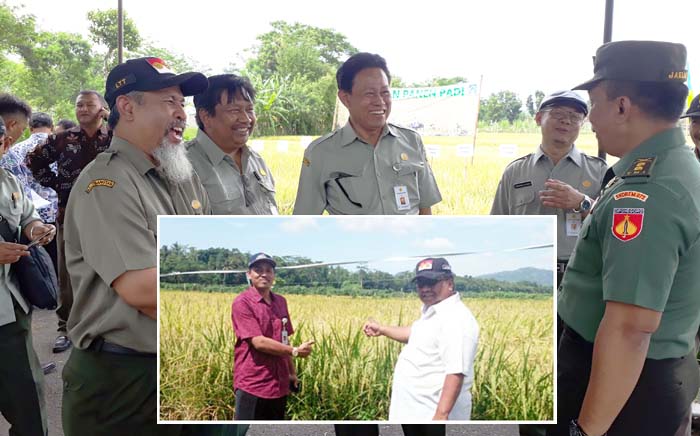 PANEN PADI: PJ Upsus Pajale Kebumen, Ali Rachman (ke-2 kiri) berbincang dengan Kepala BPPSDMP Kementan, Momon Rusmono (ke-3 kanan); Kapusdiktan Gunawan Yulianto (ke-2 kanan) dan dengan Kadistan Kebumen, Pudji Rahadju (inset)
PANAS TERIK tak menyurutkan semangat para petani di Kabupaten Kebumen, Provinsi Jawa Tengah menuai padi untuk menyambut panen raya yang mencapai puncaknya pada Februari hingga Maret mendatang.

Penanggung Jawab Program Upsus Pajale Kebumen, Ali Rachman yang ikut turun ke sawah membantu petani di Kecamatan Puring, salah satu lumbung beras Kabupaten Kebumen.

"Puncak panen terjadi antara Februari sampai Maret dari potensi panen padi sawah gogo seluas 33,6 ribu hektar dan diperkirakan menghasilkan 208 ribu ton gabah kering giling," kata Ali Rachman yang juga menjabat Ketua Sekolah Tinggi Penyuluh Pertanian - STPP Magelang di Kebumen, Rabu (31/1).

Dia menambahkan, khusus untuk padi lahan kering (padi gogo) banyak dikembangkan oleh petani Kebumen dengan pola tumpang sari seperi di Kecamatan Puring.

"Luas panen padi gogo di Puring mencapai 1.104 hektar yang akan panen pada Februari sampai Maret, dan letak kecamatan ini di bagian selatan Kebumen dimana sebagian besar lahannya adalah lahan kering sehingga cocok untuk budidaya padi gogo," kata Ali Rachman.

Varietas padi yang ditanam di Kecamatan Puring saat ini adalah varietas Inbrida Padi Gogo disingkat Inpago 8, 9, 10, dan 11, yang berpotensi untuk meningkatkan produksi dari satu hingga tiga ton per hektar.

"Tahun lalu, Kecamatan Puring menjadi lokasi pengembangan padi lahan kering dengan sistem larik dan gogo atau Largo Super yang dikembangkan oleh BB Padi Sukamandi," katanya.

Kepala Dinas Pertanian dan Pangan Kabupaten Kebumen, Pudji Rahaju menyambut baik Largo Super yang diharapkan dapat mengoptimalkan potensi lahan di bawah tegakan pohon kelapa untuk ditanami padi, sehingga luas tambah tanam padi akan meningkat.
THE SUN´S heat did not dampen spirit of farmers in Indonesia´s Kebumen district of Central Java province reap the rice to welcome the harvest, and February to March as the peak of rice harvest.

In charge of the rice production improvement program, Ali Rachman went down to the rice fields to help farmers in Puring subdistrict, one of the rice barns of Kebumen District.

"The peak of Kebumen rice harvest is February to March, potential harvest area of 33.6 thousand hectares and is estimated to produce 208 thousand tons of dried unhulled grain," said Mr Rachman who is also Rector of Magelang´s College of Agricultural Extension in Kebumen on Wednesday (January 31).

He said that especially for dry land rice, locally known as the padi gogo, developed by Kebumen farmers through intercropping patterns such as in Puring subdistrict.

"The rice harvest area in Puring reaches 1,104 hectares that will be harvested from February to March, and most agricultural land is dry land suitable for cultivation of upland rice," Mr Rachman said.

Puring rice varieties of Puring subdistrict are Inbrida Padi Gogo abbreviated as Inpago 8, 9, 10, and 11, and the potential to increase production from one to three tons per hectare.

"Last year, Puring subdistrict became the location of dryland rice development with an array system and gogo or Largo Super developed by the agriculture ministry´s research and development agency," he said.

Head of Agriculture Office of Kebumen district, Pudji Rahaju supports development of Largo Super varieties that are expected to optimize potential of land under coconut trees, so that it can support extensification of rice crops.