Timor Leste Diperkirakan Akan Impor 1,5 Juta Ton Beras dari Indonesia
Timor Leste Wants to Import 1.5 Million Tons of Rice from Indonesia: Minister
Reporter : Gusmiati Waris
Editor : Cahyani Harzi
Translator : Dhelia Gani

PUBLISHED: Selasa, 19 Desember 2017 , 20:44:00 WIB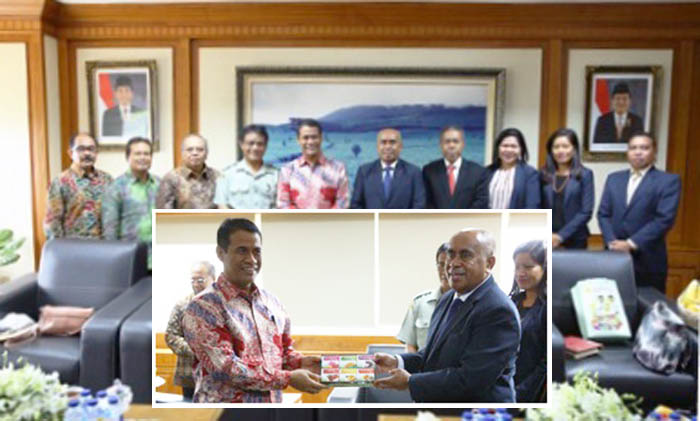 RI - TIMOR LESTE: Mentan Andi Amran Sulaiman dan Mentan Timor Leste bersama para pejabat kementerian kedua negara di kantor pusat Kementan di Jakarta, dan saling bertukar cendera mata (inset) Foto2: Humas Kementan
Jakarta (B2B) - Menteri Pertanian RI Andi Amran Sulaiman kembali disambangi oleh koleganya dari Timor Leste, Menteri Pertanian Estanislau A da Silva, untuk menjajaki peluang impor beras dari Indonesia sekitar 1,5 juta ton.

"Untuk kepastiannya, akan kita jajaki kembali, dan belum kita sepakati karena masih harus didiskusikan lagi," kata Mentan Amran Sulaiman usai pertemuan dengan Menteri da Silva di Jakarta, Senin (18/12).

Menurutnya, komoditas pangan lain yang akan dirintis Indonesia untuk ekspor ke Timor Leste adalah benih ayam, day old chicken (DOC) dan produk unggas (poultry).

Mentan menambahkan, selama ini Timor Leste mengimpor DOC dari Malaysia padahal merupakan hasil impor dari Indonesia, " kalau bisa nanti langsung dari Indonesia untuk DOC dan unggas."

Sebagaimana diketahui, Indonesia telah mengekspor bawang merah menuju enam negara, salah satunya adalah Timor Leste dan hingga saat ini terus berjalan.

Data Badan Pusat Statistik (BPS) menyebutkan ekspor bawang merah Indonesia periode Januari - November 2017 mencapai 7.560 ton atau meningkat 927% ketimbang periode yang sama pada 2016.

"Selama kebutuhan domestik sudah terpenuhi dan harga stabil maka Indonesia akan tetap mengekspor bawang merah ke negara tetangga," kata Mentan.
Jakarta (B2B) - Indonesian Agriculture Minister Andi Amran Sulaiman met again with his colleague from East Timor, Agriculture Minister Estanislau A da Silva to import 1.5 million tons of rice from Indonesia.

"We will discuss it again before it is agreed," said Minister Sulaiman after met with Minister da Silva here on Monday (December 18).

According to him, other food commodities that will export to East Timor are day old chicken (DOC) and poultry.

So far, Timor-Leste imported DOC from Malaysia after importing from Indonesia, "Indonesia should export directly to Timor Leste."

As known, Indonesia has exported shallots to six countries including Timor Leste, and is still running.

Data from the Indonesian Statistics Agency showed that Indonesia's shallot export from January to November 2017 reached 7,560 tons or an increase of 927% compared to the same period in 2016.

"As long as domestic needs are met and prices are stable, Indonesia will continue export of shallot," Minister Sulaiman said.