PJ Upsus Sarwo Edhy Optimisitis Target LTT Sumut Tercapai
North Sumatera`s Rice Planting Area is Still Nice despite Threatened by Drought
Editor : M. Achsan Atjo
Translator : Dhelia Gani

PUBLISHED: Rabu, 11 September 2019 , 20:52:00 WIB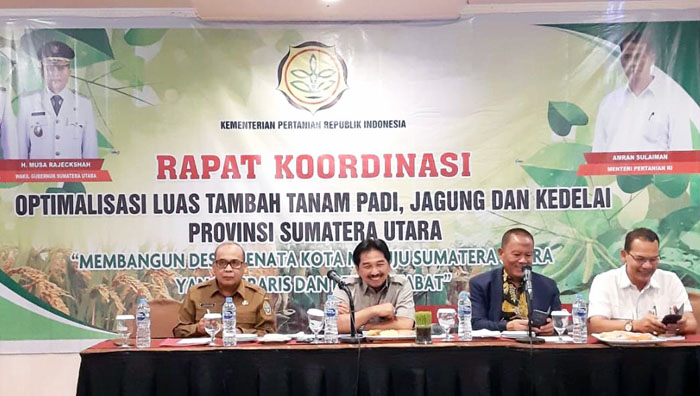 RAKOR UPSUS: PJ Upsus Sumut, Sarwo Edhy [ke-2 kanan] memimpin rapat koordinasi di Medan didampingi oleh Kepala Dinas Tanaman Pangan dan Hortikultura Pemprov Sumut, Dahler [Foto: Humas Ditjen PSP]
Medan, Sumut [B2B] - Kementerian Pertanian RI dan Pemprov Sumatera Utara optimistis target luas tambah tanam [LTT] tercapai, meski empat kabupaten belum melaporkan capaian target tanam dari bantuan benih padi yang diberikan kepada petani, lantaran Kementan memiliki alokasi padi gogo seluas 172.900 hektar sementara luas pertanaman reguler 150.000 hektar sehingga target LTT Sumut bisa tercapai dari lahan padi gogo dan padi sawah.
"Kementan memiliki potensi padi gogo untuk luasan 172.900 hektar, pertanaman regular 150.000 hektar sehingga diharapkan target tersebut bisa terpenuhi dari lahan padi gogo dan lahan padi sawah di Sumut," kata Penanggung Jawab Upsus Swasembada Sumatera Utara [PJ Upsus Sumut] Sarwo Edhy di Medan, belum lama ini, saat memimpin rapat koordinasi Tim Upsus provinsi dan kabupaten/kota.
Sarwo Edhy mengingatkan para kepala dinas pertanian kabupaten untuk menjabarkan tantangan dan kendala LTT hingga ke kecamatan dan desa, sehingga memudahkan pemantauan capaian dan realisasi didukung pendampingan dan pengawalan bintara pembina desa [Babinsa] di tiap komando rayon militer [Koramil] untuk membantu LTT di seluruh desa yang telah direkap dari masing-masing kabupaten.
Dia menambahkan, LTT padi memang digagas dan didukung oleh Kementan, tapi hasil dan manfaatnya untuk kepentingan petani dan rakyat Sumut, sehingga bisa memenuhi kebutuhan pangan provinsi dan surplus produksi untuk ekspor.
"Musim kemarau ini jangan menjadi hambatan, tapi jadikan sebagai pengalaman untuk mengatasi masalah sehingga di musim hujan nanti lebih mudah menanam dan mengolah tanaman," kata Sarwo Edhy yang juga menjabat Dirjen Prasarana dan Sarana Pertanian [PSP Kementan].
Kepala Dinas Tanaman Pangan dan Hortikultura Pemprov Sumut, Dahler mengatakan pada periode Oktober 2018 – September 2019 ada empat kabupaten yang belum mencapai target tanam yakni Mandailing Natal, Padang Lawas Utara, Padang
"Kami akan mendatanya secara cermat agar tidak ada lagi data yang tercecer," kata Dahler.
Kabid Bidang Tanaman Pangan dan Hortikultura Pemprov Sumut, M Juwaini mengatakan untuk percepatan LTT agar dilakukan juga validasi capaian LTT periode Mei - Agustus 2019 dibandingkan dengan periode sama 2018.
"Validasi tersebut dilakukan pada laporan per bulan tanam untuk mencari selisih angka, sehingga dapat diketahui pada bulan-bulan mana saja, angka LTT dapat dikejar," katanya.
Ketua Tim Supervisi Upsus Pajale, Sumarjo Gatot Irianto mengingatkan jangan sampai ada data yang belum dilaporkan oleh petugas data Upsus Sumut, kalau pun ada sebaiknya segera disisir dan diinput oleh petugas data, sehingga tidak ada selisih data yang terlalu besar antara periode saat ini dengan tahun sebelumnya.
"Tolong dicek lagi pertanaman yang masih ada di lapangan, standing crop pertanaman bulan Mei-Juni. Petugas dinas kabupaten dan kota saya harapkan aktif mengecek pertanaman di lapangan sehingga penyampaian data sesuai kondisi lapangan," kata Gatot. [Sur]
Medan of North Sumatera [B2B] - Indonesian Agriculture Ministry and North Sumatra provincial government are optimistic that the rice extensification target will be achieved, although four districts have not reported the realization of planting targets from rice seed assistance provided to farmers, because the government allocated 172,900 hectares of upland rice while the regular area was 150,000 hectares, according to the senior official of Indonesian Agriculture Ministry.