Lomba Olahan Tempe, Dharma Wanita STPP Magelang Dukung Diversifikasi Pangan
Indonesian Ministry Support Develop Exciting Packaged Local Food
Editor : M. Achsan Atjo
Translator : Dhelia Gani

PUBLISHED: Minggu, 26 Agustus 2018 , 20:57:00 WIB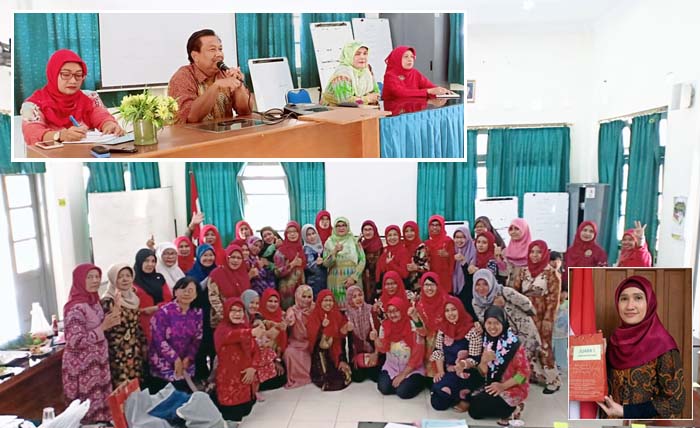 PERTEMUAN RUTIN: Anggota Dharmawanita STPP Magelang, arahan dari Ketua Ali Rachman (atas) dan Ny Irwan Johan Sumarno, pemenang lomba olahan tempe (bawah) Foto2: Humas STPP Magelang
Yogyakarta, DIY (B2B) - Kementerian Pertanian RI mengajak masyarakat mengembangkan potensi sumber pangan lokal, dan mengubah pola pikir bahwa beras/nasi bukan satu-satunya sumber karbohidrat. Semangat itu pula yang mendorong Dharma Wanita Persatuan STPP Magelang di Kampus jurusan penyuluhan pertanian (Jurluhtan) Yogyakarta mengadakan ´lomba masak tempe olahan´ yang diikuti 30 peserta dan dihadiri oleh 80 anggota dharma wanita.
Ketua Dharma Wanita STPP Magelang, Ibu Ali Rachman mengapresiasi kehadiran dan partisipasi 80 anggota dharma wanita, khususnya kepada 30 peserta ´lomba memasak olahan tempe dan tahu´ yang membuktikan bahwa Indonesia sangat kaya akan ragam bahan pangan lokal.
Untuk mendukung diversifikasi pangan, harus disajikan menarik sehingga memiliki daya tarik untuk meningkatkan nilah tambahnya, karena diversifikasi pangan menjadi tema penting dalam pembangunan ketahanan pangan Indonesia," kata Ibu Ali Rachman di Yogyakarta, Minggu (26/8).
Adapun juara lomba olahan tempe adalah Ibu Irwan Johan Sumarno sebagai juara pertama. Ibu Geraldo dan Ibu Ani Muhartati, juara ke-2 dan ke-3. Sementara untuk olahan tahu, juaranya adalah Ibu Novi Perwita. Ibu Surono dan Tumijan, juara ke-2 dan ke-3.
Sementara Ketua STPP Magelang, Ali Rachman mengingatkan tentang kaum ibu sebagai pendamping sangat strategis dalam pendidikan dan menunjang pekerjaan suami. Peranan dharma wanita terkait erat dengan kegiatan sosial, sehingga harus mampu berbagi rasa, dan peka terhadap lingkungan.
"Tentunya berbagi 2,5 persen kepada korban gempa Lombok tidaklah membebani sesuai perintah agama, jika lebih banyak tentu lebih baik," kata Ali Rachman dalam pertemuan rutin Dharmawanita STPP Magelang.
Dia mengajak kaum ibu di STPP Magelang meningkatkan interaksi dan komunikasi agar ikatan kekeluargaan pengurus dan anggota semakin kuat dan mampu menjalankan roda organisasi lebih profesional sekaligus memberi manfaat kepada masyarakat.
Ali Rachman juga berpesan tentang hangatnya suasana politik akhir-akhir ini, agar tidak terpecah-belah dan memicu permusuhan karena kepentingan politik.
"Saya ingatkan lagi, sesuai tupoksi STPP Magelang maka para anggota dharma wanita mendukung pencapaian swasembada pangan berkelanjutan, misalnya memanfaatkan pekarangan rumah untuk kawasan rumah pangan lestari atau KRPL," katanya lagi.
Yogyakarta (B2B) - Indonesian Agriculture invites people to develop local food potential, and change the mindset that rice is not the only source of carbohydrates. That spirit also encourages Wives Association of Magelang´s Agriculture Extentionist College or the STPP Magelang held a ´soybean cooking contest´ which was attended by 30 participants.
Chairperson of Magelang STPP Wives Association, Mrs Ali Rachman appreciate the participation of 80 members, especially to 30 participants of ´soybean cooking contest´ prove that Indonesia is very rich in local food.
"To support food diversification, it must be presented attractively so that it has interest in increasing value added, because food diversification is an important theme in the development of Indonesia´s food security," Mrs Rachman said here today (August 26).
The winner of the tempe processed category contest was Mrs Irwan Johan Sumarno as the first winner. Mrs Geraldo and Mrs Ani Muhartati was the 2nd and 3rd winners. Meanwhile for tahu processed category the winner is Mrs Novi Perwita. Mrs Surono and Mrs Tumijan the 2nd and 3rd winners.
While the Rector of STPP Magelang, Ali Rachman reminded of the role of the wife support her husband very strategically in education and supporting duties as civil servants. The role of the wife´s association is closely related to social activities must be sensitive to the environment.
"Surely donating 2.5 percent to Lombok earthquake victims according to Islamic orders, if more is certainly better," Mr Rachman said.
He invites them to keep interacting and communicating so that family ties get stronger and able to run organization more professional and beneficial to society.
Mr Rachman also advised about the political conditions in Indonesia lately ahead of the 2019 presidential election so as not to be divided and trigger hostility because of political interests.
"According to the duties and functions of STPP Magelang the members of the wife´s union support the achievement of sustainable food self-sufficiency, for example, developing urban farming in the yard," he said.