Bimtek Kakao BBPP Kupang di Mamuju, "Usaha Tani Mesti dengan Ilmunya"
Indonesia Govt Support Training for Sulawesi`s Cocoa Farmers
Reporter : Gusmiati Waris
Editor : Cahyani Harzi
Translator : Dhelia Gani

PUBLISHED: Minggu, 22 Oktober 2017 , 21:01:00 WIB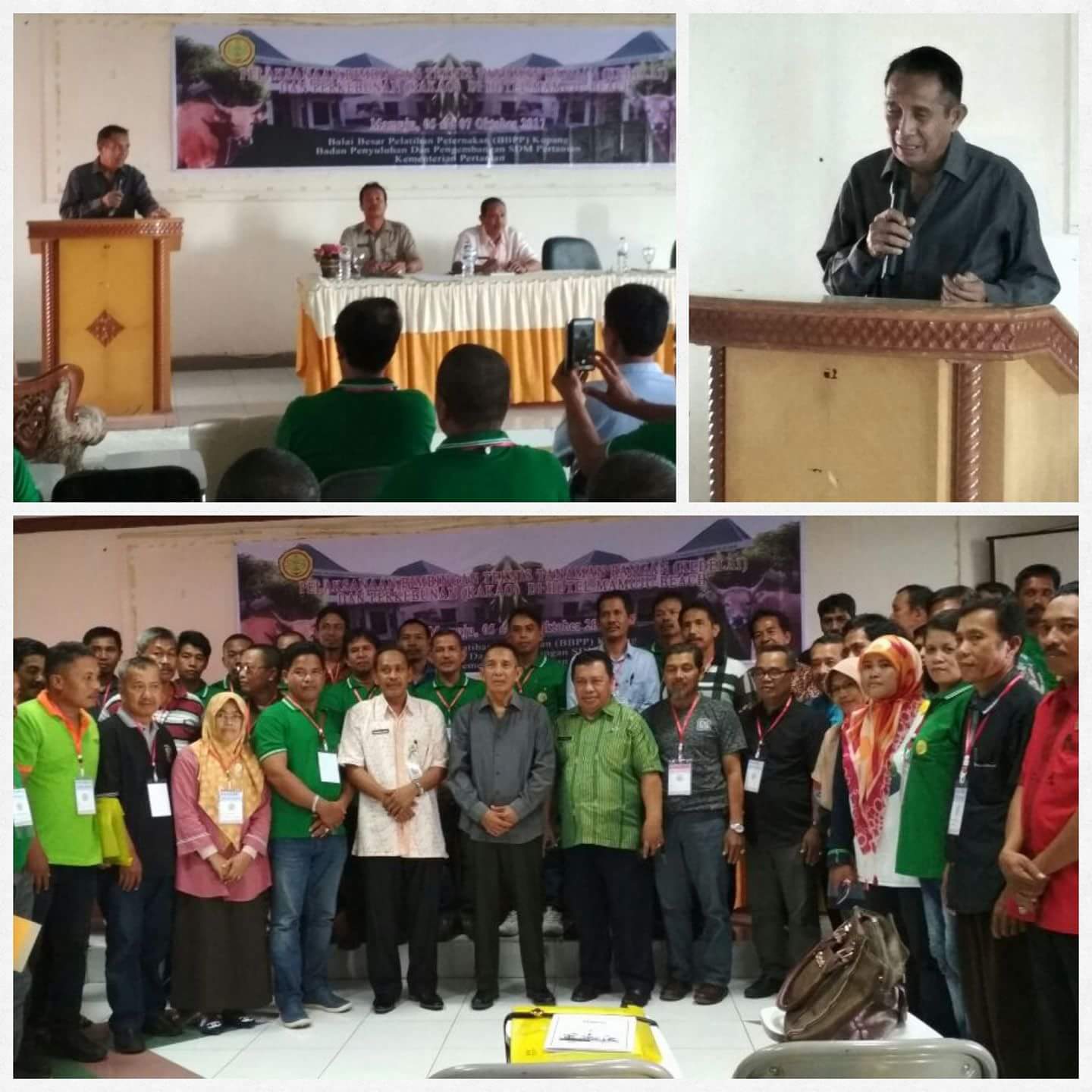 Kepala BBPP Kupang Adang Warya memberikan arahan pada Bimtek Kakao di Mamuju dan foto bersama peserta (Foto2: Humas BBPP Kupang)
"SETIAP usaha tani mesti dengan ilmunya, begitu pula dengan bercocok tanam kakao," kata Kepala Badan Pelatihan Peternakan (BBPP) Kupang, Adang Warya pada kegiatan bimbingan teknis (Bimtek) kakao dan kedelai di Kabupaten Mamuju selama empat hari yang diikuti oleh 123 peserta, belum lama ini.
Adang Warya mengatakan petani kakao dan kedelai perlu dibekali ilmu dan keterampilan di bidang usahanya, untuk itulah BBPP Kupang menggelar Bimtek kedelai dan kakao.i
Materi Bimtek meliputi ilmu dan keterampilan pengelolaan kebun kakao, sejak dari membuka dan pematangan lahan, sampai usaha pascapanen. Tujuannya, agar petani benar-benar mengusai ilmu dan keterampilan budi daya kakao. Dengnan demikian, mereka diharapkan tampil sebagai petani kakao profesional.
Sebagaimana diketahui, kakao tumbuh di dataran rendah dan dataran tinggi. Pada umumnya, petani sudah mengetahui teknik bercocok tanam kakao hingga pascapanen. Bagi mereka yang baru memulai budi daya kakao, akan mendapat pengetahuan dan keterampilan.
"Kami tidak ingin petani kakao melakukan cocok tanam dengan cara coba-coba, usaha seperti itu risiko gagalnya tinggi," kata Adang, yang sebelumnya memimpin BBPP Ketindan - Malang, Jatim.
Kualitas SDM Petani
BBPP Kupang menggelar Bimtek bertujuan me­ning­katkan kualitas SDM petani, tentang budidaya dan pengo­lahan kakao. Kualitas kakao di Kabupaten Mamuju tergolong baik, namun petani tetap harus dimotivasi dengan pemanfaatan teknologi pertanian modern.
"Produksi meningkat, biaya pemeliharaan lebih hemat," kata Adang Warya.
Dia mengingatkan, peningkatan produksi tidak terlepas dari saat pemilihan bibit, penanaman, pemupukan, pemeliharaan, pemangkasan, saat panen dan pasca panen. "Hal terpenting yang harus diperhatikan adalah pemeliharaan tanaman."
Sebab masa inilah yang menentukan tanaman kakao berhasil atau sebaliknya. Jika pemeliharaan gagal, maka hasil panen yang diha­rapkan tidak maksimal. Demikian pula dengan pengolahan pasca panen, sesuai dengan hasil pe­nelitian buah kakao yang ber­mutu, harus melewati fer­men­tasi. "Kua­litasnya terjamin, harga jualnya jauh melebihi pengolahan cara biasa."
FARMERS' efforts must be with their knowledge, as well as cultivating cocoa," said Director of Kupang's Livestock Training Center (BBPP) on technical guidance activities cocoa and soybeans in Mamuju district of West Sulawesi province for four days followed by 123 participants, recently.
Mr Warya said that farmers should understand the knowledge and skills of farming, for that BBPP Kupang held technical guidance activities.
The technical guidance material discusses the management of cocoa fields, from opening and cultivating land to post-harvest, so that farmers understand cocoa cultivation techniques so that farmers are able to develop themselves as professional farmers.
As is known, cocoa grows in the lowlands and highlands. In general, farmers already know cocoa farming techniques until postharvest. For those who are just starting cultivation, they will gain knowledge and skills.
"We do not want farmers just trying to plant cocoa because of the risk of losing money," said Mr Warya who previously served as director in Ketindan's Agricilture Training Center in Malang of East Java province.
HRD Quality
The BBPP Kupang held technical guidance to improve farmers' ability to cultivate and processing. The quality of cocoa in Mamuju district is good, but farmers still have to be motivated by utilization of modern agricultural technology.
"Production is increasing, maintenance costs are more efficient," Mr Warya said.
He reminded about the productivity of cocoa determined from the selection of seeds, planting, fertilizing, maintenance, pruning, harvest and postharvest. "The most important thing to remember is plant maintenance."
The period of plant maintenance that determines the success or otherwise, if it fails then the harvest is not maximal. Similarly, post-harvest, in accordance with the results of quality cocoa research must be through fermentation.