STPP Magelang Apresiasi Produk dan Pemasaran PWMP LimaO Syrup di Pontianak
Indonesian Govt Support Developing Young Farm Entrepreneurs in West Borneo
Editor : M. Achsan Atjo
Translator : Dhelia Gani

PUBLISHED: Jum'at, 01 Juni 2018 , 02:10:00 WIB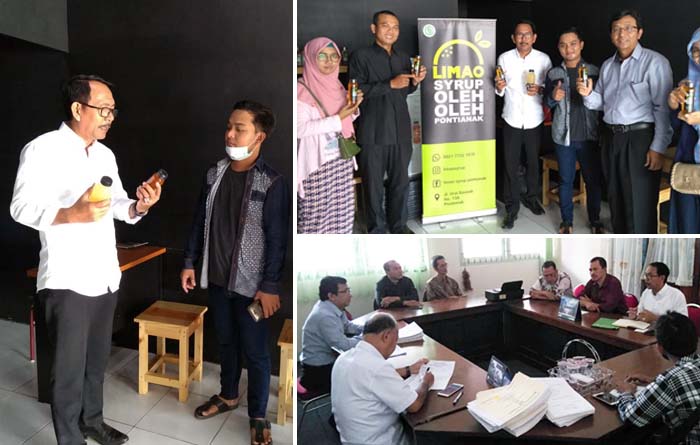 Kabag Administrasi Umum STPP Magelang, Irwan JS (kemeja putih) berbincang dengan pengelola PWMP LimaO Syrup, dan pertemuan dengan Dekan Fakultas Untan, Dr Ir Radian dan tim (Foto2: Humas STPP Magelang
Pontianak, Kalbar (B2B) - Kementerian Pertanian RI menyambut baik hasil produksi, pemasaran dan penetrasi pasar dari pengembangan agrosociopreneur produk minuman LimaO Syrup di Pontianak, Kalimantan Barat, dalam upaya regenerasi petani melalui program Penumbuhan Wirausahawan Muda Pertanian (PWMP) sehingga meningkatkan posisi tawar petani jeruk limau dari kendali tengkulak yang selama ini mengendalikan harga jual dari petani.
Produk olahan jeruk limau yang kini berkembang menjadi salah satu minuman khas untuk oleh-oleh khas Pontianak, merupakan 'kisah sukses' dari kolaborasi Sekolah Tinggi Penyuluhan Pertanian - STPP Yogyakarta dan Universitas Tanjungpura (Untan) memotivasi mahasiswa dan alumni fakultas pertanian mencintai sektor agribisnis.
Hal itu dikemukakan oleh Kabag Administrasi Umum STPP Magelang, Irwan Johan Sumarno mewakili Ketua STPP Magelang, Ali Rachman saat diterima Dekan Fakultas Pertanian Untan, Dr Ir Radian dalam rangka memantau perkembangan dari PWMP minuman LimaO Syrup di Pontianak, Rabu (30/5).
Irwan JS mengatakan 88 kelompok siswa, mahasiswa, dan alumni perguruan tinggi diberi kesempatan untuk mengembangkan usaha di sektor pertanian, seperti dikembangkan oleh Kelompok PWMP LimaO Syrup - Pontianak, yang berhasil menaikkan nilai jual jeruk limau di kisaran Rp3.000 di tingkat petani menjadi Rp6.000 per kg setelah dibeli oleh LimaO Syrup.
"Inovasi yang sangat bagus, perlu dikembangkan variasi rasa dan manfaat produk terutama untuk kesehatan konsumen. Usahakan produk ini mampu merajai 50 persen pasar sirup di Pontianak," katanya.
Irwan JS mengharapkan PWMP dapat berkembang dengan menggandeng petani dan potensi pertanian setempat, seraya mengingatkan agar bahan baku sirup dari petani harus dibeli dengan harga yang lebih tinggi sebagai upaya nyata wirausahawan muda turut meningkatkan kesejahteraan petani lokal.
Ali Rahman seperti dikutip Irwan JS mengingatkan tentang konsep wirausaha bidang pertanian diharapkan mengedepankan aspek sosial di masyarakat, tidak hanya mengejar keuntungan usaha tapi juga wajib peduli kepada masyarakat sekitar, khususnya petani gurem.
"Kami berharap program PWMP dengan sasaran siswa SMK PP, mahasiswa STPP dan alumni perguruan tinggi yang telah berjalan tiga tahun dapat melahirkan wirausahawan muda pertanian yang sekaligus menjadi penggerak dan menciptakan lapangan kerja baru," katanya.
Pontianak of West Borneo (B2B) - Indonesian Agriculture Ministry support the production and marketing of the development of beverage product, LimaO Syrup in Pontianak, West Borneo province for regeneration of farmers through the program of young agricultural entrepreneurs or PWMP to improve the bargaining position of lemon farmers from the control of middlemen who have been detrimental to farmers.
This is the success story of collaboration of Yogyakarta´s Agriculture Extension College or STPP Yogyakarta and Pontianak´s Tanjungpura University to motivate students and alumni of agriculture faculty to develop agribusiness opportunities.
It was stated by the Rector of STPP Yogyakarta, Ali Rachman represent by the Head of General Affairs of STPP Yogyakarta, Irwan Johan Sumarno while met with Dean of Faculty of Agriculture Untan, Dr Ir Radian at the coordination meeting here on Wednesday (May 30).
Mr Sumarno said 88 groups of students, college students and alumni attended training to develop businesses in the agricultural sector, as developed by the LimaO Syrup Group - Pontianak, who increase the value added of lime into a beverage product.
"Innovation is very good and that needs to be developed variation of taste and benefit of product especially for consumer health," he said.
Mr. Sumarno quotes Mr Rahman reminded about concept of agricultural entrepreneurs are expected to prioritize social aspects in society, not only to pursue business profits but also must care for the community, especially small farmers.
"We expect the PWMP program to target high school students in agriculture, agricultural academies, and university alumni for three years there will be young agricultural entrepreneurs who are driving the economy and creating new jobs," he said.