LTT Padi Sumsel Terealisir, BKP Kementan Inisiasi Penggilingan Jual Beras ke Bulog
Indonesian Agriculture Ministry Supports Government`s Rice Reserves
Reporter : Gusmiati Waris
Editor : Cahyani Harzi
Translator : Dhelia Gani

PUBLISHED: Minggu, 25 Maret 2018 , 21:10:00 WIB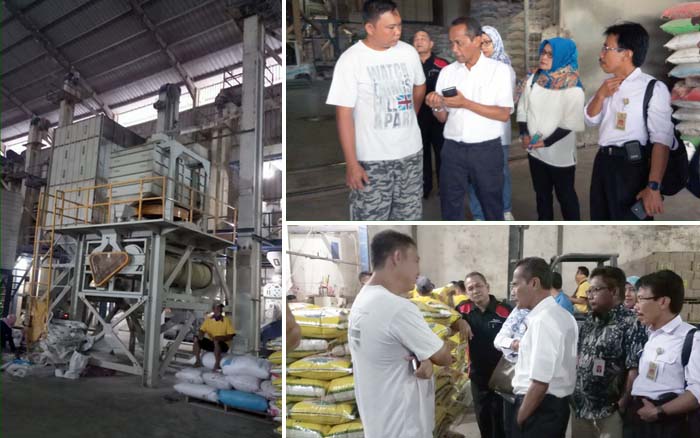 Kepala BKP Kementan, Agung Hendriadi menyambangi tiga perusahaan penggilingan padi yakni PT Karya Jaya Mandiri di Palembang, ibukota provinsi; PT Rusna Jaya Putra Pangan dan PT Buyung Putra Pangan di Sumsel (Foto2: Humas BKP Kementan)
Palembang, Sumsel (B2B) - Badan Ketahanan Pangan (BKP) di Kementerian Pertanian RI menginisiasi tiga perusahaan penggilingan padi di Provinsi Sumatera Selatan untuk meneken kontrak penjualan beras dengan Bulog, untuk mendukung cadangan beras pemerintah setelah realisasi luas tambah tanam (LTT) Sumsel mampu mendukung peningkatan produksi beras pada panen raya.

Kepala BKP Kementan, Agung Hendriadi menyambangi tiga perusahaan penggilingan padi yakni PT Karya Jaya Mandiri di Palembang, ibukota provinsi; PT Rusna Jaya Putra Pangan dan PT Buyung Putra Pangan di Kabupaten Ogan Komering Ilir untuk kontrak penjualan beras dengan Bulog Divre Sumsel, Sabtu (24/3). Dilanjutkan kunjungan ke gudang beras dan gula putih milik Bulog Divre Sumsel dan Provinsi Kepulauan Bangka Belitung.

"Cadangan beras pemerintah sangat penting, untuk ketahanan pangan nasional, karena itu saya meminta pengusaha penggilingan padi berkomitmen mau menjual sebagian berasnya kepada Bulog untuk mengisi cadangan pemerintah," kata Agung H di Palembang.

Menurutnya, hasil mediasi BKP Kementan untuk kedua belah pihak menghasilkan komitmen kesepakatan kontrak penjualan beras oleh pengusaha penggilingan padi kepada Bulog sehingga gudang Bulog bisa segera terisi.

"Mumpung di Sumsel sedang panen raya, Bulog harus proaktif melakukan kontrak pembelian sehingga gudang Bulog cepat terisi," kata Agung.

Kunjungan Parlemen
Kepala BKP Kementan tergolong sigap menginisiasi kontrak penggilingan padi besar dengan Bulog, setelah Ketua MPR RI Zulkifli Hasan dan Ketua DPR RI Bambang Soesatyo didampingi Mentan Andi Amran Sulaiman melakukan panen padi lahan rawa hasil LTT PJ Upsus Sumsel di Desa Upang Marga, Kecamatan Air Saleh, Kabupaten Banyuasin, akhir Januari (29/1).

Mentan memaparkan luas sawah siap panen di Upang Marga sekitar 2.300 hektar dengan potensi 6-7 ton per hektar gabah kering panen (GKP). Sementara luasan lahan di Kecamatan Air Saleh mencapai 24.000 hektar. Sebelum digelar Upsus Pajale di bawah kendali Ditjen Prasarana dan Sarana Pertanian (PSP) Kementan, potensi area tanam hanya 193.000 ton dengan provitas maksimal 4,5 ton.

Sementara untuk Sumsel, total panen padi mencapai 238.831 hektar atau setara 767.989 ton beras. Jumlah produksi beras itu dikonsumsi sekitar 140.539 ton sehingga Sumsel akan surplus beras sekitar 626.000 ton pada Januari dan Februari 2018.

Mengacu pada prognosa, total produksi beras Sumsel 2018 diperkirakan mencapai tiga juta ton, dan untuk konsumsi penduduk sekitar satu juta ton sehingga surplus dua juta ton, yang didistribusikan ke provinsi di sekitarnya dan sebagian ke Pulau Jawa.

"Untuk mengoptimalkan serapan gabah petani dan mengisi cadangan beras pemerintah, perlu koordinasi dan sinergi dengan pihak-pihak terkait," kata Agung.
Palembang of South Sumatera (B2B) - Indonesian Agriculture Ministry has initiated three rice milling companies in South Sumatra province to sign a rice sales contract with logistics agency or Bulog, such trade contracts to support government rice stocks after the realization of extensification of rice cultivation or provincial LTT is realized to support increased rice production, according to senior official.

Director General of Food Security Agency at the ministry, Agung Hendriadi visited three rice mills namely Karya Jaya Mandiri company in Palembang, the provincial capital; Rusna Jaya Putra Pangan and Buyung Putra Pangan company in Ogan Komering Ilir district here on Saturday (March 24).

"The government's rice stock is very important, for national food security, I asked the rice mills to commit themselves to sell their rice to Bulog to support the government's rice reserves," Mr Hendriadi said.

According to him, the results of the BKP mediation for both parties resulted in a contractual commitment of rice mill businessmen with the Bulog.

"Considering in South Sumatera province, the peak of rice yield, the Bulog must proactive purchase contract with rice mill or buy directly to farmers during rice yield," Mr Hendriadi said.

Parliamentary Visit
Mr Hendriadi is proactive in initiating rice milling contract with Bulog, after the Chairman of the People's Consultative Assembly Zulkifli Hasan and House Speaker, Bambang Soesatyo accompanied by Agriculture Minister Andi Amran Sulaiman conduct rice yield in Upang Marga village of Air Saleh subdistrict, Banyuasin district, end of January (29/1).

Minister Sulaiman Mentan explained that the rice yield area in Upang Marga village about 2,300 hectares, an average production of 6 - 7 tons per hectare of dry grain yield, while the rice yield area in Air Saleh subdistrict reached 24,000 hectares.

As for South Sumatra province, total rice yield reached 238,831 hectares or equivalent to 767,989 tons, for consumption of about 140,539 tons or surplus of 626,000 tons in January and February 2018.

Referring to the prognosis, the province's total rice production in 2018 is estimated at three million tons, and for the population consumption about one million tons so that the surplus of two million tons, which is distributed to the surrounding provinces and Java island.

"To optimize the purchase of grain farmers and government rice reserves, need coordination and synergy with related parties," Mr Hendriadi said.