Ketut Diarmita: CPNS Ditjen Peternakan Harus Profesional, Jangan Sekadar `Tukang Ketik`
Indonesian`s Civil Servants Candidates in Agriculture Ministry must be Professional
Reporter : Gusmiati Waris
Editor : Cahyani Harzi
Translator : Dhelia Gani

PUBLISHED: Kamis, 01 Februari 2018 , 21:13:00 WIB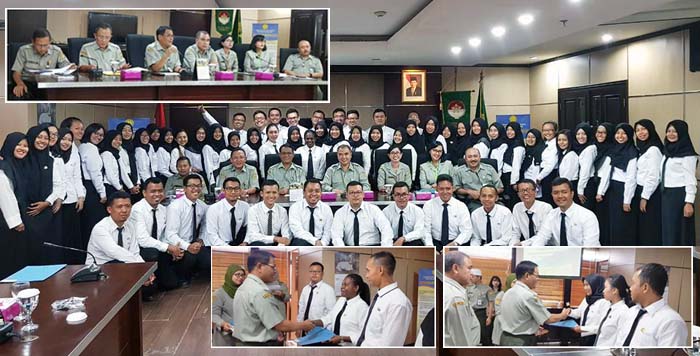 CPNS PROFESIONAL: Dirjen Peternakan dan Kesehatan Hewan (PKH) I Ketut Diarmita dan para direktur bersama 62 CPNS di Ditjen PKH, memberi pengarahan (atas) dan menyerahkan SK Pengangkatan (bawah) Foto2: Humas Ditjen PKH
Jakarta (B2B) - Calon pegawai negeri sipil (CPNS) di Direktorat Jenderal Peternakan dan Kesehatan Hewan (Ditjen PKH) diminta bekerja tulus dan serius sebagai abdi negara di Kementerian Pertanian RI. Dirjen PKH I Ketut Diarmita mengingatkan para pimpinan dan pegawai di lingkup PKH tidak menjadikan CPNS sebagai tukang ketik, karena mereka adalah hasil seleksi dari 80.306 sarjana yang melamar dan bersaing mendapat 475 formasi CPNS di Kementan.

"Kepada seluruh pimpinan dan PNS agar tidak menjadikan CPNS sebagai tukang ketik, tapi mereka harus bekerja secara taktis dan profesional," kata I Ketut Diarmita pada orientasi dan pembekalan 62 calon PNS di lingkup PKH di Jakarta, Kamis (1/2).

Dia mengingatkan bahwa status CPNS adalah jenjang menuju PNS sehingga mereka diharapkan benar-benar mempelajari dan menguasai pekerjaan dengan banyak membaca, melihat dan mendengar terkait tugas dan fungsi Ditjen PKH.

Tampak hadir Sekretaris Ditjen PKH, Nasrullah; Direktur Pembibitan dan Produksi Ternak, Sugiono MP; Direktur Pakan Ternak, Rr Sri Widayati; Direktur Kesehatan Hewan, Fadjar Sumping Tjatur Rasa; Direktur Kesehatan Masyarakat Veteriner, Syamsul Ma´arif; dan Direktur Pengolahan dan Pemasaran Hasil Peternakan, Fini Murfiani; para kepala unit pelaksana teknis (UPT).

Ketut Diarmita berharap para CPNS mengutamakan loyalitas pada institusi bukan individu, menjadi generasi penerus yang andal dan berkualitas, selalu ingat pada Tuhan dan pesan orangtua agar dapat bekerja dengan benar.

"Dalam bekerja, harus diingat bagaimana orang tua kita berharap dan selalu mendoakan kita untuk selalu bekerja dengan benar. Kuncinya bekerja adalah ingat Tuhan dan orang tua sehingga kita akan bekerja dengan benar," katanya sebelum menyerahkan surat keputusan pengangkatan (SKP) CPNS.

Dirjen PKH meminta para direktur, kepala UPT dan kepala bagian untuk bekerjasama mendukung CPNS menjadi generasi penerus yang andal dan berkualitas, sekaligus menjadi unggulan di masa mendatang untuk menjadikan peternakan Indonesia sukses dan berjaya.
Jakarta (B2B) - Indonesian´s civil servants candidates or the CPNS in in the Directorate General of Livestock and Animal Health are expected to work sincerely and seriously in the agriculture ministry. Director General I Ketut Diarmita reminded the officials not to make them as typists, because they pass selection of 80,306 bachelors who apply and compete to get 475 CPNS in the ministry.

"I remind the officials that do not make them as typists, but working tactically and professionally," said Mr Diarmita on the orientation and debriefing here on Thursday (February 1).

He reminded that the status of candidates is the level before becoming a civil servant so they can learn while working by reading, seeing and listening to the duties and functions of the directorate general.

It was attended by Secretary of the Directorate General, Nasrullah; Director of Breeding and Livestock Production, Sugiono MP; Director of Animal Feed, Rr Sri Widayati; Director of Animal Health, Fadjar Sumping Tjatur Rasa; Director of Veterinary Public Health, Syamsul Ma´arif; and Director of Processing and Marketing of Livestock Products, Fini Murfiani; the head of technical implementation unit.

Mr Diarmita hopes they are loyal to the institution not to the individual, become a qualified employee, and always remember God and the message of parents.

"In working, it must be remembered how our parents hope and always pray for us to always work properly. The key work is to remember God and parents, "said Mr. Diarmita before handing decree of appointment of civil servants candidates.

Mr. Diarmita asks directors, leaders and heads of departments to work together to support civil servant candidates to be a reliable and qualified successor generation, to support the development of Indonesian livestock.