Cuti Bersama 2018, Kementan Tetap Akselerasi OPA Alsintan dan Realisasi LTT
Indonesian Govt to Increase National Food Production despite the National Holiday
Editor : M. Achsan Atjo
Translator : Dhelia Gani

PUBLISHED: Senin, 11 Juni 2018 , 21:13:00 WIB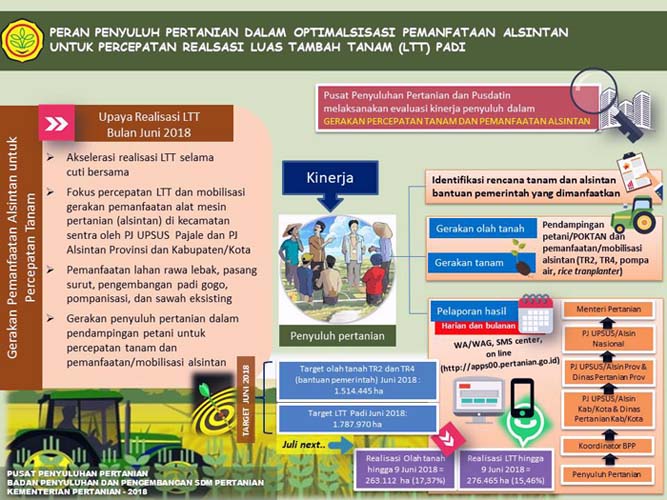 Infografis: Pusluhtan BPPSDMP Kementan
KEMENTERIAN Pertanian RI melaksanakan evaluasi kinerja penyuluh pertanian mendukung percepatan tanam dan pemanfaatan Alsintan selama Juni 2018, khususnya target olah tanah dengan traktor roda 2 (TR2) bantuan pemerintah ditargetkan mencapai 1,5 juta hektar, dan target luas tambah tanam (LTT) padi 1,76 juta hektar.
Hingga 9 Juni 2018, realisasi olah tanah baru mencapai 17,37% atau 263 ribu hektar, sementara realisasi LTT padi 276 ribu hektar (15,46%).
Kegiatan evaluasi dilaksanakan Badan Penyuluhan dan Pengembangan SDM Pertanian di bawah koordinasi Pusat Penyuluhan Pertanian (Pusluhtan) dengan mengerahkan para penyuluh pertanian (PPL) PNS dan bukan di seluruh Indonesia melakukan pendampingan dan pengawalan petani di kelompok tani (Poktan) untuk mobilisasi pemanfataan TR2, TR4, pompa air, dan mesin panen padi (rice transplanter) mendukung program Optimalisasi Pemanfaatan Alsintan (OPA).
Instruksi dari Pusluhtan BPPSDMP Kementan menyebutkan dua kegiatan utama yang harus dilaksanakan oleh PPL sebagai indikator kinerja, yakni: identifikasi rencana tanam atau gerakan tanam (Gertam), dan olah tanah memanfaatkan Alsintan bantuan pemerintah.
Tujuannya, percepatan tanam akselerasi realisasi LTT pada Juni 2018 tetap terlaksana meskipun sedang ´cuti bersama´ akhir Ramadan dan menjelang Idul Fitri 2018.
Percepatan realisasi LTT selain memanfaatkan sawah eksisting juga didukung pemanfaatan lahan rawa lebak, lahan pasang surut, pengembangan padi gogo, pompanisasi.
Pernyataan tertulis dari Pusluhtan - BPPSDMP Kementan menyatakan kegiatan pendampingan dan pengawalan OPA dan LTT dilaporkan oleh penyuluh pertanian di bawah kendali koordinasi balai penyuluhan pertanian di tingkat kecamatan (BPP) via pesan singkat online (WA/SMS Center) maupun http:/apps00.pertanian.go.id.
Laporan dari PPL ke Koordinator BPP dilaksanakan berjenjang kepada Penanggung Jawab Upsus Pajale/PJ OPA di tingkat kabupaten/kota/provinsi hingga ke PJ Upsus dan PJ OPA Nasional untuk diteruskan kepada Menteri Pertanian RI Andi Amran Sulaiman.
Sedangkan pengumpulan dan pengolahan data (Pulahta) dilaksanakan oleh Pusat Data dan Informasi (Pusdatin) Kementan.
INDONESIAN Agriculture Ministry carry out an evaluation of agricultural extensionist performance support acceleration of rice planting and utilization of agricultural machinery during June 2018, especially the tillage target with a two-wheeled tractor engine from government assistance targeted 1.5 million hectares, and an extension target of 1.76 million hectares.
Until June 9, 2018, the realization of land preparation for paddy fields reached 17.37% or 263 thousand hectares, while the realization of rice field extensification of 276 thousand hectares or 15.46%.
Evaluation activities conducted by the Directorate General of Extention and Agricultural Human ResourcesDevelopment or BPPSDMP, under the coordination of Agricultural Extensionist Center or Pusluhtan by deploy agricultural extensionist or PPL across the country, assistance and escort farmers in farmer groups to mobilize utilization of agricultural machinery or Alsintan support the optimization program of agricultural machinery utilization.
The instructions from Pusluhtan mention two main activities that must be implemented by PPL as an indicator of performance, namely: identification of rice planting plan, and land processing utilizing Alsintan from government assistance.
The goal is to accelerate planting to accelerate the realization of rice field extensification in June 2018 still implemented even though the national holiday ahead of Eid Al-Fitr.
Accelerate the target by utilizing the existing rice paddy fields as well as swamp land, tidal land, and development of upland rice.
Written statement from Pusluhtan states the mentoring and escort activities of OPA and LTT reported by PPL under the control of coordination of agricultural extensionist center at the subdistrict or the BPP level via online short message (WA / SMS Center) or http: /apps00.pertanian.go.id.
Reports of agricultural extensionist to coordinators at the subdistrict level are tiered to Person in Charge of Pajale/OPA at the district/city/provincial level up to the national level and reported to the Agriculture Minister Andi Amran Sulaiman.
While the collection and data processing carried out by the Data and Information Center at the ministry.