Mentan Harapkan MPPI Proaktif Dukung Benih dan Bibit dari Hulu Hingga Hilir
Seed Quality is Determinant of Increasing Indonesian Food Production: Minister
Reporter : Gusmiati Waris
Editor : Cahyani Harzi
Translator : Dhelia Gani

PUBLISHED: Senin, 21 Agustus 2017 , 21:16:00 WIB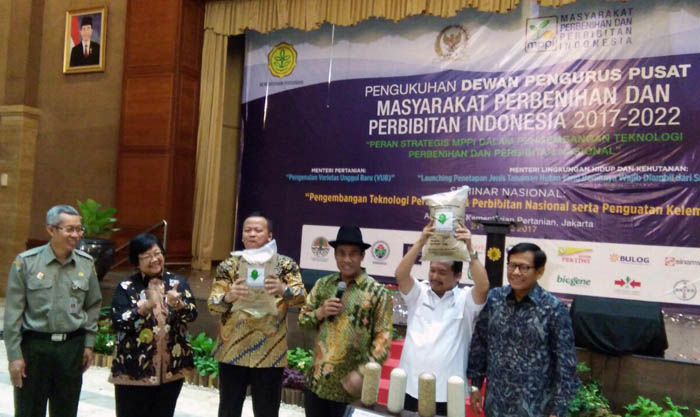 Kiri ke kanan: Kepala Badan Litbang Pertanian Mohammad Syakir, Menteri LHK Siti Nurbaya, Ketua Komisi IV DPR Edhy Prabowo, Mentan Andi Amran Sulaiman, Ketua MPPI Herman Khaeron (Foto: B2B/Gusmiati Waris)
Jakarta (B2B) - Pemerintah RI mengharapkan Masyarakat Perbenihan dan Perbibitan Indonesia (MPPI) berperan aktif dalam persoalan benih dan bibit dari hulu hingga hilir, dengan mendorong riset perbenihan nasional agar benih induk komoditas pangan strategis dapat diproduksi di dalam negeri, untuk mendukung Indonesia menjadi Lumbung Pangan Dunia 2045.

"Pengembangan benih dan bibit menjadi perhatian khusus pemerintah, untuk mencapai target swasembada pangan dengan mendorong riset sehingga dapat menuju ketersediaan dan kedaulatan benih dalam negeri," kata Menteri Pertanian Andi Amran Sulaiman di Jakarta, Senin (21/8), pada pengukuhan kepengurusan DPP MPPI periode 2017 -2022.

Mentan kemudian menceritakan pengalaman pahit terkait perbenihan saat berkarier di BUMN, PT Perkebunan Nusantara XIV dalam pengembangan tanaman kelapa sawit seluas 40 hektar di di Kabupaten Konawe Utara, Provinsi Sulawesi Tenggara.

"Sebagai menteri pertanian maka yang pertama kali kami tanya adalah bibit dan benih, dan kami mendapat pengalaman berharga pada saat mengembangkan percontohan tanaman kelapa sawit seluas 40 hektar di Konawe Utara," kata Mentan.

Pelajaran berharga lain diperoleh Mentan saat berkunjung ke Badan Penelitian dan Pengembangan Pertanian (Balitbangtan) pada 2014, dan mendapati bibit dan benih dengan produktivitas 10 ton per hektar, inbrida padi irigasi (Inpari) namun tidak terdistribusi dengan baik kepada para petani.

Mentan pun coba menelusuri kendala tersebut, dan usut punya usut ternyata kendalanya pada regulasi dan tingkat sektoral, maka MPPI dimintanya proaktif dalam masalah benih dan bibit dari hulu hingga hilir.

Tampak hadir Menteri Lingkungan Hidup dan Kehutanan (LHK) Siti Nurbaya, Ketua Komisi IV DPR Edhy Prabowo, dan Kepala Badan Litbang Pertanian Mohammad Syakir.

Pengukuhan MPPI
DPP MPPI periode 2017 - 2022 meliputi 73 orang yang dipimpin oleh Herman Khaeron sebagai ketua umum, Sekretaris Jenderal dijabat Maman Suherman, yang juga menjabat Sekretaris Ditjen Tanaman Pangan Kementan.

MPPI beranggotakan petani hingga pengusaha antara lain Asosiasi Bunga Indonesia (Asbindo), Asosiasi Perbenihan Indonesia (Asbenindo), Masyarakat Pertanian Organik Indonesia (Maporina), Kontak Tani Nelayan Andalan (KTNA), dan Perhimpunan Hortikultura Indonesia (Perhoti).

Herman Khaeron mengatakan bahwa MPPI berupaya melakukan konsolidasi terhadap seluruh potensi, karena selama ini pelaku usaha benih dan bibit berjalan sendiri-sendiri sehingga dapat menjadi kendala mewujudkan swasembada pangan,"

"MPPI akan berkomitmen melakukan sinergi dengan pemerintah sehingga penangkar benih mendapatkan kepastian pasar, dan kepastian usaha," kata Herman yang juga menjabat wakil ketua Komisi IV DPR.
Jakarta (B2B) - Indonesian government expects the Indonesian Seed Community (MPPI) to play an active role in seed issues from upstream to downstream, by encouraging the research and development of strategic food commodity seeds produced domestically to support Indonesia into the 2045 world's food barns, according to the cabinet minister.

"The government is paying particular attention to the development of seeds to support the achievement of food self-sufficiency," said Agriculture Minister Andi Amran Sulaiman here on Monday (August 21) at the inauguration of MPPI Central Board period 2017-2022.

Minister Sulaiman shared his experience on the use of seeds during a career in SOEs, Perkebunan Nusantara XIV Corp., for development of 40 hectares of palm oil plantation in Konawe Utara district of Southeast Sulawesi province.

"Based on that experience, my main concern as agriculture minister is the seed issue, it refers to the experience of developing palm oil in North Konawe district," he said.

He also recounted his experiences while working visit to the Agency for Agricultural Research and Development in 2014, and found seeds with productivity of 10 tons per hectare of irrigated rice inbreds but not well distributed to farmers.

Minister Sulaiman tried to trace the obstacles, and was inhibited by regulation and sectoral problems, and asked to the MPPI proactively handle seed issues from upstream to downstream.

The MPPI Inauguration
The MPPI central board period 2017 - 2022 includes 73 people headed by Herman Khaeron as chairman, Maman Suherman as secretary general, who also serves as secretary of directorate general of food crops at the agriculture ministry.

The MPPI members include farmers and entrepreneurs such as the Indonesian Flower Association, Indonesian Seed Association, Indonesian Organic Farming Society, Indonesian Farmers and Fishermen Associations, and Indonesian Horticultural Association.

Mr Khaeron said that the MPPI seeks to consolidate all potentials, because so far the seed business has not been united.

"The MPPI is committed synergize with the government so that the breeders gets assurance of price and business certainty," he said.