Kementan Dorong Jateng Capai Target Lahan Kedelai 20.000 Hektar Plus
Indonesia Targets `Buy One Get One` Strategy for Soybean Planting Land
Editor : M. Achsan Atjo
Translator : Dhelia Gani

PUBLISHED: Jum'at, 10 November 2017 , 02:12:00 WIB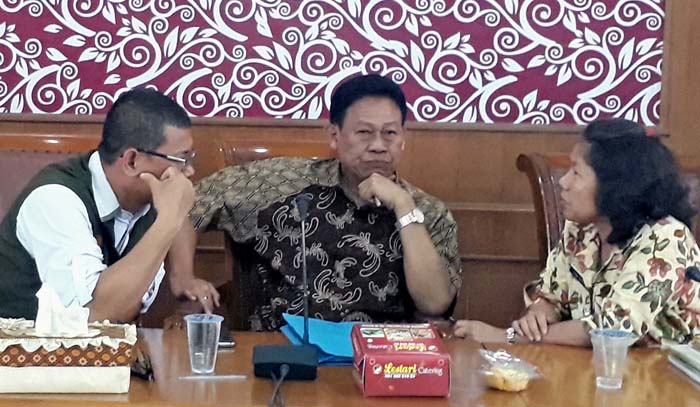 KEDELAI JATENG: Kepala Badan SDM Pertanian Kementan, Momon Rusmono (tengah) diskusi dengan Kadistan Jateng, Yuni Astuti (kanan) dan Kepala Puslitbangtan, Andriko Notosusanto (Foto: B2B/Mac)
Ungaran, Jateng (B2B) - Kementerian Pertanian RI mendorong Provinsi Jawa Tengah dapat memenuhi target '20.000 hektar plus' lahan kedelai hingga Desember 2017, maksudnya 20.000 hektar dibiayai APBN-Perubahan 2017, dan plus 20.000 hektar dari APBN Refocusing di Kementan, Kepala Badan SDM Pertanian Momon Rusmono menyebutnya sebagai strategi 'buy one get one' untuk mendukung target sejuta lahan menyongsong swasembada kedelai 2018.

Hal itu dikemukakan oleh Momon Rusmono saat memimpin rapat koordinasi 'percepatan pelaksanaan kegiatan tanam benih kedelai bersubsidi´ di Ungaran, Kabupaten Semarang Jawa Tengah, Rabu siang (8/11) didampingi Kepala Dinas Pertanian Jawa Tengah, Yuni Astuti; dan Kepala Pusat Penelitian dan Pengembangan Tanaman Pangan (Puslitbangtan) Andriko Notosusanto.

"Saya hadir di sini untuk mencari solusi bagaimana mencapai target luas tanam kedelai bulan ini hingga Desember bisa 20.000 hektar plus atau buy one get one, yang dibiayai APBN Perubahan 2017 dan APBN refocusing, dan swadaya," kata Momon Rusmono kepada para kepala dinas pertanian kabupaten di Jateng dan para komandan Kodim di seluruh provinsi.

Dia mengingatkan bahwa swasembada kedelai masuk dalam visi Lumbung Pangan Dunia 2045 yang dicanangkan Menteri Pertanian Andi Amran Sulaiman. Pelaksanaannya, melalui Program Upaya Khusus Padi, Jagung, dan Kedelai (Upsus Pajale).

Kedelai menjadi fokus utama akhir-akhir ini, lantaran Indonesia sudah mencapai swasembada padi dan jagung, dan malahan kedua komoditas strategis tersebut sudah berhasil diekspor ke sejumlah negara di Asia Tenggara.

Momon menambahkan, dari target 500.000 hektar lahan kedelai yang masuk dalam APBN-P 2017, sekitar 370.000 hektar diantaranya sudah dilaporkan sementara luas lahan tanam baru mencapai sekitar 70.000 hektar.

Dia menambahkan, target tanam kedelai serentak dijadwalkan pada akhir Desember 2017, dan saat ini Badan SDM Kementan diminta Mentan mendukung penyiapan lahan yang akan dikawal dan didampingi oleh penyuluh pertanian dan gabungan kelompok tani (Gapoktan) di 14 provinsi tersebut, sementara pemerintah daerah melibatkan mantri tani dan petugas dari balai penyuluhan pertanian (BPP) di setiap kecamatan.
Ungaran of Central Java (B2B) - Indonesian Agriculture Ministry encourages Central Java province to provide '20,000 hectares plus' land for soybean crops until December 2017, 20,000 hectares financed by 2017 Revised State Budget and and 20,000 hectares of ministry budget, Director General of the Agricultural Extension and Development Agency, or BPPSDMP, Momon Rusmono called it 'buy one get one' strategy to support target of a million land to meet the 2018 soybean self-sufficiency.

It was stated by Mr Rusmono at the coordination meeting 'acceleration of the implementation of subsidized soybean seeds' in Ungaran, Semarang district on Wednesday afternoon (November 8) accompanied Head of Central Java agriculture office Yuni Astuti and Director of Food Crops Research and Development, Andriko Notosusanto.

"I am here to find a solution how to reach the target of the land until December reached 20,000 hectares plus or buy one get one, which is financed by state budget and ministry budget and independently," said Mr Rusmono to the heads of district agricultural service and regional military commanders.

He cautioned that self-sufficiency of soybeans was included in vision of the 2045 world food barn which was declared by Agriculture Minister Andi Amran Sulaiman as part of the program to increase rice, corn and soybean production.

Soybeans become the main focus of late, because Indonesia has reached self-sufficiency in rice and maize, and even these two strategic commodities have been successfully exported to a number of countries in Southeast Asia.

Mr Rusmono said of the target of 500 hectares of soybean fields entering the state budget, about 370,000 hectares of which have been reported, while the planted area has only reached 70,000 hectares.

He said that the target of soybean cultivation is scheduled at the end of December 2017, and currently the ministry is asked to support the preparation of land to be monitored by agricultural extension and farmer group associations, while the local government involves farmers and agricultural extension centers in each sub-district.