Pertani Kembangkan Kantor Cabang dan Gudang sebagai Outlet Toko Tani
Indonesian SOE`s Pertani Support Farmer`s Store Across the Archipelago
Editor : M. Achsan Atjo
Translator : Dhelia Gani

PUBLISHED: Kamis, 22 Juni 2017 , 02:01:10 WIB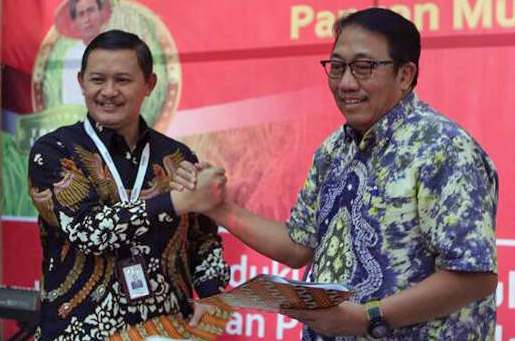 Direktur Utama Pertani, Wahyu (kiri) menyalami Plt Kepala BKP Kementan Spudnik Sujono usai meneken MoU (Foto: Humas BKP Kementan)
Jakarta (B2B) - PT Pertani menargetkan pengembangan 100 outlet Toko Tani Indonesia (TTI) dengan memanfaatkan 30 kantor cabang hingga gudang-gudang di seluruh Indonesia, untuk mendukung langkah Kementerian Pertanian RI memotong rantai pasok pangan yang panjang, dan melindungi petani dari jatuhnya harga dan melindungi konsumen dari tingginya harga pangan.

"Pertani ingin terlibat mengembangkan TTI di seluruh Indonesia mendistribusikan dan memasarkan hasil produksi pertanian dari petani kepada konsumen dalam waktu singkat dan tepat waktu," kata Direktur Utama Pertani, Wahyu di Jakarta pada Selasa (20/6) usai meneken kerjasama TTI dan Pertani dengan Pelaksana Tugas (Plt) Kepala Badan Ketahanan Pangan (BKP) Spudnik Sujono.

Menurut Wahyu, saat ini Pertani yang berkantor pusat di Jakarta didukung tujuh kantor wilayah di kota-kota utama dan 30 kantor cabang dari Aceh hingga Papua sehingga dapat mendukung pencapaian target pengembangan 4.000 unit TTI di seluruh Indonesia pada 2017.

Spudnik Sujono mengatakan hingga 2016 telah beroperasi 1.640 TTI di 33 provinsi yang melibatkan 493 gabungan kelompok tani (Gapoktan) untuk pengembangan usaha pangan masyarakat, dengan memotong rantai pasok pangan yang panjang dan mengendalikan harga.

"Kerjasama Pertani dengan BKP Kementan untuk mendukung perluasan jangkauan pemasaran TTI sehingga memudahkan masyarakat membeli bahan pangan pokok dengan harga terjangkau," kata Spudnik.

Menurutnya, kerjasama BKP Kementan dan Pertani menyusul makin dikenalnya TTI oleh masyarakat sehingga menuntut penambahan outlet TTI, dan Pertani akan melakukan pembinaan dan pemantauan TTI di seluruh Indonesia hingga penentuan harga pangan dan data terkait pelaksanaan kegiatan TTI yang dikelola Pertani.

"Pertani juga mendukung penyediaan komoditas pangan untuk kebutuhan TTI dan mengembangkan sistem rantai pasok," kata Spudnik Sujono, yang juga menjabat Dirjen Hortikultura.

Dia mengharapkan kerjasama tersebut bukan sekadar meneken memoranda kesepahaman (MoU) tapi harus ada tindakan nyata sesuai mendukung peningkatan kesejahteraan petani dan meringankan beban konsumen akibat panjangnya rantai pasok.

"Kami mendukung harapan dari BKP Kementan, dan akan segera menindaklanjuti MoU ini, karena investasi Pertani tidak terlalu besar sehingga dapat segera direalisasikan. Pertani hanya melakukan renovasi sedikit saja di kantor cabang dan gudang-gudang yang kami miliki," kata Wahyu menjawab seruan Spudnik.

Pihak Ketiga
Dukungan pihak ketiga terhadap TTI dari BKP sebelumnya dengan Go-Jek Indonesia untuk mempermudah akses pangan masyarakat di Jabodetabek, tanpa harus keluar rumah atau apartemen. Produk pangan TTI dapat diakses melalui ponsel pintar dan langsung diantar ke alamat tujuan pemesan dalam waktu singkat.

Kepala Subbagian Humas BKP Kementan Eddi Suntoro mengatakan layanan yang dinamai TTI Online Gomart ini memakai sistem pengiriman dengan moda transportasi ojek online, yaitu Gojek.

"Dengan dukungan Gojek, menjadi lebih murah, lebih mudah, dan lebih cepat untuk mengakses pangan sehat dengan harga terjangkau," kata Eddi Suntoro.

Dia menambahkan, BKP Kementan menjamin harganya stabil dan terkendali karena kebutuhan pokok yang dibeli tidak lagi melalui jalur distribusi konvensional yang cukup panjang sehingga harganya melambung.

Menurut Eddi, pemantauan dan evaluasi harga menjadi lebih mudah dan transparan karena cara mengaksesnya tidak sulit. Pengguna smartphone Android dapat mengakses aplikasi Gojek, kemudian pilih ikon Go-mart selanjutnya akan muncul ikon TTI dan silakan klik bahan pokok yang ingin dipesan.
Jakarta (B2B) - Indonesia's state-owned food sub-sector, Pertani Inc is target development of 100 outlets of the Indonesian Farmer´s Store called the TTI use 30 branch offices and warehouses across the archipelago to trim the supply chain, and protect farmers from speculators and protect interests of consumers on affordable food prices, according the CEO of Indonesia SOEs.

"Pertani wants to support development of the TTI across Indonesia for distribution and marketing of agricultural products from farmers to consumers quickly and on time," said President Director of Pertani, Wahyu after signed of memorandum of understanding (MoU) with the Acting Director General of Food Security Agency (BKP) Spudnik Sujono.

According to Wahyu, Pertani's head office in Jakarta is supported by seven regional offices in major cities and 30 branch offices from Aceh to Papua so as to support the achievement of the target of developing 4,000 TTI units in 2017.

Mr Sujono said that by 2016, there are 1,640 TTIs in 33 provinces supported by 493 farmer group (Gapoktan) for development of community food businesses to shorten food supply chains and control food prices.

"The Pertani's partnership with the BKP support expansion of TTI's makes it easier for people to buy basic staple food at affordable prices," he said.

According to him, the cooperation is to answer the demand of the people access TTI demanding the addition of outlet, and Pertani will conduct guidance and monitoring of TTI until the determination of food price, and data of TTI managed by Pertani.

"Pertani also supports the provision of food commodities for the TTI outlet needs and developing a supply chain system," said Mr Sujono who also serves as Director General of Horticulture.

He hoped the cooperation would not just sign a memorandum of understanding (MoU) but there must be concrete steps to support the improvement of farmers' welfare and ease consumers to buy food at affordable prices.

"We support the hope of BKP, and immediately follow up this MoU, because Pertani investment without big capital so that it can be realized immediately Pertani only renovate branches and warehouses," said Wahyu, who like many Indonesians goes by one name.

Third Parties
Third party support to TTI is with Go-Jek Indonesia to facilitate people's food access in Greater Jakarta (Jabodetabek) for buying rice and other basic needs, there is no need to leave the house or apartment. The basic needs can be accessed via smartphone, then delivered by Gojek driver to the address as soon as possible.

The BKP spokesman Eddi Suntoro said Jakarta is one of the world´s most congested cities and motorbike taxis ordered from a smartphone app have exploded in popularity in the past two years as a way to beat snarled traffic.

"With the support Gojek application, become cheaper, easier, and faster to buy basic needs at affordable prices," he said.

Mr Suntoro added about the prices, the ministry ensures stable and controlled prices, because it is not through conventional distribution so the price is cheaper.

In addition, price monitoring and evaluation becomes easier and transparent because app access is relatively easy. Android smartphone users can access the Gojek app, select the Go-mart icon and then the TTI icon will appear, and click on the item who want to order.