Kunjungi Polbangtan YoMa, Kapusdiktan Evaluasi Program dan Kegiatan
Indonesian Govt Evaluates Performance of Agricultural Vocational Colleges
Editor : M. Achsan Atjo
Translator : Dhelia Gani

PUBLISHED: Minggu, 15 September 2019 , 21:25:00 WIB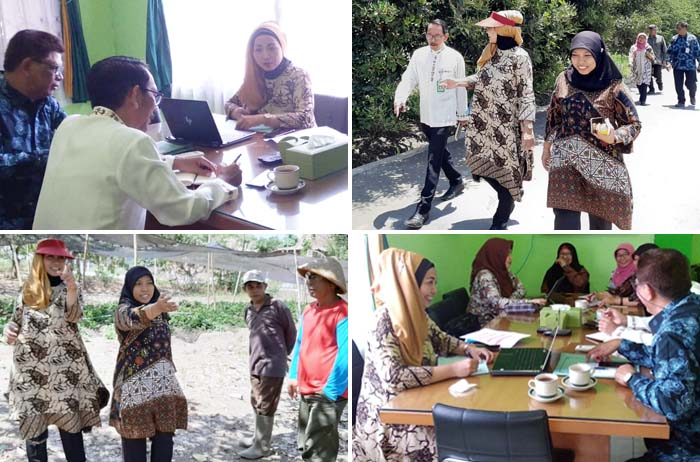 RAPAT & PANTAU: Kapusdik BPPSDMP Kementan, hijab coklat diskusi dengan Ketua Jurusan Dr Sujono dan Kabag Umum Irwan Johan Sumarno dan kunjungan ke TeFa di Karangsari [Foto2: Humas Polbangtan YoMa]
Yogyakarta, DIY [B2B] - Kinerja Polbangtan YoMa dinilai positif oleh Kepala Pusat Pendidikan Pertanian [Pusdiktan BPPSDMP] Idha Widi Arsanti dalam mendukung peningkatan kualitas pendidikan vokasi pertanian, seraya mengingatkan tentang progress pengembangan kurikulum internasional, pemanfaatan optimal lahan Teaching Factory [TeFa] khususnya pengaturan masa waktu tanam dan masa panen, dan kerjasama dengan Akademi Militer [Akmil] mendukung kegiatan masa bimbingan dasar mahasiswa [Mabidama] yang telah didukung oleh Brimob Polri, dan berkunjung ke lokasi TeFA di Karangsari, Yogyakarta pada Jumat [13/9].
Hal itu dikemukakan oleh Kapusdiktan Idha Widi Arsanti kepada Ketua Jurusan Pertanian Polbangtan YoMa, Dr Sujono dan Kabag Umum, Irwan Johan Sumarno mewakili Direktur Dr Rajiman pada kunjungan kerja Kapusdik di Polbangtan Yoma.
"Kunjungan kerja juga bertujuan mengevaluasi tindak lanjut kunjungan Mentan Amran Sulaiman pada 28 November 2018 setelah peluncuran transformasi sekolah tinggi penyuluh pertanian atau STPP menjadi Politeknik Pembangunan Pertanian Polbangtan disingkat Polbangtan pada akhir September 2018 di Bogor," kata Irwan JS melalui pernyataan tertulis, Minggu [15/9].
Menurutnya, Kapusdik Idha WA juga mengevaluasi pemanfaatan ketiga lahan TeFa yang dikembangkan oleh Polbangtan YoMa, dengan mengadopsi pola tanam program luas tambah tanam [LTT] yang menyiapkan tanaman berikutnya untuk pertanaman selanjutnya, sehingga bisa mengatur waktu tanam dan masa panen sebaik-baiknya.
"Kapusdik juga menyampaikan bentuk kerjasama dengan Akmil dalam kegiatan Mabidama, dan kami sudah kerjasama dengan Brimob Polri," kata Irwan JS.
Dia menambahkan, Kapusdik juga mengevaluasi kegiatan rehabilitasi fasilitas asrama mahasiswa, aktivitas penggunaan Bahasa Inggris oleh mahasiswa, tindak lanjut untuk pembuatan kafe.
"Juga dibahas tentang progress dari pengembangan kurikulum internasional. Bagaimana posisi sampai sekarang. Kapusdik mengharapkan segera ditindaklanjuti, kalau baru 50 persen harus dievaluasi dan segera dirampungkan," kata Irwan JS mengutip arahan Kapusdik, Idha WA yang akrab disapa Santi.
Selain melakukan rapat dan diskusi, Kapusdik juga meninjau fasiitas perkuliahan dan asrama mahasiswa dilanjutkan mengunjungi lokasi TeFa di Karangsari sekaligus mengecek persiapan rencana kuliah umum oleh Sekjen Kementan Momon Rusmono dalam waktu dekat. [IJS]
Yogyakarta [B2B] - The performance of the Polbangtan YoMa in Yogyakarta was appreciated by Director of Indonesian´s Agricultural Education Center, Idha Widi Arsanti to improve the quality of agricultural vocational education, while reminded about progress of international curriculum development, optimal utilization of the Teaching Factory land and collaboration with Magelang´s Military Academy.