STPP Yogyakarta Dukung Program Pendampingan Petani Kalbar
Indonesian Students Support Farmer Assistance in West Borneo
Editor : M. Achsan Atjo
Translator : Dhelia Gani

PUBLISHED: Rabu, 11 April 2018 , 21:33:00 WIB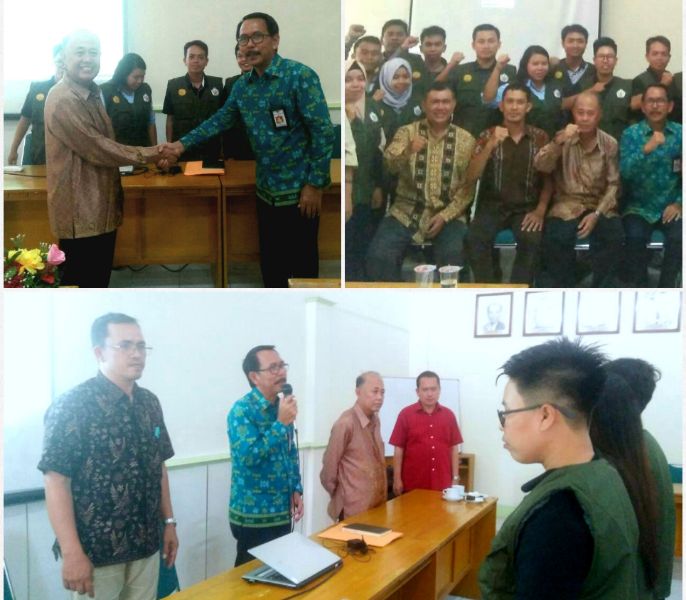 Dekan Dr Ir Radian dan Kabag Adm. Umum STPP Yogyakarta, Irwan Johan Sumarno (batik hijau), bersama para mahasiswa pendamping, dan arahan Ketua Ali Rachman disampaikan Irwan JS (Foto2: Humas STPP Yogyakarta)
Pontianak, Kalbar (B2B) - Sekolah Tinggi Penyuluhan Pertanian - STPP Yogyakarta melibatkan 22 mahasiswa Fakultas Pertanian - Universitas Tanjungpura Pontianak (Untan) untuk mendampingi petani pada empat kabupaten di Provinsi Kalimantan Barat dalam kegiatan Upsus Pajale dan Optimalisasi Pemanfaatan Alsintan yang digelar oleh Kementerian Pertanian RI mencapai swasembada pangan strategis.
Hal itu dikemukakan oleh Ketua STPP Yogyakarta, Ali Rachman yang diwakili Kabag Administrasi Umum STPP Yogyakarta, Irwan Johan Sumarno; dan Dekan Fakultas Pertanian Untan, Dr Ir Radian di Pontianak, Kalbar saat melepas 22 mahasiswa pertanian untuk mendampingi petani di Kabupaten Sanggau, Landak, Bengkayang, dan Sambas selama tiga bulan; April hingga Juni 2018.
"Mahasiswa harus menjadi bagian dari pembangunan pertanian. Caranya? Dengan mendampingi petani melakukan usaha tani modern yang didukung mekanisasi pertanian," kata Irwan JS mengutip arahan dari Ali Rachman yang berhalangan hadir di Pontianak, Selasa (10/4).
Pendampingan Upsus Pajale dan Optimalisasi Alsintan digagas sejak 2015 oleh Menteri Pertanian RI Andi Amran Sulaiman di 34 provinsi. Sementara Kalbar di bawah tanggung jawab Badan Penyuluhan dan Pengembangan SDM Pertanian (BPPSDMP).
Kepala BPPSDMP Kementan Momon Rusmono sebagai Penanggung Jawab - PJ Upsus Pajale Kalbar kerap kali mengingatkan tentang peran vital mahasiswa mendukung petani mengembangkan pertanian modern yang mengedepankan ´efisiensi dan efektivitas usaha tani dengan provitas tinggi´ didukung pemanfaatan Alsintan.
Irwan JS mengutip arahan Ali Rachman menambahkan bahwa kegiatan pendampingan meliputi bimbingan teknis (Bimtek), demo efektifitas dan efisiensi pemanfaatan Alsintan, mobilisasi pemanfaatan Alsintan, dan realokasi Alsintan yang belum dimanfaatkan secara maksimal sehingga tetap dapat mendukung peningkatan LTT di Kalbar, khususnya empat kabupaten yang menjadi target kegiatan pendampingan mahasiswa.
"Mahasiswa harus menjadi bagian dari solusi permasalahan di lapangan, memahami karakter dan kerja keras petani, menjunjung nama baik civitas academica, dan mendukung target pemerintah mencapai ketahanan pangan nasional," kata Irwan JS mengutip Ali Rachman.
Dr Ir Radian mengingatkan mahasiswa pendamping tentang tanggung jawab mereka melaksanakan amanah pemerintah dalam pengawalan Optimalisasi Alsintan, khususnya mengoptimalkan peranan unit pelayanan jasa Alsintan disingkat UPJA khususnya kegiatan manajemen dan administrasi organisasi.
"Berikan kemampuan terbaik kalian terutama dalam hal pemanfaatan teknologi mesin pertanian," kata Dekan Radian.0
Pontianak of West Borneo (B2B) - Indonesia´s Yogyakarta Agriculture Extension College or STPP Yogyakarta released 22 students of the faculty of agriculture Pontianak´s Tanjungpura University or the Untan to assist farmers in four districts of West Borneo province for increase of rice, corn and soybean production.
It was stated by the Rector of STPP Yogyakarta, Ali Rachman who was represented by Head of General Affairs of STPP Yogyakarta, Irwan Johan Sumarno; and Dean of Faculty of Agriculture Untan, Dr Ir Radian while released 22 agricultural students to assist farmers in Sanggau, Landak, Bengkayang and Sambas districts for three months; April to June 2018.
"Students must be part of agricultural development. How? By guiding farmers to modern farming activities supported by agricultural mechanization," said Mr Sumarno quoted Mr Rachman´s direction who was unable to attend here on Tuesday (April 10).
Increased strategic food production especially rice, corn and soybean since 2015 by Indonesian Agriculture Minister Andi Amran Sulaiman in 34 provinces. While West Borneo province is responsibility of the Directorate General of Agency for Agricultural Extension and Human Resources Development or BPPSDMP at the Agriculture Ministry.
Director General of the BPPSDMP Momon Rusmono as Person in Charge of the Upsus Pajale program in West Borneo province often reminded of the role of students supporting farmers to develop modern agriculture, which prioritizes the efficiency and effectiveness of farming activities supported by agricultural machinery.
Mr Sumarno cited the speech of Mr Rachman added that the mentoring activities include technical guidance, demo utilization of agricultural machinery, identification, mobilization, and reallocation of agricultural machinery that has not been optimally utilized, especially the four districts targeted by the student assistance activities.
"Students should be part of solution of problems in the field, understanding character and hard work of farmers, uphold reputation of civitas academica, and support government´s target of achieving national food security," saiid Mr Sumarno quoting Mr Rachman.
Dr Ir Radian reminded students of their responsibilities to carry out government mandate, to optimize the role of agricultural machinery service unit abbreviated as UPJA, especially organizational management and administration activities.
"Give your best ability, especially in the use of agricultural machinery technology," said Dean Radian.