Validasi RDKK, STPP Yogyakarta Gelar Penyuluhan Kartu Tani pada 64 Poktan di Imogiri
Indonesia`s Farmer Card Launched for Support Food Self-sufficiency
Editor : M. Achsan Atjo
Translator : Dhelia Gani

PUBLISHED: Kamis, 19 April 2018 , 21:45:00 WIB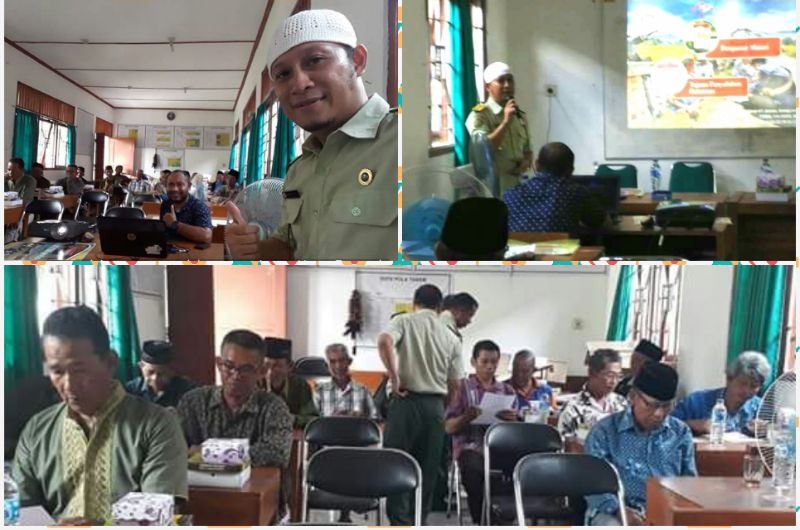 Kegiatan penyuluhan berlangsung di kantor BPP Imogiri dibuka oleh Ketua BPP Imogiri, Muslih dan dihadiri dosen pembimbing Agus Wartapa (Foto2: Humas STPP Yogyakarta)
Bantul, Yogyakarta (B2B) - Kartu Tani diluncurkan Pemerintah RI sejak pertengahan akhir 2015, namun masih banyak kelompok tani (Poktan) belum memahami fungsi dan manfaat seperti 64 Poktan di Kecamatan Imogiri, hanya 28 Poktan yang validasi rencana definitif kebutuhan kelompok (RDKK) yang melaksanakan sebagai syarat pembuatan Kartu Tani.
"Hal itu yang mendorong STPP Yogyakarta melakukan penyuluhan pertanian khusus tentang Kartu Tani di Kecamatan Imogiri, Kabupaten Bantul," kata Henry Fernando, mahasiswa semester akhir Sekolah Tinggi Penyuluhan Pertanian - STPP Yogyakarta melalui pernyataan tertulis.
Menurutnya, kegiatan penyuluhan Kartu Tani merupakan kelanjutan dari penggalian data primer petani dari delapan desa di Kecamatan Imogiri, setelah tabulasi dan olah data kemudian diketahui kelemahan petani dalam program ini sehingga diangkat sebagai materi penyuluhan.
Kegiatan penyuluhan yang berlangsung di kantor Balai Penyuluhan Pertanian - BPP Imogiri dibuka oleh Ketua BPP Imogiri, Muslih dan dihadiri dosen pembimbing Agus Wartapa.
Bentuk fisik Kartu Tani ini terbuat dari plastik ukurannya sama persis dengan kartu ATM yang lazim dimiliki nasabah bank.
"STPP Yogyakarta membuat gimmick bahwa Kartu Tani sebagai kartu penebus pupuk bersubsidi, sehingga lebih mudah difahami oleh para petani dan anggota Poktan," kata Kabag Administrasi Umum STPP Yogyakarta, Irwan Johan Sumarno.
Irwan JS menambahkan bahwa Kartu Tani selain mempermudah petani bertransaksi, juga untuk memantau distribusi pupuk bersudsidi agar tepat sasaran. Tidak lari kepada pihak yang tidak seharusnya menerima pupuk bersubsidi, karena hanya petani yang memiliki Kartu Tani yang berhak mendapatkan pupuk bersubsidi.
"Kegiatan penyuluhan juga sebagai persyaratan karya ilmiah penugasan akhir atau KIPA bagi mahasiswa semester akhir di STPP Yogyakarta," kata Irwan JS.
Instruksi Jokowi
Pemerintah RI meluncurkan Kartu Tani sebagai sarana akses layanan perbankan terintegrasi yang berfungsi untuk simpanan, transaksi keuangan, penyaluran pinjaman hingga kartu subsidi atau e-Wallet.
"Kartu Tani merupakan implementasi dari instruksi Presiden Joko Widodo bahwa negara hadir di tengah masyarakat. Jangan biarkan petani berjalan sendiri, kami harus berada di sisi mereka untuk memberikan solusi," kata Mentan Amran Sulaiman.
Keunggulan Kartu Tani antara lain single entry data, proses validasi berjenjang secara online, transparan, dan multifungsi. Ketersediaan data yang lengkap dan akurat tersebut bermanfaat sebagai dasar penyusunan kebijakan bagi Kementan. Kedua, transparansi penyaluran dana subsidi melalui sistem perbankan bagi Kementerian Keuangan.
Manfaat ketiga, memberikan data kebutuhan pupuk secara akurat hingga ke tingkat pengecer bagi PT Pupuk Indonesia Holding Company (PIHC). Keempat, bermanfaat bagi Badan Urusan Logistik (Bulog) untuk memproyeksikan potensi panen di suatu daerah melalui data pupuk subsidi yang disalurkan sehingga dapat segera menyerap hasil panennya.
"Petani pun dapat menerima dana bantuan secara utuh dan membeli pupuk bersubsidi sesuai kuota yang diberikan bagi petani. Kelima, dinas pertanian provinsi provinsi hingga kabupaten dan kota dapat mengetahui produktivitas lahan di suatu daerah. Singkat kata, Kartu Tani diharapkan menjadi era baru untuk mensejahterakan petani Indonesia," kata Mentan.
Bantul of Yogyakarta (B2B) - Indonesian government launched the Farmer Card or Kartu Tani since late 2015, but many farmer groups or Poktan have not understood the functions and benefits such as 64 Poktan in Imogiri subdistrict, only 28 Poktans validate the definitive group needs plan or RDKK that implement as a requirement of Kartu Tani.
It encourages the STPP Yogyakarta conduct special agricultural extension of Farmers´ Card in Imogiri subdistrict of Bantul district," said Henry Fernando, a student of Yogyakarta´s Agricultural Extension College or STPP Yogyakarta through written statement.
According to him, Farmer Card extension activity is a continuation of the primary data of farmers extracted from eight villages in Imogiri Sub-district, after tabulation and data processing then known weakness of farmers in this program so that it was appointed as extension material.
The extension activities that took place at Agricultural Extension Office - BPP Imogiri was opened by the Chairman of BPP Imogiri, Muslih and attended by lecturer Agus Wartapa.
The Farm Card´s physical form is made of plastic the exact same size as an ATM card commonly owned by bank customers.
The STPP Yogyakarta made a gimmick that the Farmer Card as a card to get subsidized fertilizer, making it easier to understand the farmers and Poktan members, "said Head of General Affairs of STPP Yogyakarta, Irwan Johan Sumarno.
Mr Sumarno added that Farmer Cards in addition to facilitate farmers to transact, can also monitor the distribution of subsidized fertilizers to the right target.
"The extension activity is also a requirement of the final assignment of scientific work for STPP Yogyakarta students," he said.
Presidential Instruction
Indonesian government launches the Farmer Card developed by agriculture ministry and SOEs ministry, the card integrated banking services card for savings, transactions finance, and subsidy cards.
"The Farmer Card is an implementation of President Joko Widodo´s instruction that the country is present for the people, do not let the farmers walk alone, the government is beside the farmers to provide solutions," said Agriculture Minister Andi Amran Sulaiman.
Mr Sulaiman explained about benefits of Farmer Card such as single entry data, online validation process, transparent, and multifunctional. Complete and accurate data is useful as basis for drafting the agriculture ministry policy. Second, the transparency of subsidized funds through the banking system as database of finance ministry.
The third benefit, for the accuracy of fertilizer demand data to retailer level as database for Pupuk Indonesia Holding Company (PIHC). Fourth, it is beneficial for National Logistics Agency (Bulog) to projection the potential of harvest in a region through subsidized fertilizer data.
"Farmers can receive full grants, and buy subsidized fertilizers according to the quota given to farmers. Fifth, provincial to district and municipal agricultural service can know the productivity of land in an area. In short, Farmer Card are expected to be a new era for the welfare of Indonesian farmers," Minister Sulaiman said.