Tingkatkan Ekspor Kopi, Mentan Targetkan Produktivitas Kopi 1 Juta Ton per Hektar
Indonesia Seeks to Increase Coffee Productivity to Boost Exports
Reporter : Gusmiati Waris
Editor : Cahyani Harzi
Translator : Dhelia Gani

PUBLISHED: Kamis, 13 Juli 2017 , 21:55:11 WIB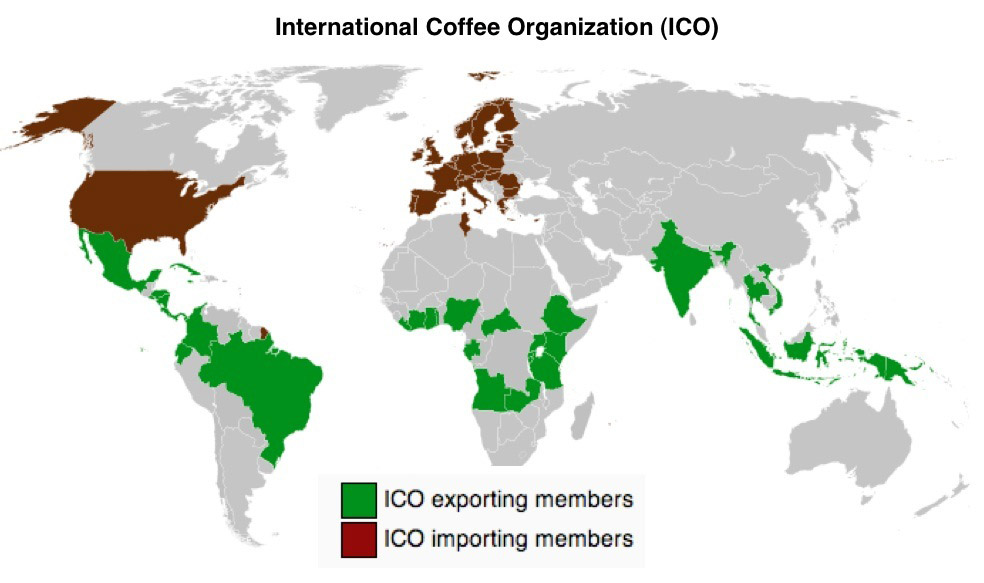 Negara pengekspor dan pengimpor kopi yang menjadi anggota Organisasi Kopi Internasional (ICO) Data & Peta: Wikipedia
Jakarta (B2B) - Kementerian Pertanian RI berupaya meningkatkan produktivitas kopi dari 750 kg menjadi satu ton per hektar dengan potensi lahan 1,2 juta hektar, diikuti perluasan lahan kopi Arabika sehingga mengimbangi robusta dengan rasio 50:50, sementara realisasi ekspor kopi Indonesia hingga September 2016 mencapai US$650,2 juta. Pasar global pun makin mengenal kopi Arabika Gayo setelah Komisi Uni Eropa memproteksi kopi khas Aceh tersebut dengan sertifikat Geographical Indication (GI) pada 26 Januari 2016.

Menteri Pertanian Andi Amran Sulaiman mengatakan peluang ekspor komoditas kopi Indonesia sangat bagus di pasar global, untuk menyaingi Brasil dan Vietnam sebagai produsen kopi terbesar dunia, dan Indonesia harus meningkatkan produktivitas kopi menjadi satu ton per hektar dengan potensi lahan 1,2 juta hektar di seluruh Indonesia.

"Kopi arabika dan robusta Indonesia khususnya kopi gayo, begitu pula 13 jenis kopi lain seperti mandailing dan bajawa yang digolongkan sebagai specialty coffee," kata Mentan Amran Sulaiman di sela pembukaan Konferensi Produsen Kopi Dunia (WCPF) di kota Medelin, Kolombia pada Selasa (11/7).

Langkah yang akan ditempuh Kementan untuk mendorong peningkatan produktivitas kopi adalah penyediaan bibit berkualitas tinggi, pemupukan tepat waktu, pengairan, dan peremajaan tanaman (replanting) untuk mengganti tanaman kopi yang sudah tidak produktif karena sudah tua.

Menurut Mentan, langkah penting lainnya adalah memperluas lahan kopi arabika yang diminati pasar global dan bernilai ekonomis, sehingga rasio luas areal tanam kopi dan robusta berimbang menjadi 50 : 50.

"Pengembangan kopi ke depan akan memperhatikan aspek kearifan lokal sehingga setiap daerah dapat menghasilkan aneka jenis kopi bernilai tinggi, dalam waktu dekat Kementan juga akan mengirimkan beberapa tenaga ahli untuk mempelajari kopi Vietnam," kata Amran Sulaiman.

WCPF 2017
Mentan Amran Sulaiman menghadiri WCPF 2017 di Kolombia mewakili Presiden RI Joko Widodo memenuhi undangan Presiden Kolombia Juan Manuel Santos, dan pada kesempatan tersebut sempat bertemu mantan Presiden AS Bill Clinton di kota Medellin.

WCPF merupakan inisiatif kolaboratif dari asosiasi produsen kopi di Afrika, Asia, dan Amerika Latin, yang dihadiri lebih 900 peserta mewakili 40 negara produsen dan pelaku industri (perusahaan penggiling kopi, pedagang dan pengecer, lembaga keuangan, regulator dan LSM).

Menurut statistik Organisasi Kopi Internasional (ICO) pertumbuhan kopi merupakan alat pendapatan utama bagi sekitar 25 juta rumah tangga yang mewakili 125 juta orang, kebanyakan dari mereka adalah petani kecil di negara-negara berkembang.

Konferensi bertujuan mengatasi tantangan yang sama bagi produsen di seluruh dunia, namun tidak terbatas pada pendapatan produsen, pembangunan pedesaan, indikator sosial ekonomi, adaptasi perubahan iklim, produktivitas, volatilitas harga, integrasi generasi, dan tenaga kerja.

Untuk melakukan hal itu, konferensi tersebut telah mengumpulkan sekelompok tokoh terkemuka di bidang kopi termasuk Direktur Eksekutif Asosiasi Kopi Specialty Ric Rhinehart, Sekretaris Jenderal Organisasi Kopi Antar Negara Afrika Fred Kawuma, Presiden Eksekutif Dewan Kopi Nasional Brazil Silas Brasileiro, dan Direktur Eksekutif Kopi Kopi Global Annette Pensel seperti dilansir dailycoffeenews.com.

Kopi Arabika Gayo
Kopi Arabika Gayo diakui dunia dan diproteksi oleh Komisi Uni Eropa (UE) setelah Direktorat Jenderal Pertanian dan Pengembangan Pedesaan EU pada 26 Januari 2016, menyatakan menerima aplikasi Kopi Arabika Gayo untuk didaftarkan sebagai Geographical Indication (GI) di UE. Langkah tersebut sebagai komitmen pemangku kepentingan dari kopi Gayo Arabika yang disahkan oleh Direktorat Jenderal Kekayaan Intelektual Kemenkumham dan didukung oleh proyek Fasilitas Kerjasama Perdagangan (TCF).

Laman euind-tcf.com menyebutkan GI adalah hak kekayaan intelektual, yang bertujuan melindungi nama tempat tertentu (wilayah, wilayah atau bahkan negara) yang menentukan produk yang berasal dari wilayah tersebut, yang memiliki karakteristik, kualitas dan reputasi khusus yang Terkait langsung dengan asal-usul, karena faktor alam dan juga produksi secara tradisional. Banyak produk terkenal di seluruh dunia, seperti Champagne, keju Manchego, Café of Colombia, dilindungi sebagai Indikasi Geografis (GI).

Sertifikat GI bertujuan mencegah penggunaan nama produk secara ilegal oleh mereka yang mencoba memanfaatkan reputasinya, menggunakan nama-nama ini untuk menjual produk yang tidak berasal dari wilayah asal, sehingga menyesatkan konsumen atas asal produk sebenarnya yang dilansir euind-tcf.com.
Jakarta (B2B) - The Indonesian Ministry of Agriculture seeks to increase coffee productivity to one ton per hectare from a potential of 1.2 million hectares, and expand the arabica coffee planting area to meet the robusta coffee planting area ratio to 50:50, while the realization of Indonesian coffee exports per September 2016 reached US $ 650.2 million. Global markets are familiar with Gayo Arabica coffee after the EU Commission has protected Aceh's unique coffee with Geographical Indication (GI) certificate on January 26, 2016, according to the minister.

Indonesian Agriculture Minister Andi Amran Sulaiman said Indonesia's coffee export opportunities are excellent in global markets, to compete with Brazil and Vietnam as the world's largest coffee producer, and Indonesia should increase coffee productivity to one ton per hectare with 1.2 million hectares of land potential across Indonesia.

"Indonesian coffee especially Gayo Arabica coffee, as well as 13 other types of coffee such as mandailing and bajawa are classified as specialty coffee," Minister Sulaiman said on the sidelines of the World Coffee Producers Conference (WCPF) in Medelin city of Colombia on Tuesday (July 11).

Measures to be taken by Indonesia to increase coffee productivity are the provision of high quality seeds, timely fertilization, irrigation, and replanting to replace unproductive coffee crops.

According to Minister Sulaiman, another important step is to expand Arabica coffee planting area to meet global market demand, so the ratio of planting area to 50:50.

"The development of Indonesian coffee in the future will prioritize the local wisdom aspect, so that each region can produce various types of high value coffee," he said.

The World Coffee Producers Forum
Minister Sulaiman attended the World Coffee Producers Forum in Medellín, Colombia representing the Presiden Joko Widodo to meet Colombian President Juan Manuel Santos's invitation, and on that occasion met former US President Bill Clinton.

The Forum itself is a remarkably collaborative initiative from coffee producer associations from Africa, Asia and Latin America, with the more than 900 attendees representing 40 producing countries, as well as industry leaders (roasters, traders and retailers, financial institutions, governments and NGOs).

According to International Coffee Organization statistics, coffee growing represents the primary means of income for approximately 25 million households representing 125 million people, most of them smallholder farmers in developing countries.

The Forum intends to address challenges common to producers throughout the globe, including but not limited to producers' income, rural development, socio-economic indicators, climate change adaptation, productivity, price volatility, generational integration, and labor.

To do so, the Forum has amassed a remarkable group of coffee luminaries, including Specialty Coffee Association Executive Director Ric Rhinehart, Inter-African Coffee Organization Secretary General Fred Kawuma, Brazil National Coffee Council Executive President Silas Brasileiro, and Global Coffee Platform Executive Director Annette Pensel as reported by dailycoffeenews.com.

Gayo Arabica Coffee
On 26 January 2016, the Directorate-General for Agriculture and Rural Development of the European Commission notified the receipt of the application of Kopi Arabika Gayo to be registered as a GI in the EU. This initiative comes as a result of the committed efforts of Gayo Arabica coffee stakeholders, the endorsement of the Indonesian Directorate General of Intellectual Property (DGIP), as well as the support of the Trade Cooperation Facility (TCF) project.

A "Geographical Indication" (GI) is an intellectual property right, conferred to protect the name of a specific place (region, locality or even country) that designates a product which originates in that area, having special quality, characteristics and reputation that are directly linked to such origin, due to natural factors as well as to traditional productions practices. Many well-known products around the world, such as Champagne, Manchego cheese, Cafe of Colombia, are protected as Geographical Indications (GIs).

The GI tool prevents the illegal use of such product's names by those who try to take advantage of their reputation, using these names to sell products that are not originated in these regions, thus misleading consumers on the true origin of the products as reported by euind-tcf.com.