Tanam `Tabela`, Taruna STPP Yogyakarta Gelar Mahasiswa Pendamping di Klaten
Indonesia`s Students of STPP Yogyakarta Support Farmers in Klaten District
Reporter : Gusmiati Waris
Editor : Cahyani Harzi
Translator : Dhelia Gani

PUBLISHED: Selasa, 17 April 2018 , 21:57:00 WIB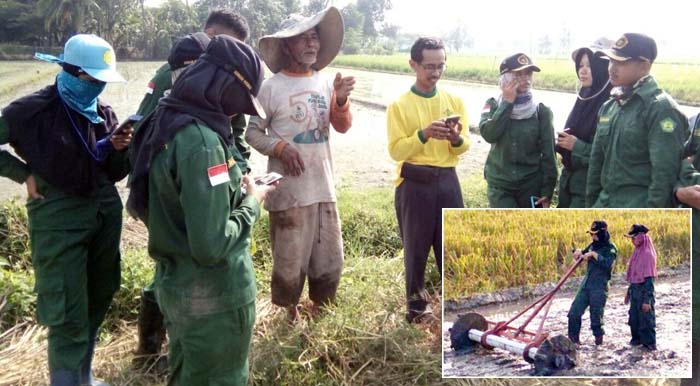 Tabela lebih menguntungkan, bibit lebih sedikit dan biaya lebih murah. Misalnya, untuk lahan seluas dua ribu meter hanya membutuhkan benih sekitar lima kg tergantung pada jarak tanam (Foto2: Humas STPP Yogyakarta)
PULUHAN taruna dari Sekolah Tinggi Penyuluhan Pertanian - STPP Yogyakarta mengikuti program mahasiswa pendamping di Kabupaten Klaten, Provinsi Jawa Tengah, khususnya kegiatan menanam padi dengan cara tanam benih langsung (Tabela) bersama kelompok tani ´Tani Lestari´ di Desa Jimbung, Kecamatan Kalikotes.

Ketua STPP Yogyakarta, Ali Rachman mengatakan Tabela mulai dikenal petani pada pertengahan dekade 90-an dan kian diminati oleh petani di seluruh Indonesia seperti halnya dilakukan oleh Poktan Tani Lestari di Kali Kotes.

"Sebagian besar petani di Desa Jimbung, Kalikotes menanam padi dengan pola tanam tersebut, karena dianggap lebih menguntungkan ketimbang pola cocok tanam padi lainnya," kata Ali Rachman melalui pernyataan tertulis kepada B2B.

Kepala Bagian Administrasi Umum STPP Yogyakarta, Irwan Johan Sumarno mengatakan kegiatan mahasiswa pendamping STPP Yogyakarta jurusan penyuluhan pertanian (Jurluhtan) di Desa Jimbung, merupakan bagian dari 104 taruna yang diterjunkan di tiga kabupaten di Jawa Tengah sebagai pendamping swasembada padi, jagung, dan kedelai (Pajale) dan optimalisasi Alsintan, dan 40 di antaranya berada di Kabupaten Klaten.

"104 taruna mahasiswa STPP Yogyakarta akan melakukan pendampingan pada April hingga Juni 2018," kata Irwan JS.

Koordinator unit pelayanan jasa Alsintan (UPJA) Agawe Santoso, Wawan mengakui pola Tabela lebih menguntungkan, bibit lebih sedikit dan biaya lebih murah. Misalnya, untuk lahan seluas dua ribu meter hanya membutuhkan benih sekitar lima kg tergantung pada jarak tanam.

Selain dengan benih berlabel, untuk meningkatkan daya tumbuh benih padi, petani Desa Jimbung mencampurkan benih padi dengan zat pengatur tumbuh.

Pengendalian gulma sangat terbantu dengan adanya herbisida yang cukup efektif dalam pengendalian gulma jenis rumput-rumputan maupun yang berdaun lebar.

Wawan menambahkan apabila menggunakan persemaian, tanaman padi akan memiliki tingkat stres lebih tinggi ketimbang menanam dengan pola Tabela.

Perlakuan saat pemindahan bibit ke lahan persawahan juga berpengaruh terhadap pertumbuhan tanaman padi tersebut. "Penerapan Tabela lebih mudah, karena telah ada alat khusus untuk pola Tabela pada tanaman padi.
DOZENS of students Indonesia´s Yogyakarta Agriculture Extension College or STPP Yogyakarta follow the mentoring students for farmers in Klaten district of Central Java province, especially planting rice without seedbed or Tabela with the ´Tani Lestari´ farmer group in Jimbung village of Kalikotes subdistrict.

Rector STPP Yogyakarta, Ali Rachman said Tabela began to be known to farmers in the mid 90´s decade and then favored by farmers across the country as well as Tani Lestari farmer group in Kali Kotes subdistrict.

"Most farmers in the village of Jimbung, Kalikotes apply the
Tabela planting pattern, because it is considered more profitable than other rice cropping patterns," Mr Rachman said through a written statement to the B2B.

The Head of General Affairs of STPP Yogyakarta, Irwan Johan Sumarno said the mentoring students activity faculty of agricultural extension in Jimbung village is part of 104 STPP Yogyakarta students in three districts of Central Java province and 40 of them are in Klaten district.

"104 students of STPP Yogyakarta will perform mentoring in April to June 2018," Mr Sumarno said.

The coordinator of agriculture machinery service unit or UPJA Agawe Santoso, Wawan admitted Tabela´s pattern is more profitable, fewer rice seeds and cheaper cost. For example, for a land of two thousand meters only need seed about five kg depending on the distance of rice planting.

In addition to superior seeds, to increase the growing power then the Jimbung farmers mix rice seed with growth regulator substance.

Weed control is very helpful to herbicides that effectively control weeds of grasses and broad-leaved species.

Treatment when transferring seedlings to paddy fields also affects the growth of rice crops. "The application of Tabela is easier, because there are special tools for Tabela pattern on rice plants."