Alsintan dan Kebun Praktik STPP Yogyakarta Dukung Pengembangan Wirausahawan Muda
Practical Farm as Vocational Education Facilities of Agriculture in Indonesia
Editor : M. Achsan Atjo
Translator : Dhelia Gani

PUBLISHED: Minggu, 01 April 2018 , 22:00:00 WIB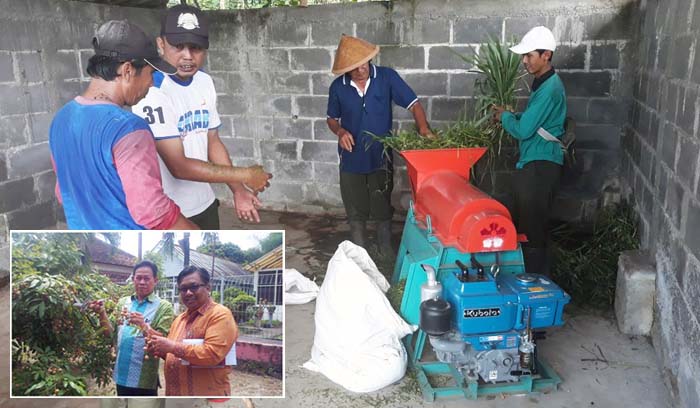 Mesin pencacah hijauan mendukung penyediaan hijauan makanan ternak (HMT) atau diolah menjadi pupuk organik, Kabadan SDM Pertanian Momon Rusmono dan Ketua STPP Yogyakarta, Ali Rachman (inset) Foto2: STPP Yogyakarta & B2B/Mac)
Yogyakarta (B2B) - Pengembangan dan pemanfaatan kebun praktik didukung alat mesin pertanian (Alsintan) di perguruan tinggi pertanian Kementerian Pertanian RI berperan penting dalam mendukung kegiatan belajar mengajar untuk pendidikan vokasional, seperti diterapkan oleh Sekolah Tinggi Penyuluhan Pertanian - STPP Yogyakarta yang dikembangkan ´seiring sejalan´ dengan peningkatan kompetensi mahasiswa terhadap inovasi teknologi pertanian.

Ketua STPP Yogyakarta, Ali Rachman menyadari potensi dan manfaat dari keberadaan kebun praktik dengan Alsintan, khususnya pada aplikasi penggunaan mesin pencacah hijauan untuk mendukung penyediaan hijauan makanan ternak (HMT) maupun diolah menjadi pupuk organik.

"Pengelolaan kebun praktik harus dioptimalkan sebagai salah satu aset dari pengadaan APBN 2017, dan dapat dimanfaatkan mahasiswa sesuai dengan kebutuhan pendidikan dan pengajaran," kata Ali Rachman melalui pernyataan tertulis.

Staf STPP Yogyakarta, Budi Wijayanto menambahkan meskipun Alsintan pencacah hijauan yang tersedia saat ini baru satu unit namun berperan penting mendukung pengelolaan kebun praktik dan pengembangan bengkel Alsintan di STPP Yogyakarta.

"Diharapkan dapat mendukung berbagai program pendidikan seperti penumbuhan wirausahawan muda pertanian disingkat PWMP," kata Budi Wijayanto, yang berlatar belakang pendidikan mekanisasi pertanian.

In-house Training
STPP Yogyakarta jurusan penyuluhan pertanian (Jurluhtan) saat ini didukung lima kebun praktik yakni Celeban luas 2 hektar, Sempu (7,2 ha), Karangsari (7 ha), Murangan (1,2 ha) dan Banyakan (15 ha).

Kabag Administrasi Umum STPP Yogyakarta, Irwan Johan Sumarno mengatakan kebun praktik diharapkan fokus menyelenggarakan teaching factory (Tefa) untuk mempersiapkan mahasiswa kita untuk menjadi wirausaha atau tenaga profesional di bidang teknologi pertanian.

"Penataan dan pengembangan kebun praktik juga untuk memenuhi standar minimal kebun modern didukung mekanisasi pertanian, dan dapat dimanfaatkan untuk agrowisata," kata Irwan JS.

STPP Yogyakarta, menurutnya, juga kerap mengadakan in-house training manajemen kebun untuk memberikan pengetahuan kepada calon tenaga kebun tentang manajemen kebun dalam mendukung pembelajaran pendidikan vokasi.
Yogyakarta (B2B) - Development of practical farm supported by agricultural machinery or Alsintan at agriculture college of Indonesian Agriculture Minisry has an important role support teaching and learning activities for vocational education, as implemented by the Yogyakarta´s Agriculture Extension College or STPP Yogyakarta to increase students´ competence on agricultural technology innovation.

Rector of STPP Yogyakarta, Ali Rachman realized the potential and benefits of practical farm, especially the use of forage machines to support the provision of animal feed or organic fertilizer.

"Practical farm management should be optimized as one of the assets of the 2017 state budget procurement, and can be utilized by students for education and teaching," Mr Rachman said in a written statement.

The STPP Yogyakarta staff, Budi Wijayanto, said that although forage machines are available only one unit, it is important to support the management of practical farm and development of Alsintan workshop.

"It is expected to support various educational programs such as the growth of young agricultural entrepreneurs," Mr Wijayanto said.

In-house Training
STPP Yogyakarta is currently supported by five practical farm ie Celeban of 2 hectares, Sempu (7.2 ha), Karangsari (7 ha), Murangan (1.2 ha) and Banyakan (15 ha).

The Head of General Affairs of STPP Yogyakarta, Irwan Johan Sumarno said practical farm is expected focus on holding the teaching factory, to prepare students develop the ability become an entrepreneur or agricultural technology professionals.

"The development of practical farm is also to meet the minimum standards of modern farm supported by agricultural mechanization and for agro-tourism," Mr Sumarno said.

The STPP Yogyakarta, according to him, also often hold in-house training of practical farm management to provide knowledge to prospective garden workers support vocational education.